MUNDO ROTUNDO

THE KEY TO THE HIGHWAY:

Episode1, part 1, a brief, riled-up soliloquy about life in Puerto Rico.

Episode 1, part 2, a close-up look at one of the island's most personable coffee roasting operations, Café Mayor, plus Rotund's first roundup of art shows.

Episode 2, part 1, in which we review Pedro Vélez's "Godfuck," study an art sale posing as an exhibition, and get a haircut.

Episode 2, part 2: the haircut continues, there's a regrettable moment with fruit, and we drop by the fresh San Juan art-o-rama =DESTO for a talk with the founders.

Episode 3, part 1 covers, if not the waterfront, at least that occasional Nuyorican-Borinquen artfest "The (S) Files" at Museo de Arte de Puerto Rico, and visits scenic Caguas to marvel at another new kid on the block, ÁREA.

Episode 3, part 2 takes a wild ride on the Tren Urbano.

Episode 4, part 1 gets the unexpected: some mail. In part 2, we hit the road for points south, with stops at the Frade Museum, El Cuñao, King's Cream, and Museo de la Historia de Ponce.

Episode 5, part 1 weighs Puerto Rico's travails against Miami's prosperity and scratches its head. Why does Fred Snitzer say the things he says?

Episode 5, part 2: more art shows and the artists who make them, including the evergreen Antonio Martorell and a stealthy group called El Polverío.

Episode 6, part 1 and part 2 offer blow-by-blow coverage of Puerto Rico's first-ever art fair, CIRCA 2006, and the whole world asks, "What's it all about, Rotund?"

Episode 7 takes the slow train to Hato Rey and Galerías Prindari, where it meets the friendly natives.

Episode 8 knocks on the door of the Berezdivin collection, hoping to get in, and then muses disapprovingly about el Museo de Arte de Puerto Rico.

Episode 9, part 1 wallows in the paradoxes of summer in Puerto Rico, including a curious exhibition at la Escuela de Artes Plásticas, while part 2 looks at the work of painter-writer Javier Martínez.

Episode 10: the excellent exhibition space tagRom has a birthday and the laggardly Rotund crew tries to catch up on San Juan art doings, while Tiny Type travels southward to watch Rafael Trelles do his thing at el Museo de Arte de Ponce.

Episode 11: "Two Cards from the Bottom of the Deck?" This could only mean Pedro Vélez.

Episode 12 invites all and sundry to get down with La Muestra Nacional de Arte. Plus, =Desto hits its stride and doesn't look back.

Episode 13: is La Muestra Nacional the only thing on the Rotund mind? What about sex? Rapacious legislators? What happened to lechón, pasteles, and Heineken tall boys?

Episode 14 brings us yet more Muestra, but also, what? Yes, Pedro Vélez, now in his new role as Rotund art dick. Plus, new shows at San Juan's La Liga de Arte and Crema Gallery.

Episode 15 proves that the island is cooking: The International Book Fair, experimental prints at =Desto, Milton Rosa-Ortiz at Museo de Arte de Puerto Rico. The Basquiat drawing show is not terrible, but what is a private collection doing at MAPR?

Episode 16: the government is pilloried, artists are praised, food is mentioned, jokes are cracked that no one gets.

Episode 17 visits Art Basels past. This may strike some readers as cheap and retrograde, but we think the vintage years never get old. Besides, we also look at a Julie Kahn trading-card project, and what could be groovier than that?

Episode 18 looks like a preview, reads like a preview, and even smells a bit like a preview. But is it really a preview?

Episode 19: Barcelona. Need we say more?

Episode 20 visits the Corozal redoubt of Titi Noris, then gets down and gets funky with Julio Micheli.

Episode 21 tramps through the dirty snow of New York City and sees a bunch of fur coats posing as art.

Episode 22: the good, the bad, and the dubious underbelly of the Puerto Rican art world: shows and those who write about them.

Episode 23 takes a break from the box step and does the boogaloo instead: some advice about going public.

Episode 24 is an extensive chat about a wide-ranging show, The DAMS 2. Who exactly are Dildo and Culo?

Episode 25 marks the beginning of the end. At least the end of the long wait for CIRCA 2007.

Episode 26: enough CIRCA to please the gluttonous and outrage the discreet.

Episode 27 provides one last thrill from the Puerto Rican scene before our Ecuadorian sojourn: we visit =Desto's rad Publica.

Episode 28: Hello, Cuenca. Almost more news from one small Latin American country's premiere art event than a reader wants to know. Still, we bet the artists involved will like seeing their names in print.

Episode 29 is as nutty as a fruitcake. Don't miss the Coke cans, created by real, or once-real, graffiti artists.

Episode 30 brings us back to the island, but not without a detour to the Cuenca Biennial's dark past.

Episode 31: Can you believe the nerve of some people? The Rotund crew talks about art critics sin fin, which means, of course, a lot of self references.

Episode 32: We call out the forces of evil, who no longer bother to answer. Someone will be sorry one day.

Episode 33 visits La Perla and then takes off its hat to the organizers of the now-annual neighborhood art and music fest, La Perla Habla.

Episode 34 returns, if not from the dead, then from what seems like a long sleep. Reviews of Espacio 1414's latest doings, the good works at =Desto, and thoughts on the new boys in town, Galería Candela.

Episode 35: Why do we persist in making rude fun of the island's leading newspaper? And is it possible that the San Juan art scene deserves so many column inches of Rotund blather?

Episode 36 travels all the way to Miami to bring you news of the greater world, needing an extra page to do the job right.

Episode 37: Ada Bobonis gets the Rotund treatment for her installation at MAPR, and others on the San Juan scene—Martorell, Maldonado, Ayala, and the BlackBoxArt crew—also feel the fire.

Episode 38 is the calm that preceeds the storm, an extended visit to San Juan's Museo de Arte Contemporáneo.

Episode 39 goes several better than last time, hitting every museum in creation just to prove a point. Then it settles down to talk about shows by Otero, Fontánez, and Pintado, and a pep talk by none other than César Trasobares.

Episode 40 asks, "How did we get this far?" The answer is far from clear, but it involves regular, only semi-warranted attacks on the local press and flattery lavished on actual artists. For example, in this episode we speak fondly and at length about Fernando Paes and el Museo de Arte de Caguas.

Not to be missed, of course: Booty Bundt, the cake that says it all, and BUY THIS NOW! an exclusive offer to be a part of this toney enterprize.



THE
OUTSIDE
WORLD

Follow the links to the Miami and Puerto Rican art worlds, and to perspectives bigger than both.

MIAMI
The Next Few Hours
Critical Miami
Miami Art Central
Locust Projects
Centro Cultural Español
Edge Zones
Brook Dorsch Gallery
Kevin Bruk Gallery
Bernice Steinbaum Gallery
Fredric Snitzer Gallery
Ambrosino Gallery
Leonard Tachmes Gallery
Diaspora Vibe Gallery
Subtropics
Miami Art Exchange
Worm-Hole Laboratory
The Moore Space

PUERTO RICO
Museo de la Historia de Ponce
Museo Pío López Martínez
(The Frade Museum)
Museo de Arte de Ponce
Museo de Arte de Puerto Rico
Museo de Arte Contemporaneo
Museo de la UPR
Museo de las Américas
Los Balcones de San Juan
La Casa del Arte
Galería 356
Galería Comercial
Galería Candela
Programa de Artes Plástics del ICP
CIRCA Puerto Rico
AUTOGIRO
Conboca
¿Dónde Veo Arte?
El Status
MSA-Xperimental Art
orificio
Repuesto
Trance Líquido
M de Mater O'Neill Audio Archive

THE WORLD
Art Nexus Magazine
artnet.com
Tom Moody's Weblog
BookDaddy
Edward Winkleman's Blog
Artkrush

Rotund World covers Miami, la Isla, and the world.

The magazine is designed and written by Joel Weinstein. Is it for real? Compare and then decide. But whatever the case, please subscribe to our RSS feed.





Photos, unless otherwise credited, are by none other than J Weinstein.

Contact us at this address or this one. Note that rotund@coqui.net is defunct, R.I.P.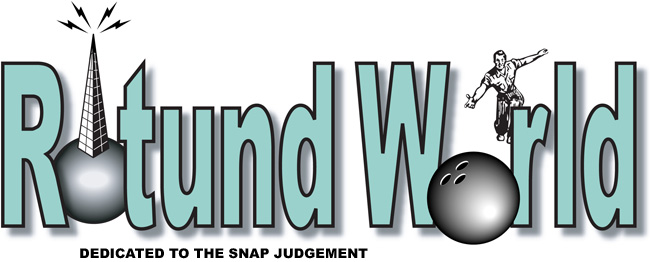 Yellow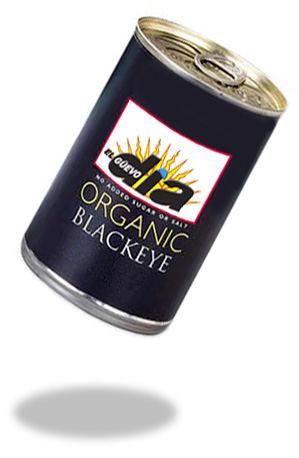 Whoa! Stop the Presses! Please! Last Sunday, November 4, El Güevo Día appeared to hit into a spectacular double-play with its relentlessly upbeat coverage of new though previously reported moves at Museo de Arte de Ponce (MAP), the classical jewel of island art institutions which is, not unnotably, owned by the publishers of the paper. In just a few column inches, the island's daily newspaper of record—a sort of mini-mini-mini-mini- mini-mini-mini New York Times (picture the bounciest, most frankly insincere and bosomy celebrity poses afloat in a sea of moony twaddle and you've pretty much got it)—careened full-bore into a major conflict of interest, giving itself a monster journalistic shiner in the process. The "news item" had all the earmarks of a press release quoted, at least in part, verbatim.
We think the paper has broken this kind of foul wind before, and not infrequently; although a two-fer is fairly unprecedented in our experience. The dead giveaway in Sunday's item— The Treasures of MAP On Tour—came in the next-to-last paragraph when el Güevo's often steady editorial hand suddenly lost its grip, slipping from straight journalism's bland third person into the gushy first person plural so beloved by PR flacks. One minute it's "el MAP this" and "el MAP that," and suddenly the page says, "We feel even prouder about the continual patronage and support of the community, which have made our initiatives possible." Without the quotation marks. Oopsy.
We could be entirely mistaken about this, of course, and the paper's buitre de cultura, Mario Alegre Barrios, has apparently sworn to acquaintances that he doesn't do that sort of thing—we would, too—but we'd like someone from the paper to look us squarely in the eye and say it isn't so.
Shine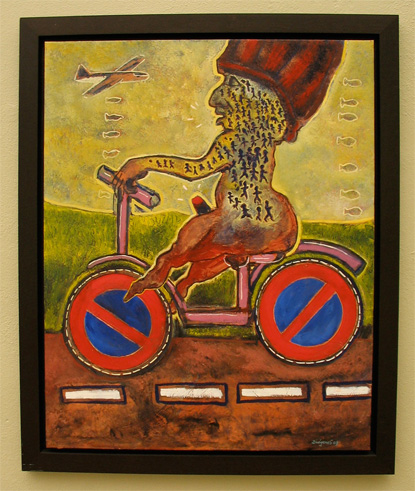 Speaking of shiners, part-time ponceño Diógenes Ballester has some radiant new paintings at the Normandie Hotel, whose extensive hallways, bathed mostly in natural light, are strung with real art thanks to Galerías Prinardi. (The gallery, once in a shopping center in Hato Rey, is now located in a tiny office near the hotel's lobby.) Up on the seventh floor you'll find a generous helping of works by Martín García and Ballester, whose paintings there range from the early 1990s to some of very recent vintage. These are mostly encaustics on linen or canvas, and their waxy surfaces effuse a subtle inner light while giving the artist opportunities to scratch and gouge as well as slather. As always, the new works are tightly, complexly organized, with contrasting formal and thematic elements working towards almost iconic representations of Ballester's usual concerns: spirituality in the modern age, the African roots of Caribbean culture, the absorptive and syncretic nature of living in different worlds. This is by no means everyone's matzoh ball, and even within what we know of Ballester's trajectory the new works may strike some people as overly graphic, gaudily bright, and too much of the same old same-old.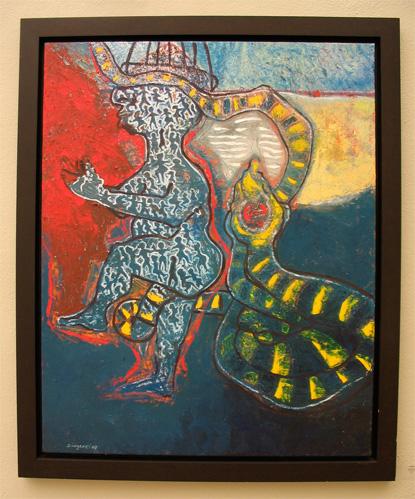 But we find the artist's structural skills alone impressive, we're frankly moved by his ability to fill dark tonalities with silken color, and there is something about the way he wields his vocabulary of cowrie shells, patterned fabrics, and earthy, tumescent figures—which seem a touching mixture of fecund quasi-deities and lost tourists—that strikes us as pitch-perfect. We think of most soul searching as a variety of navel-grade bilgewater, but Ballester's images are fascinating precisely for their agility. He seems to be dealing in large part with personal history, but he avoids drenching these works with the sentimentality or histrionics that usually come with the territory. Rather, his god- and goddess-figures and totems appear to travel through a landscape where personal and national identity intersect, where the sacred rides a cheap bicycle and divine terrors resemble mortal ones, like a fear of snakes or crowds. Stark memories and guiding spirits hover in rich, earth-toned atmospheres, but so do the humdrum proscriptions of everyday life: traffic cones, the slashed circle, the highway's white lines.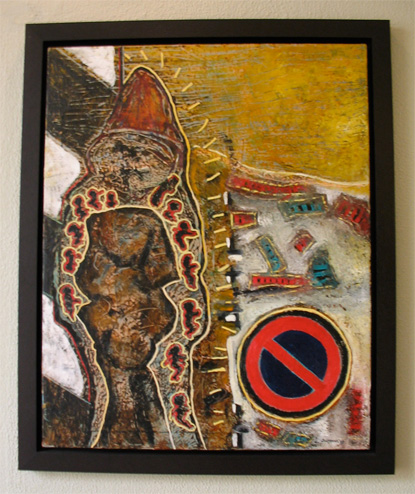 Perhaps Ballester is after the idea of transformative exchange in arranging things this way, but the true stories of his characters remain opaque and largely uninteresting to us. That plump creature with its knit cap and way too perky erection in the painting whose title we never found out (above, first image in this section), we prefer to believe it is the boy artist observing—as we, ourselves, might come upon it—the impending destruction of what he knows; excited, appalled, fascinated, unable to look away. A sac-like pool, amniotic and bloody, and an apple-headed serpent figure in Damballa, 2007, an encaustic-on-linen work measuring 40" x 50" (second above), and the womanly protagonist of Poseedora de Geus (not pictured) emerges into the charged air as if from a solid wall. (The painting directly above is titled El Protector, 2007, encaustic on linen, 40" x 50".) Even if these works have specific intentions, they also teem with a dynamic chain of associations and the charge of human connection, things that Ballester excels at putting on canvas whatever his narrative thinking.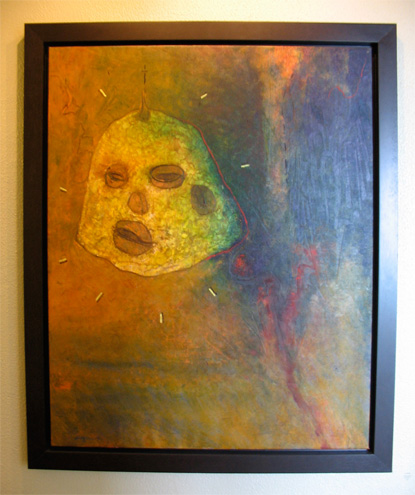 La ofrenda (above, same datos) is named for an oblation, and the cowrie shell and cross motifs seem to call for a sober, you might even say reverent, reading of the painting. But we prefer the more amusing possibility that Ballester wanted us to blink at least once and see a lucha libre mask, the face of a character inflamed by a vortex of worldly contradictions and longing, forces easily as fierce and poignant as any emanation from the great beyond.
We certainly hope you'll have the opportunity to see Ballester's new works before the exhibitions change at Galerías Prinardi, although, as usual—culpa nuestra—it's very late in the game. Their excellent website says that a new show opens on Thursday, November 15, at 7 p.m. with work by Carlos Santiago. The Normandie is always worth a visit, but phone the gallery at 787-729-2929, extension 1042, if it's these particular paintings you want to see. The hotel is located at Avenida Muñoz Rivera #499, catty-corner from one of San Juan's prettiest parks, and the office hours are 10 a.m. to 6 p.m. from Monday to Saturday. Nothing's to stop you from visiting the artworks at any time, however.
Odds and Sods
Perhaps it doesn't bear repeating that there's much we've missed out on, overlooked, been late to the party for, and simply ignored. Probably so, but we're feeling all wistful and funky lately; we've even developed a hankering for that two-dollar rotgut and the lovely American cheese slices and wrinkly little grapes favored by Puerto Rican museums and galleries. We're kidding, of course. Those knackers don't bother to provide freebies and cheap booze because the long-simmering resentments, chronic discontent, bad bowels, and all around volatility of local artists provide plenty of chest-thumping, woofing, crying out, and other entertaining eruptions completely unaided. Why go to the bother and added expense? Actually, we attended an opening not long ago where nothing happened. Aside from the art, that is. Because no one else came!
This was the Akim One show at Galería Candela, and the sparse attendance may have owed itself to the fact that critical cog Abdiel Segarra is no longer exhibition coordinator, ball o' fire, and all around reigning spirit. Still, the gallery's exhibition program, Art Tracking, seems to be hanging on. It would be a great pity if no one saw One's—or is it Akim's?—exhibition, because his labyrinth-installation of cardboard and other found detritus was pretty swell, though not nearly as interesting as the photographic record of things he's done around the world. The man is architecturally minded and has a way with trash, and his savvy with what he finds lying around really curled our slippers. We have lots of bad photos we took at the opening, including some blurry images of Akim One's photographs, and we promise to show them to you next time. No really, it's no trouble at all.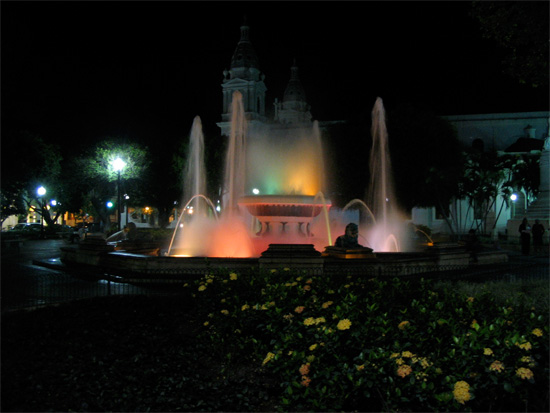 Meanwhile, we're going to be as obnoxious as possible and act like complete tourists right before your eyes. It's time to check in on that far place, that little neck of the woods, the city everyone thinks of as simply another grungy speedtrap along the way: Ponce, PR.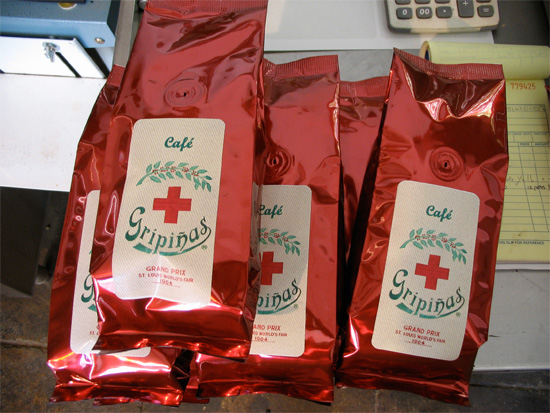 Are we too hard on La Perla del Sur? Do they call it that for some reason? We have no idea on either count, but we spent the morning whiling away an hour or two in the company of our favorite expert coffee roaster, Luis Valldejuly Sastre, of Café Mayor. We retreated into the air conditioned chaos of Valldejuly Sastre's office, and the caballero filled us in on Ponce chismes—there's always precious little—and took some time away from the bean business to tell us a little family history. It's a lengthy and rather complicated account, not to say a messy one, and although it's rife with isleño lore—an archetypal Puerto Rican story, you might say, involving the American invasion, Huracán San Ciriaco, the Vatican, the island's largest coffee cooperative, and, of course, Ponce when la ciudad señorial was the very center of the hacendado universe—it's a bit daunting in the details to repeat it all in the time left to us.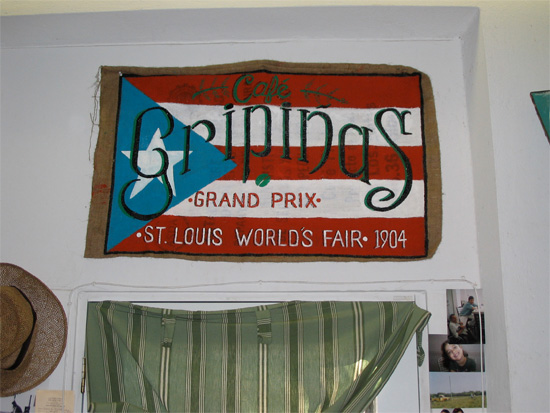 Suffice it to say that Valldejuly Sastre's great grandfather came to own a coffee plantation in the high country around Ponce at about the time of the invasion—the very last gasp of the nineteenth century—by way of the settlement of a debt. It was not a great moment to embark on such an enterprise because the war and its aftermath, not to mention the devastation the hurricane visited upon the island, marked the beginning of coffee's long decline. Nonetheless, Jaime Oliver Mayol, Valldejuly Sastre's progenitor, did create a successful business and established himself as a leader in the industry. Oliver Mayol's grandson, Miguel Ángel Sastre, helped to found a coffee cooperative in 1938 which at one time had 17,000 members. Luis tells us that they held their meetings in a baseball stadium. The name of Oliver Mayol's operation in the mountains was Gripiñas, and it's now, decades after the family sold off all but the highest mountain terrain, a town where Luis took us to buy his next year's supply of beans.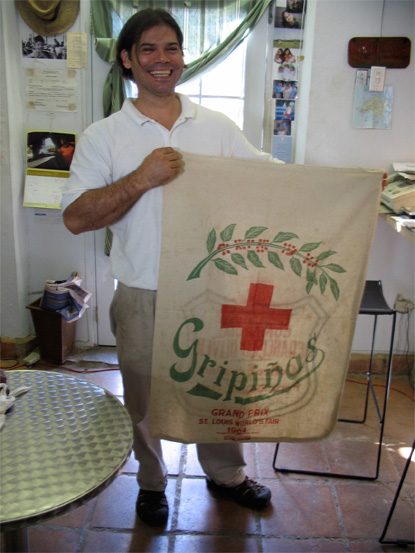 One of the keys to Oliver Mayol's early success was his trip to the St. Louis World's Fair in 1904. The U.S. government forbade Puerto Rican growers and exporters from dealing with Spain, which until then had been their most lucrative market, so the island cafeteros were forced to go to the mainland in search of new buyers. Oliver Mayol's coffee won the grand prize at the fair, and it was the beginning of what has turned out to be more than a century of family involvement in the industry.
Luis has an encyclopedic grip on the state of coffee in Puerto Rico from way back when, and he tried to in vain fill our knotty heads with statistics. We remember this: in 1899, forty-one percent of the country was given over to growing and processing coffee, while by 2004 it had fallen to something like a quarter of that. The coffee largely stays in the country, and the island government sets the price, offering a subsidy without which the industry would probably disappear altogether. It's a melancholy tale in some respects but also a fascinating one for what it says about the familial nature of a lot of what happens on the island. There is much, much more to it, of course, and political intrigue is one of its complicated subplots.
A fine San Juan writer, Rosario Ferré, the daughter of the founder of Museo de Arte de Ponce and, of course, a one-time ponceña, has written a collection of short stories that, in the way of fiction, describes the decline of another important island industry, sugar, and its affect on Ponce and the island. Maldito Amor—weirdly rendered for its English edition as Sweet Diamond Dust—is perhaps the best way we can think of to understand how the American invasion and the subsequent domination of criollo industry by American banks and entrepreneurs shaped Puerto Rico into the strangely mutated colonial outpost it is today. Maldito Amor is also a savage portrait of the fall of ponceño high society. If you don't have a voluble friend like Luis, this collection is a good guide to the tribulations that have marked Puerto Rican history.
The banner that Luis is holding in the photograph above was made from original Gripiñas coffee sacks, but many of the graphics around his torrefacción were painted by Angelo Conner, none other than The Mighty Angelo we introduced you to here. The flag in the previous image is an example of Angelo's work.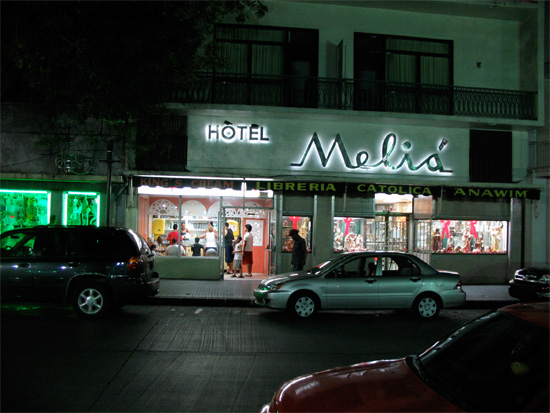 Before we leave Ponce Town behind, we'd like to show you just one or two more things, including a night view of the ever popular King's Cream, above, plus a possible sign that Ponce is not all wrack and ruin as we may have lead you to believe. In fact you could say that things are looking up south of el Monumento al Jíbaro. As we were strolling to the post office the other day, what to our wondering eyes did appear but a handful of live vendors in the long-long-long-forthcoming newly remodled market plaza, a really classic Art Deco spread. To the left below is a view of the forlorn, reeking parking structure where the Plaza del Mercado resided for we don't know how many years until the old building was made new again. To the right, the entry to the new market plaza. Below that is a street view of the new building's exterior.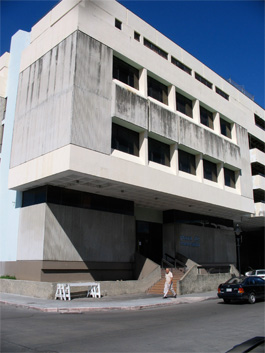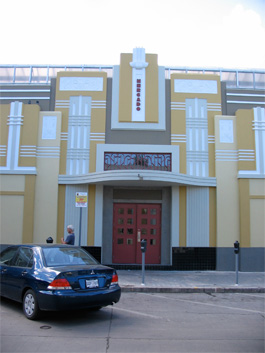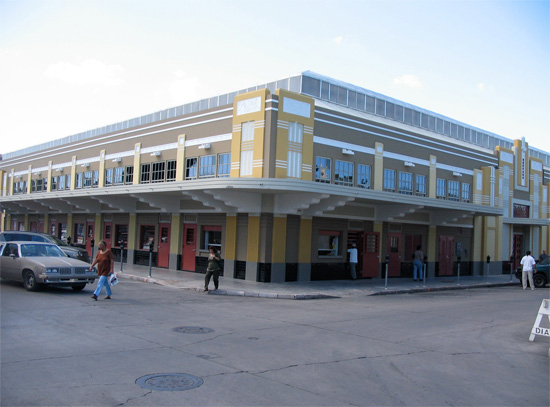 Inside it's light and spacious and the crowds are starting to venture in. It is likely to settle into malodorousness once again since the fish vendors have moved in along with everyone else. But the merchants we talked to evinced optimism probably mixed with a good measure of relief, and no one seemed to mind that their booths looked like nothing so much as large rabbit hutches. We'll take it. Suerte, y cuídense.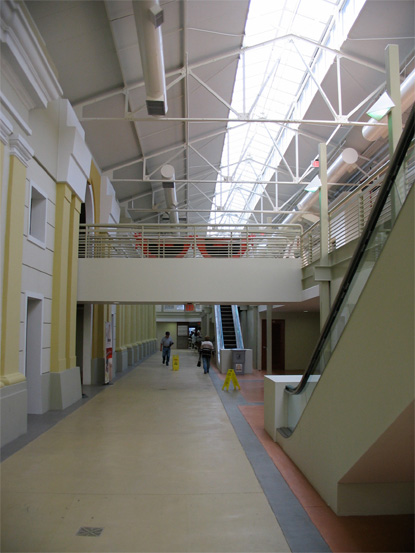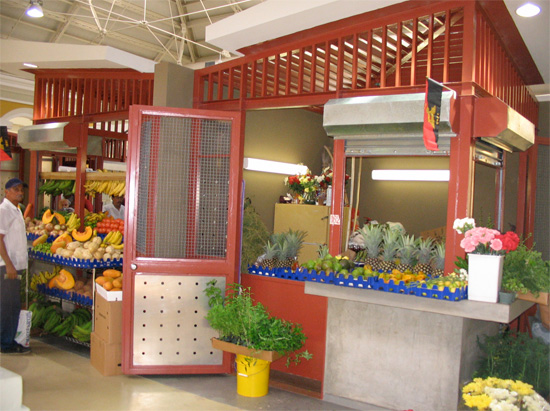 Don't forget that Rotund World is now running with the big dogs, allowing its readers to vent and fulminate to their hearts' content. But as they say about lottery tickets, you can't win if you don't play. If you'd like us to hear you out, simply use the comments form accessible by way of the word above, or send us an email directly to the addresses in the box to your left. In blogger's lingo, it's ro plus tund plus world, the you-know-what sign, followed by a yahoo dot com or a gmail dot com. It's that easy.
Find last episode's ranting and reviewing here.
---