MUNDO ROTUNDO

THE KEY TO THE HIGHWAY:

Episode1, part 1, a brief, riled-up soliloquy about life in Puerto Rico.

Episode 1, part 2, a close-up look at one of the island's most personable coffee roasting operations, Café Mayor, plus Rotund's first roundup of art shows.

Episode 2, part 1, in which we review Pedro Vélez's "Godfuck," study an art sale posing as an exhibition, and get a haircut.

Episode 2, part 2: the haircut continues, there's a regrettable moment with fruit, and we drop by the fresh San Juan art-o-rama =DESTO for a talk with the founders.

Episode 3, part 1 covers, if not the waterfront, at least that occasional Nuyorican-Borinquen artfest "The (S) Files" at Museo de Arte de Puerto Rico, and visits scenic Caguas to marvel at another new kid on the block, ÁREA.

Episode 3, part 2 takes a wild ride on the Tren Urbano.

Episode 4, part 1 gets the unexpected: some mail. In part 2, we hit the road for points south, with stops at the Frade Museum, El Cuñao, King's Cream, and Museo de la Historia de Ponce.

Episode 5, part 1 weighs Puerto Rico's travails against Miami's prosperity and scratches its head. Why does Fred Snitzer say the things he says?

Episode 5, part 2: more art shows and the artists who make them, including the evergreen Antonio Martorell and a stealthy group called El Polverío.

Episode 6, part 1 and part 2 offer blow-by-blow coverage of Puerto Rico's first-ever art fair, CIRCA 2006, and the whole world asks, "What's it all about, Rotund?"

Episode 7 takes the slow train to Hato Rey and Galerías Prindari, where it meets the friendly natives.

Episode 8 knocks on the door of the Berezdivin collection, hoping to get in, and then muses disapprovingly about el Museo de Arte de Puerto Rico.

Episode 9, part 1 wallows in the paradoxes of summer in Puerto Rico, including a curious exhibition at la Escuela de Artes Plásticas, while part 2 looks at the work of painter-writer Javier Martínez.

Episode 10: the excellent exhibition space tagRom has a birthday and the laggardly Rotund crew tries to catch up on San Juan art doings, while Tiny Type travels southward to watch Rafael Trelles do his thing at el Museo de Arte de Ponce.

Episode 11: "Two Cards from the Bottom of the Deck?" This could only mean Pedro Vélez.

Episode 12 invites all and sundry to get down with La Muestra Nacional de Arte. Plus, =Desto hits its stride and doesn't look back.

Episode 13: is La Muestra Nacional the only thing on the Rotund mind? What about sex? Rapacious legislators? What happened to lechón, pasteles, and Heineken tall boys?

Episode 14 brings us yet more Muestra, but also, what? Yes, Pedro Vélez, now in his new role as Rotund art dick. Plus, new shows at San Juan's La Liga de Arte and Crema Gallery.

Not to be missed, of course: Booty Bundt, the cake that says it all, and BUY THIS NOW! an exclusive offer to be a part of this toney enterprize.



THE
OUTSIDE
WORLD

Follow the links to the Miami and Puerto Rican art worlds, and to perspectives bigger than both.

The Next Few Hours
Critical Miami
Miami Art Central
Locust Projects
Centro Cultural Español
Edge Zones
Brook Dorsch Gallery
Kevin Bruk Gallery
Bernice Steinbaum Gallery
Fredric Snitzer Gallery
Ambrosino Gallery
Leonard Tachmes Gallery
Subtropics
Miami Art Exchange
Worm-Hole Laboratory
The Moore Space
Museo de la Historia de Ponce
Museo Pío López Martínez
(The Frade Museum)
Museo de Arte de Ponce
Museo de Arte de Puerto Rico
Museo de Arte Contemporaneo
Museo de la UPR
Los Balcones de San Juan
La Casa del Arte
Programa de Artes Plástics del ICP
CIRCA Puerto Rico
AUTOGIRO
Art Nexus Magazine
artnet.com
Tom Moody's Weblog
BookDaddy



Rotund World covers Miami, la Isla, and the world.

The magazine is designed and written by Joel Weinstein, in collaboration with unnamed others. The commentary, inspired by real events, is of a satirical nature and is not to be believed.

Photos, unless otherwise credited, are by none other than J Weinstein.

Contact Rotund World at this address.





Watch the Little Shell, Friend . . .
The hyperactive elves over at the Instituto de Cultura Puertorriqueña are always peppering us with news, announcements, blandishments, and what-have-you, on the hilarious assumption that Rotund World actually has a reading public, and we are happy to indulge them by passing these items along. Sometimes they involve impending exhibitions, moolah, a tiny measure of fame, or all three.
There appears to be no great fortune tied to the Mini Print International of Cadaqués, but read on, friends and colleagues. At least a trip to Spain's storied Costa Brava awaits some lucky artist who practices something called the "miniprint." This annual event, says the promotional material, "is the most popular and longest running exhibition of miniprints in the world." The show is the product of an international competition, and this year's winners are announced below. By clicking on the various links at the left you can apprise yourself of the details and hope to hit the jackpot next year.
26TH MINI PRINT


---

AWARDS 2006


---

ENTRY FORMS 2007


---

EXHIBITIONS


---

MUSEUM


---

FRONT PAGE


---

e-mail


---

Frequently asked questions


---

catalá | castellano
MINI PRINT INTERNACIONAL
DE CADAQUÉS
International print competition open to all
printmaking techniques and tendencies,
organized by ADOGI.

The winners of the 26th Mini Print International
of Cadaqués have been selected.



The jury of the 26th edition of the Mini Print International of Cadaqués—composed of Caroline Ford (France), Kiyo Wada (Japan), Viviana Moncayo (Italy), Anna M. David (Spain), Rais Gaitov (Russia), and Jamal Abdul Rahim (Bahrain)—has selected the following winners:

Maja Poljak, from Serbia, for her work "Untitled" (lithography).

Danielle Creenaune, from Australia, for her work "Horizon" (xylograph, etching, and chine collée).

Célia Bragança, from Portugal, for her work "Mi casa – IV" (aquatint and etching).

Roland Schaller, from Germany, for his work "Mazo" (etching).

Tanya Azarova, from Russia, for her work "B" (etching and aquatint).

Juan Canals Carreras, from Spain, for his work "Espai" (drypoint and aquatint).

This year, for the first time, we are publishing the ten finalists. For more information, please see the AWARDS 2006 section. To learn about ADOGI, click here.
On the Local Front . . .
The deep thinkers at Rotund World love to natter on about books or anything that looks like a book, so the following news is catnip to these cool cats and kittens. It will probably be just up your alley as well, since only ignoramuses look down their ample noses at books, and you are certainly not one of those.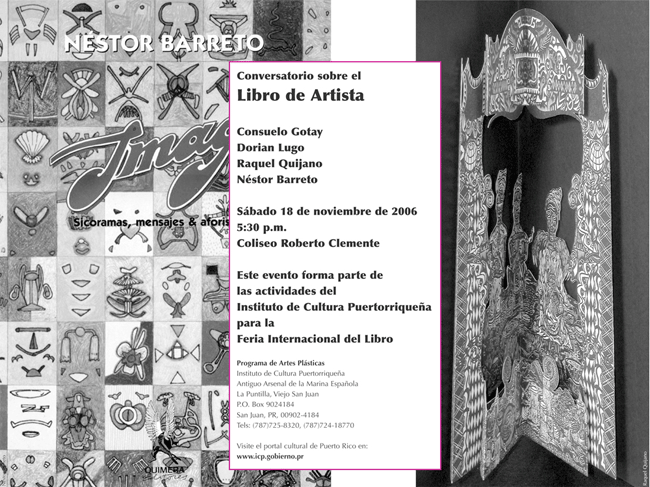 Several shows of interest are set to open soon at groovy exhibition spaces near you. On Thursday, November 9, =Desto is the scene of its third straight founder-curated show, this one a print extravaganza organized by a master of the form, Raquel Quijano. Quijano has invited three artists to participate in Tri Tra, as she titled it: Elsa Meléndez, Myriam Vázquez, and Garvin Sierra. The opening begins at 7 p.m. at 1400 Américo Salas in Santurce. Visit the =Desto website at www.esigualdesto.com or call 787-633-3381.
Also on Thursday night, Guillermo Rodríguez opens the doors of his La Casa del Arte for a show of new works by Ramón Feliciano called Estas Tierras. Feliciano, for those who have not followed his work—where have you been?—is the madcap author of Autobiografía, the vast, enormously affecting amalgam of trash and personal chotchkies presently hanging in La Ballajá as part of La Muestra Nacional. You can revisit that work here, or come to Avenida Andalucía #500 on November 9 at 7 p.m. to see more fuss. Call 787-792-7373 with questions, or visit the web site at www.lacasadelarte.com.
The following week, on November 14, Francisco Rovira-Rullán—our pal Tito—opens his newly located Galería Comercial with a show of classics and new hits: Julio Suárez, Adriana Lara, and Fernando Pintado. Judging from the photo, Comercial's new digs, just down the road from the old at Avenida Fernández Juncos #1600, are very, very pink. The show should begin at the usual fashionable 7:30ish, but you can get the straight skinny by visiting the web site—www.galeriacomercialpr.com—or calling 787-217-5848. And we should not even be mentioning it, so we'll just whisper a reminder in roman type: Museo de Arte de Ponce opens its Manos y Almas, an exhibition of historic and contemporary carved wooden saints, on Saturday, November 11 at midday.
To our shame, we forgot to mention Milton Rosa-Ortiz's opening at Museo de Arte de Puerto Rico on November 4th, the last hurrah of much-missed curator Marysol Nieves at that ill-starred institution. Rosa-Ortiz's Al que nace pa' martillo . . . is another fine outing for Nieves, who has moved on to Sotheby's auction house in New York City. Also at MAPR, an exhibition of drawings by Jean Michel Basquiat from the private collection of Enrico Navarra. Jean Michel Basquiat: Una antología para Puerto Rico is an excellent opportunity to see a skillfully improvisational and exceedingly prickly draughtsman at play, but Una antología para Puerto Rico should not to be confused with a curated show. Lord knows what sort of deal brought the collection to the museum and what benefits will accrue to Sr. Navarro, but it smells a little like the Saatchi coup at the Brooklyn Museum during the snotty young Brit Sensation show in 1999, however little good it will do Basquiat. Still, put these musings aside for the time it takes you to peruse some of the late artist's relatively unguarded moments. Both exhibitions are up until after the new year. Museo de Arte de Puerto Rico is located at Avenida de Diego #299 in Santurce, and you can call 787-977-6277 for museum hours, or visit their web site at www.mapr.org.
Miami is gearing up for its annual nervous breakdown, by which we mean Art Basel Miami Beach. ABMB will no doubt bring more fairs within the fair than ever before, more chances for the intrepid art schmoozer to run him- or herself ragged in record time. Already Charo Oquet—the founder and director of the city's biggest-hearted warehouse of art, Edge Zones—has announced plans for a new contemporary art fair at ABMB time, Zones 2006. Charo and her crew of artists were a bright presence at CIRCA, and she appears to want to spread the love around. Visit the Edge Zones web site for the lowdown on the up-and-up. Also see what those ruddy boys at Locust Projects are up to these days at their own site. No good, we'll bet.
A Little Birdie Told Us
It's about time. Rotund World has an informer. Or is that "informant"? We'd like to think of Gamaliel Rodríguez-Ayala as our very own Deep Throat, but Gamaliel gave it up without skulking about in a darkened parking structure, or any other subterfuge. He sent along this intelligence without comment, and we'll pass the favor along.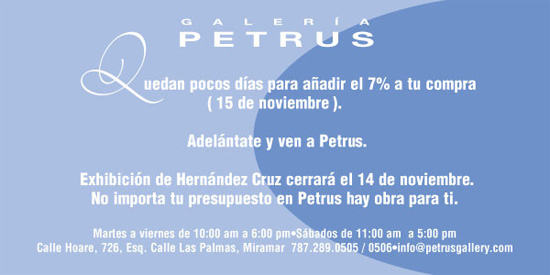 Thank you Sylvia Villafañe for reminding us what makes the art world go round. But what the hay! Don't miss Luis Hernández Cruz under any circumstances. Pertinent data above.
Haven't had your fill of La Muestra Nacional? Go here.
---