MUNDO ROTUNDO

GETTING AROUND THE WAY FOLKS USED TO, BY MOVING THEIR LIPS AS THEY READ:

Rotund the first, part 1, a brief, riled-up soliloquy about life in Puerto Rico.

Rotund the first, part 2, a visit to Ponce's most aromatic, amiable corner, Café Mayor, plus Rotund's first roundup of art shows, including a disgusted look at Pedro Vélez's shameful "Godfuck."

Rotund's second outing, the beginning, in which we reconsider Pedro's show, study some dubious goings-on in the San Juan art world, and get a haircut.

The second go-round, part 2: the haircut continues, there's a regrettable moment with fruit, and we drop by the fresh San Juan art-o-rama, =DESTO, to chat and chew.

Tercer episodio, parte una covers, if not the waterfront, at least that peculiarly Nuyorican- Borinquen ponderfest, "The (S) Files," at Museo de Arte de Puerto Rico and visits scenic Caguas to take a gander at one of the new kids on the art block, ÁREA.

El tercero, parte dos takes a wild ride on the Tren Urbano.

Number 4, part 1 gets the unexpected: some mail. In part 2, we hit the road for points south, with stops at the Frade Museum, El Cuñao, King's Cream, and Museo de la Historia de Ponce.

Chapter 5, verse 1 weighs Puerto Rico's travails against Miami's prosperity and scratches its head. Why does Fred Snitzer say the things he says?

Chapter 5, second verse: more art shows and the artists that make them, including the evergreen Antonio Martorell and a stealthy group at the neighborhood powder-house.

Chapter 6, part 1 and part 2 offer blow-by-blow coverage of Puerto Rico's first-ever art fair, CIRCA 2006, and the whole world asks, "What's it all about, Rotund?"

Número siete takes the slow train to Hato Rey and Galerías Prindari, where it meets the friendly natives.

Chapter 8 knocks on the door to the Berezdivin collection, hoping to get in, and then muses disapprovingly about Museo de Arte de Puerto Rico.

Not to be missed, of course: Booty Bundt, the cake that says it all, and BUY THIS NOW! an exclusive offer to be a part of this toney enterprize.



THE
OUTSIDE
WORLD

The following links suggest possibilities for the future of art in Puerto Rico and the conversations that might ensue. Here you will find, in no particular order, cyber- connections to the Miami art world, a rather haphazard look at the island scene, and a couple of art magazines with international scope.

The Next Few Hours
Critical Miami
Miami Art Central
Locust Projects
Centro Cultural Español
Edge Zones
Brook Dorsch Gallery
Kevin Bruk Gallery
Bernice Steinbaum Gallery
Fredric Snitzer Gallery
Ambrosino Gallery
Leonard Tachmes Gallery
Subtropics
Miami Art Exchange
Worm-Hole Laboratory
Museo de la Historia de Ponce
Museo Pío López Martínez
(The Frade Museum)
Museo de Arte de Ponce
Museo de Arte de Puerto Rico
Museo de Arte Contemporaneo
Museo de la UPR
Los Balcones de San Juan
La Casa del Arte
Programa de Artes Plástics del ICP
CIRCA Puerto Rico
AUTOGIRO
Art Nexus Magazine
artnet.com



Rotund World covers Miami, la Isla, and the world.

The magazine is designed and written by Joel Weinstein, in collaboration with unnamed others. The commentary, inspired by real events, is of a satirical nature and is not to be believed.

Photos, unless otherwise credited, are by none other than J Weinstein.

Contact Rotund World at this address.














Axis: Bold as Love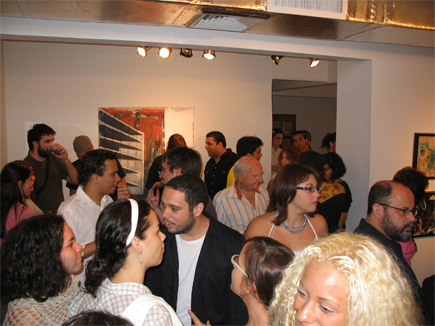 Step outside anywhere on the island these days, and you instantly know why they call August the dog days. You just want to lower your ragged tail, wander over to that abandoned Chevy van beside the road, and flop down with your buddies in the dust.
But to our surprise and immense satisfaction, the San Juan art scene is likewise caliente, picante, sabrosa. You could even say it's echando humo, but then you'd mark yourself as a hapless, decades out-of-it heavy metal dork, for sure. Anyway, the surprise is that all of the smart people—the ones wise in plata, at any rate—are supposed to abandon the island while summer bears down, and no gallery or artists' collective with an iota of sense will mount an exhibition of any weight until the sweltering's over. October, at least.
Well, this August—who knows why?—has proved to be a convergence of some moment. First of all, Chicago poseur-provocateur Dzine brought his psychedelic-cum-"big fucking gorgeous paintings" show to town—the "big fucking etcetera" being more or less the words of the artist himself—and it's a wowser any way you look at it. A sizable, beautifully assembled sampler of capital A Art beadwork, Dzine-style, at Museo de Arte de Puerto Rico. Both the artist's twisted desire to be the odious Jeff Koons in front of an adoring audience and his sure, graffiti-trained hand merit an in-depth consideration in these pages, and we promise to look into it.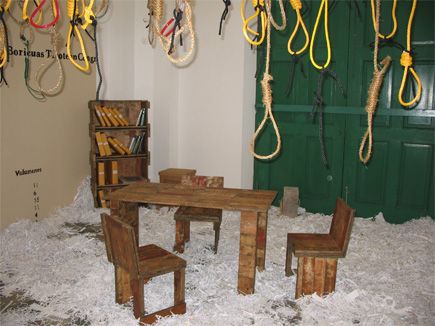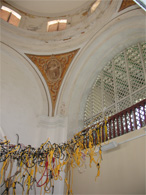 A hop, skip, and jump away from MAPR, in the truest heart of Viejo San Juan, la Galería de la Escuela de Artes Plásticas is the scene of what, by all appearances, is a hormonally- driven outburst of group dynamics by artists old enough to know better. There is a room- size installation replete with gallows, simulated bloodstains, fake shredded documents, and walls bearing earnest sloganeering. You will also find paintings in response to other paintings, and a whole clutch of that ultimate collaborative device, the cadáver exquisita. "Exposición + que Colectiva" consists of work, old and new, by EAP faculty, some students, and a group of Chicago artists from a onetime collective called Axe Street Arena. The show grew out of a longtime relationship between the Chicago group and San Juan artist Elizam Escobar, and it's dedicated to one of Axe Street Arena's founders, Michael Piazza, who died unexpectedly a few months ago. To some extent this accounts for the blood and gallows motif, although there are unmistakable echoes of the murder of Machetero leader Filiberto Ojeda Ríos by FBI agents last winter.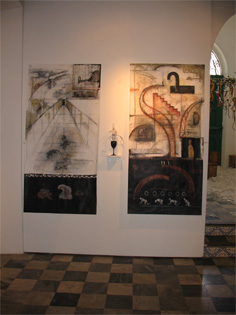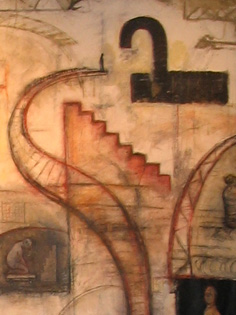 The exquisite corpse is a hoary form and art parlor trick if there ever was one, and "Exposición + que Colectiva" fairly reeks its musty odor. We found the exhibition's paintings and sculptures, and its Joseph Cornell-inspired boxes, more appealing works, some of them very good, indeed. One incisively rendered diptych, Rebecca Wolfram's "Pedestrian Hell #1" and "Pedestrian Hell #2," both from 2006, uses a sprawling architectonic narrative to frame its frail, afflicted humanity. There is a graphic, colorful triptych of paintings with fish by Chicagoan Bertha Husband—"Errata Est Non Pulcra #1," "Errata Est Non Pulcra #2," from 2006, and "(Drown)ing Room," not dated—and who can resist the symbolism of water and light and a skeletal fish with a vulture for a brain? Add a few pictographs and sporadically legible words, and the hint of metaphysics almost makes you forget that the work doesn't make all that much visual or linguistic sense.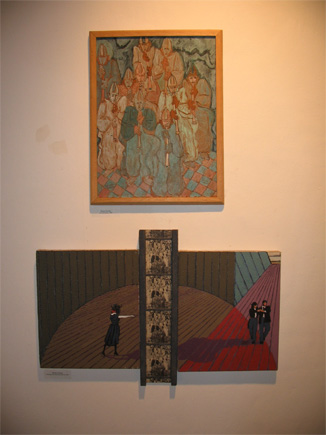 Escobar's initials crop up all over the collaborative side of the exhibition, but it is in his individual paintings—which date back two decades—that you really see how supple an artist he is. Oddly, his delicately hued, melancholy "Los corneteros," from 1986, served as the inspiration for a considerably more strident painting, Husband's 1999 "Dancing in the patriarchal lawn #2," with which it's paired in the exhibition. For us, it's a tribute of baffling connotations, although the artists themselves, so like family, probably understand the works' vectors implicitly.
Is "Exposición + que Colectiva" noisy and self-absorbed, too in love with its own conceits? We wouldn't say so. It's a show with a message, or several messages, and so what? It appears we're living in a narco-state, within the larger theater of cruelty where the puppet- mastery is shared by real, considerably bloodthirsty enemies and our own government, and how puny art seems in the clutches of such a grand and cynical scheme. It's worth a visit to the gallery to see what the collaborationist aesthetic of the late twentieth century was capable of producing, in a time that really needed the work.
Axis: Bold as Love continues.
---