Where Has the Time Gone?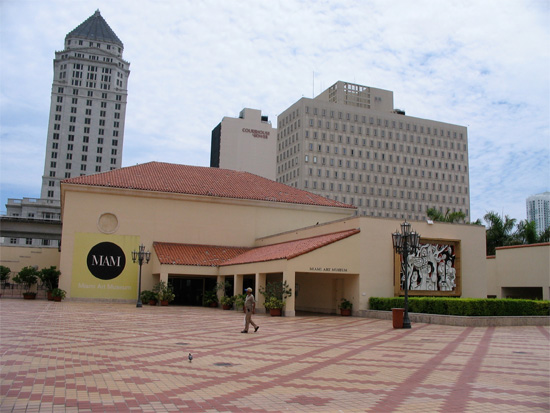 Better or worse? Going up or going down? Six to one or half-a-dozen to the other? Herewith are a few of the places we revisited after more than a year away, haunts that made our lives in Miami a dreamy, too-brief idyll. Or so it seems to us now that we are mere turistas:
Miami Art Museum plaza, with its newly acquired Fernand Léger mural Femmes au Perroquet, 1951-52. The Rufino Tamayo exhibition—a good call for the south Florida institution and, as always, impeccably mounted—and a new acquisitions show are not shabby either. Among the acquisitions, we especially liked Doug Aitken's new video; or rather the nicely shaped documentation of his recent New York show, a projection on the walls of MOMA on successive wintry nights.
Mi Colombia, the north beach cafetería whose crowded counter, unfailingly courteous minions, and heaping bandeja paisa constitute one of our fave Miami memories.
Rico Bakery on Northwest 17th Avenue was likewise a habitual stop during our south Florida sojourn, and it's still there, still serving up all manner of gooey sugar-`n'-lard, the best being the pastelitos de coco. We used to walk a couple of blocks down 17th to a juice bar called Las Cañas for a jugo de guanabana, but the place was closed. In fact, lacking heaping crates of guineos, aguacates, and naranjas out front, it looked out for the count. Say it isn't so!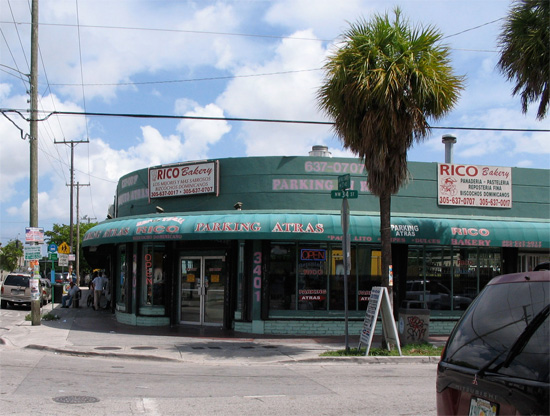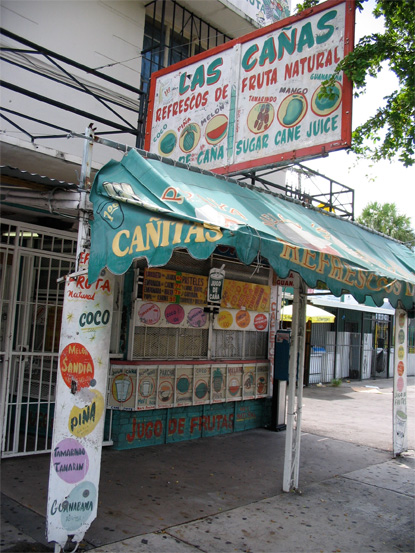 The Moore Space and Bas Fisher Invitational in the Design District, Bernice Steinbaum Gallery down the road, and Edge Zones, Kevin Bruk Gallery, Dorsch Gallery, and our pals' studios in Wynwood were practically the only places showing life on the east side. It's high summer and anyone with a lick of sense has fled to Hoboken, Schenectady, or some other, less furnace-like clime. Right, probably not the northeast U.S., but the fact is that we knocked on a lot of doors where no one was home. The remaining hardies were perfectly willing to take a break and schmooze. Adler Guerrier, Kathleen Hudspeth, and their amazing offspring, Ellington, gave us lots of love. (Hudspeth's The Next Few Hours is host to Rotund World, for which we're enormously, eternally grateful.) When we described the contemporary Puerto Rican scene, more than one local yokel said it sounded just like Miami a few years back. We do indeed remember when Rocket Projects was the prevailing party place, and hanging out was the point. A certain amount of seriousness seems to have taken hold among the artists we expected, or hoped, would survive and prosper, although we also heard about the tragically missing-in-action. Our judgement has always been, and remains, that the ravenous behemoth in their midst, Art Basel Miami Beach, has not been kind to many Miami artists, hasn't made things easier for a conscientious, visionary way of working, which favors considerable formal and ideological groping about over easy, marketable formulas. We were delighted to see that some of the artists we most admired when we lived in Miami are hanging in there and making spectacular strides in their work, if not exactly getting fat and famous.
Aside from those plucky toilers, this is what else we found. Below is one of the cool works at Charo Oquet's Edge Zones, an acrylic painting on cigar boxes by Ruben Ubiera—our notes are a little hard to decipher but it's very possibly titled The Cockfights and likely measures 2.5' x 4', from 2006—to the right of which is a detail from an installation by the grande dame herself. Kevin Bruk has added an auxiliary showroom across the street from his gallery, where we came face-to-face with a giant new extrusion by the King of Wack, Kenny Sharf. All we can say is that it's paint and it's a honker. Ralph Provisero was showing at Dorsch Gallery when we passed by, and the fourth image down is a one of several works in a group made of such flinty materials as steel, car emblems, and irony. Caprice measures 8" in diameter, includes some leather, and is dated 2007.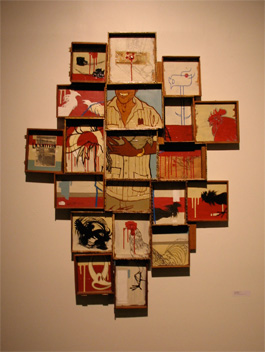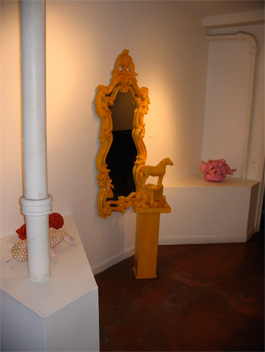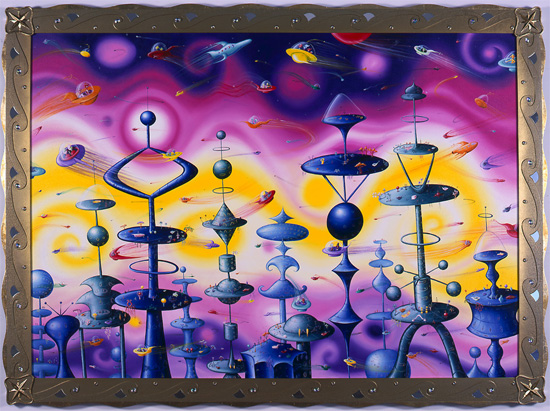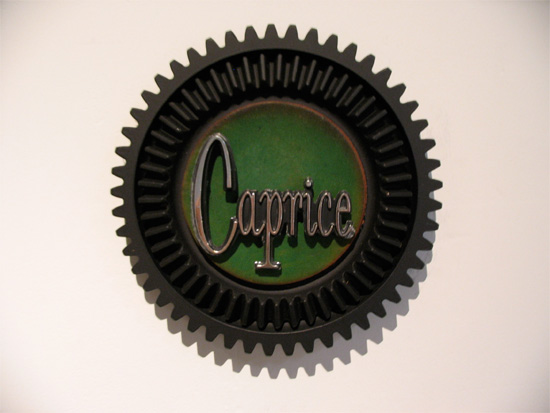 Then there's the case of Gean Moreno, who won this year's Cintas award. It's about time. If we were wearing hats, we'd take them off to the Cintas jury, who wisely picked art that's hard to get and not all that easy to like over the prettified work of a couple of contenders who were certainly worthy of the recognition and the cash. Below are a number of images of Moreno's Cintas installation, which includes works he showed at Fred Snitzer Gallery a year or so ago when we wrote about the exhibition here. We hope the dimensions are evident from the context—each work is about five feet by seven—and the materials, of course, include everything but the kitchen sink; although there may be some scuzz from the sink's drainhole, don't bet against it. Just kidding, hah hah hah. Hah! We show some details from the most outré, rococo part of the installation—hello Beatriz Monteavaro, whose actual drawing appears on the left of the first detail—to give you an idea of the consummate care with which the artist fiddles with stuff that can only qualify as willful miscellany. Compare Moreno's work with the installation by former Carpintero Alexandre Arrechea, who we would describe as a sophisticate, aesthete, and seeming shoo-in for the award. Too bad there could not have been co-winners as there were last year when Glexis Novoa and Anthony Goicolea shared the prize. But two years in a row? There would have been much holding of noses, to be sure. Pictured is an installation shot which includes Arrechea's Dust series—suspended glass tubes containing detritus from various world capitols, plus two exquisite watercolors of architectural destruction. Is that all that's on young Cuban artists' minds? See this page for a look at Rigoberto Quintana's own use of the wrecking ball as metaphor. (Please excuse the reflection in the detail of Arrechea's painting, by the way.)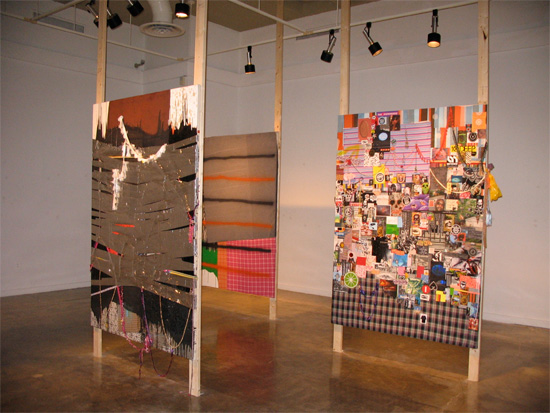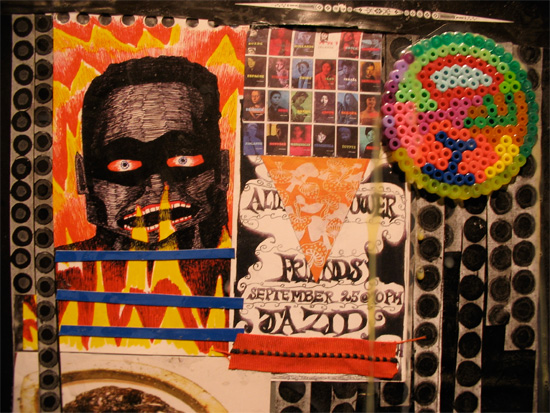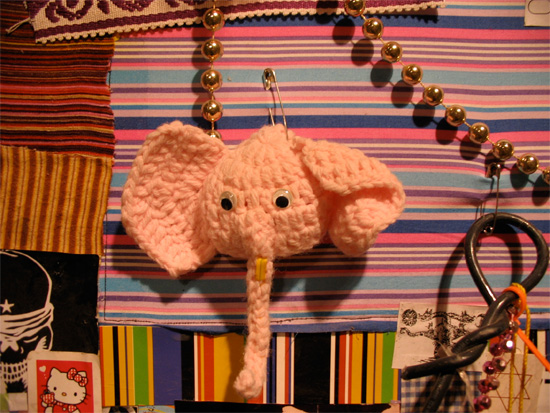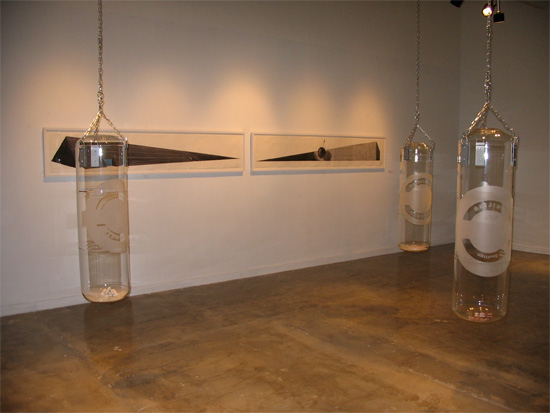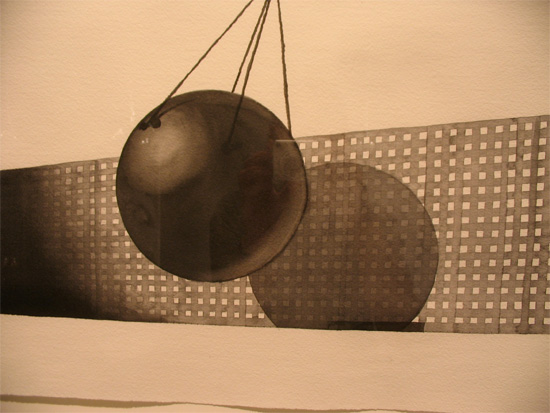 What important things didn't we do on our sojourn? We did not hit north Miami to see if anything's still going on, didn't drop in on some of the friends we should have, didn't read an arts column in a newspaper; daily, once-alternative, bloggish, or otherwise. We definitely came at a bad time, or at least a fallow time, and we didn't see very many signs of the DIY hustle that used to make the Miami scene all hot and bubbly if not exactly solid. Maybe it's just the summer doldrums. But it reminded us that Miami then, like San Juan now, was a fun place to be if you didn't take it too seriously, and the fact that some artists have hunkered down and made their projects mean something bodes well for a Puerto Rican scene that's all giddy with the excitement of just being itself.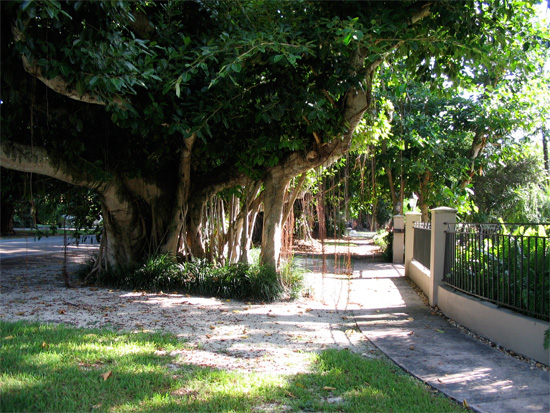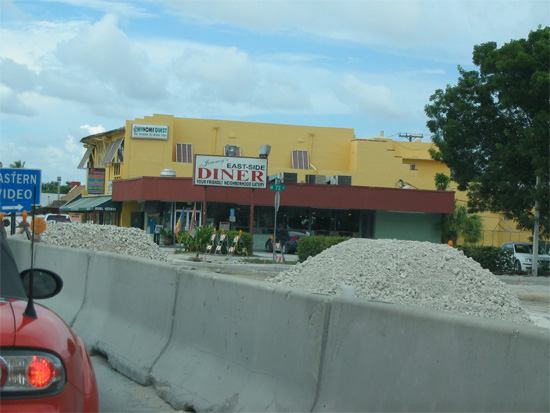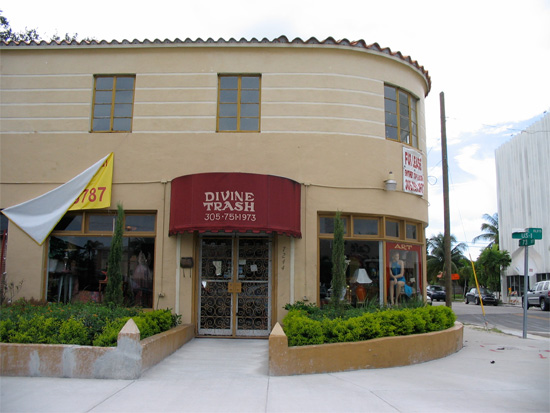 Have we forgotten anything? Oh, yes, there are those humongous banyan trees lining Old Cutler Road, among many other city byways. (Have we ever mentioned that the first we heard of banyans was in the opening paragraph of Dave Barry's Miami-centric haw- hawfest of a few years ago, Big Trouble, in which the first character Barry introduces climbs into a tree to sleep and do his nightly ablutions? We thought it was just one more of the novel's many seemingly preposterous inventions until we caught sight of those grand beauties for the first time. The first image above shows a stretch of Old Cutler.) Locust Projects, with its new Bhakti Baxter façade, looks downright spiffy these days. Too bad we couldn't get in. We drove up Biscayne Boulevard with mixed emotions. Some local institutions, like the one-time Bee Gee's sighting point, Jimmy's, seemed to be hanging on in the traffic-jammed chaos of new construction, but the boulevard's scabrous yet hilarious motels appeared to have no such luck. One of our fave junk cum collectibles stores looked exactly the same from the road.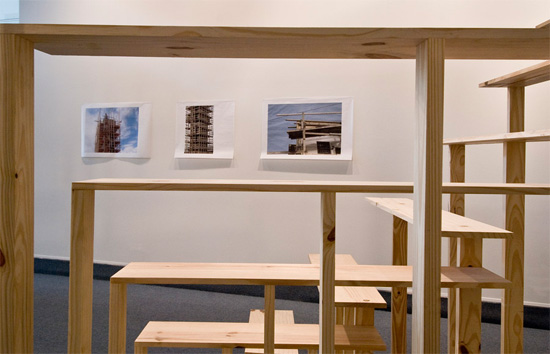 This last image has nothing to do with Miami. It's a tease, shot by Johnny Betancourt, from San Juan. We promised a look at the new installation by Ada Bobonis at el Museo de Arte de Puerto Rico, but we've run out of time. It's a must-see, a smart, well-made object, appearing at a moment craft is not as highly valued as it might be. We'll talk about it next episode, we promise. Meantime, the museum is open Tuesday and Thursday to Saturday from 10 a.m. to 5 p.m., Wednesday from 10 to 8 at night, and Sunday from 11 to 6. It's in Santurce, on de Diego near the Baldorioty freeway, and you can call 787-977-6277 for explicit directions or any other questions. The website is pretty easy to navigate, and it's here. If you want to talk back to us, click on the link below the red line. Otherwise . . .
Head on home, and go anywhere from there.