MUNDO ROTUNDO

THE KEY TO THE HIGHWAY:

Episode1, part 1, a brief, riled-up soliloquy about life in Puerto Rico.

Episode 1, part 2, a close-up look at one of the island's most personable coffee roasting operations, Café Mayor, plus Rotund's first roundup of art shows.

Episode 2, part 1, in which we review Pedro Vélez's "Godfuck," study an art sale posing as an exhibition, and get a haircut.

Episode 2, part 2: the haircut continues, there's a regrettable moment with fruit, and we drop by the fresh San Juan art-o-rama =DESTO for a talk with the founders.

Episode 3, part 1 covers, if not the waterfront, at least that occasional Nuyorican-Borinquen artfest "The (S) Files" at Museo de Arte de Puerto Rico, and visits scenic Caguas to marvel at another new kid on the block, ÁREA.

Episode 3, part 2 takes a wild ride on the Tren Urbano.

Episode 4, part 1 gets the unexpected: some mail. In part 2, we hit the road for points south, with stops at the Frade Museum, El Cuñao, King's Cream, and Museo de la Historia de Ponce.

Episode 5, part 1 weighs Puerto Rico's travails against Miami's prosperity and scratches its head. Why does Fred Snitzer say the things he says?

Episode 5, part 2: more art shows and the artists who make them, including the evergreen Antonio Martorell and a stealthy group called El Polverío.

Episode 6, part 1 and part 2 offer blow-by-blow coverage of Puerto Rico's first-ever art fair, CIRCA 2006, and the whole world asks, "What's it all about, Rotund?"

Episode 7 takes the slow train to Hato Rey and Galerías Prindari, where it meets the friendly natives.

Episode 8 knocks on the door of the Berezdivin collection, hoping to get in, and then muses disapprovingly about el Museo de Arte de Puerto Rico.

Episode 9, part 1 wallows in the paradoxes of summer in Puerto Rico, including a curious exhibition at la Escuela de Artes Plásticas, while part 2 looks at the work of painter-writer Javier Martínez.

Episode 10: the excellent exhibition space tagRom has a birthday and the laggardly Rotund crew tries to catch up on San Juan art doings, while Tiny Type travels southward to watch Rafael Trelles do his thing at el Museo de Arte de Ponce.

Episode 11: "Two Cards from the Bottom of the Deck?" This could only mean Pedro Vélez.

Episode 12 invites all and sundry to get down with La Muestra Nacional de Arte. Plus, =Desto hits its stride and doesn't look back.

Episode 13: is La Muestra Nacional the only thing on the Rotund mind? What about sex? Rapacious legislators? What happened to lechón, pasteles, and Heineken tall boys?

Episode 14 brings us yet more Muestra, but also, what? Yes, Pedro Vélez, now in his new role as Rotund art dick. Plus, new shows at San Juan's La Liga de Arte and Crema Gallery.

Episode 15 proves that the island is cooking: The International Book Fair, experimental prints at =Desto, Milton Rosa-Ortiz at Museo de Arte de Puerto Rico. The Basquiat drawing show is not terrible, but what is a private collection doing at MAPR?

Episode 16: the government is pilloried, artists are praised, food is mentioned, jokes are cracked that no one gets.

Not to be missed, of course: Booty Bundt, the cake that says it all, and BUY THIS NOW! an exclusive offer to be a part of this toney enterprize.



THE
OUTSIDE
WORLD

Follow the links to the Miami and Puerto Rican art worlds, and to perspectives bigger than both.

The Next Few Hours
Critical Miami
Miami Art Central
Locust Projects
Centro Cultural Español
Edge Zones
Brook Dorsch Gallery
Kevin Bruk Gallery
Bernice Steinbaum Gallery
Fredric Snitzer Gallery
Ambrosino Gallery
Leonard Tachmes Gallery
Subtropics
Miami Art Exchange
Worm-Hole Laboratory
The Moore Space
Museo de la Historia de Ponce
Museo Pío López Martínez
(The Frade Museum)
Museo de Arte de Ponce
Museo de Arte de Puerto Rico
Museo de Arte Contemporaneo
Museo de la UPR
Los Balcones de San Juan
La Casa del Arte
Programa de Artes Plástics del ICP
CIRCA Puerto Rico
AUTOGIRO
Art Nexus Magazine
artnet.com
Tom Moody's Weblog
BookDaddy



Rotund World covers Miami, la Isla, and the world.

The magazine is designed and written by Joel Weinstein, in collaboration with unnamed others. The commentary, inspired by real events, is of a satirical nature and is not to be believed.

Photos, unless otherwise credited, are by none other than J Weinstein.

You can contact Rotund World at this address or, if you prefer, our other one.





That Old Black Magic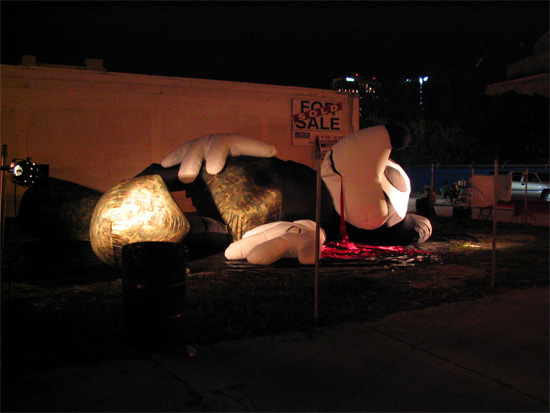 For the first time since the beginning—way, way back in the dark year 2001, before there was a beginning, really, when the Big Time promised but never showed up thanks to a certain suicide mission—we're going to miss the big-bucks, fast-taking, high-speed, obsessive-compulsive, be-seen-or-die, overdoes-it-fest called Art Basel Miami Beach. Welcome to the future of art. Yikes. We're leaving it to the hearty strain of gerbils who never seem to get enough of never getting enough.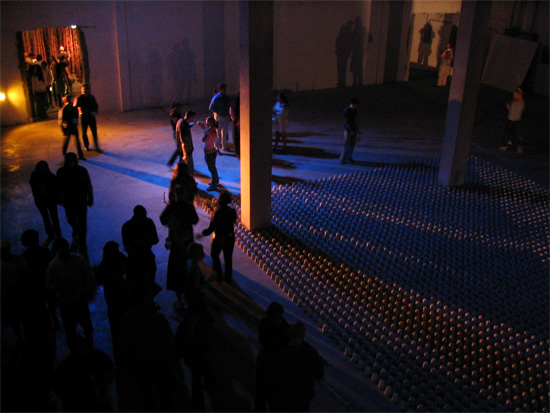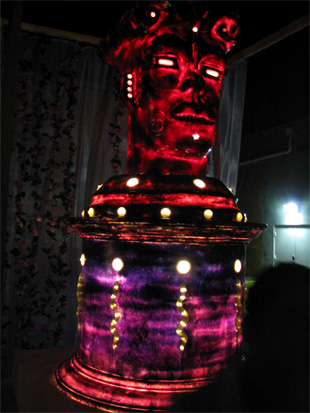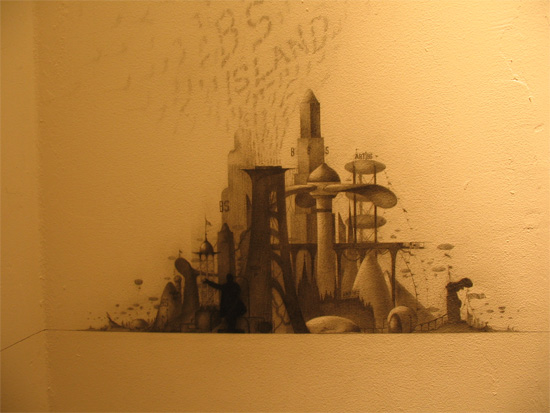 Don't be fooled. These shots are from two years ago, ancient history in the Brave New World of the New. But they may give our boricua pilgrims and stay-at-homes a tiny taste of the maelstrom. The top three images were taken at one of the fair's many peripheral events, OmniArt, since, as you ought to know, the best things happen at the edges. NADA (the New Art Dealers Alliance) was always our favorite venue for cool spaces showing interesting art. (The dead Mickey was created by Billie Grace Lynn, the installation below it is Carlos Bentancourt's, and the fierce visage is a sculpture by Edouard Duval-Carrié. The dystopian panorama is Glexis Novoa's, drawn on the wall of Bernice Steinbaum's gallery the following year. All are Miami artists.) Really, some vestigial part of us is going to miss Art Basel, and not just because of the island contingent going to Photo Miami and other points downwind of the Big Tent. Good luck to the Carloses. To all our pals who want to fly close to the flame. It's hotter than you think.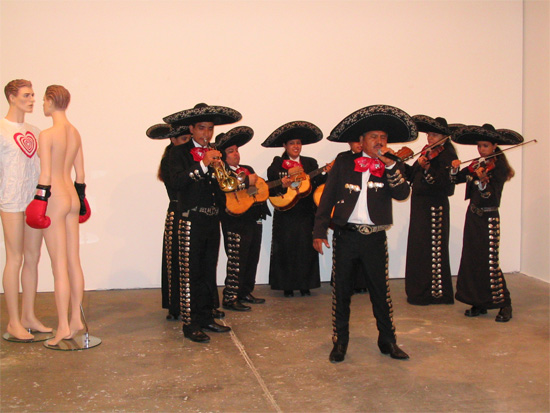 As we say, it's been awhile so names, dates, dimensions are all lost in the foggy mists of time and possible early onset dementia. Some things cannot be forgotten, however. Like Bert Rodriguez's live mariachi band installation at Fred Snitzer Gallery that year, which we happened upon while making peaceful early-morning rounds of the galleries. A helpful hint from Heloise: if you want to see the art of your friends, enjoy the relatively soft- spoken company of acquaintances who, for most of the year at any rate, seem pretty human, and scarf some decent muffins or what-have-you, trooping around Wynwood on foot a little after sunup is the way to go. Get out there before busloads of haughty Eurotrash rumble into the neighborhood for some late-morning slumming.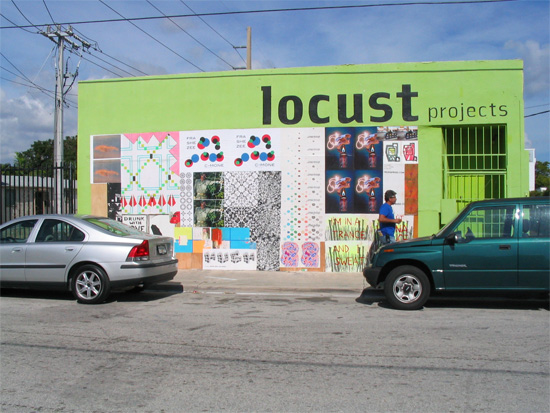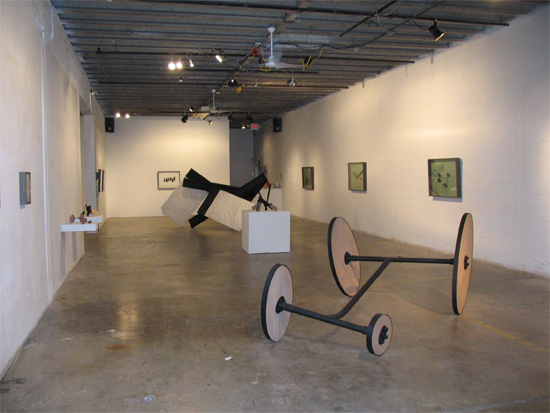 Pictured above are two of our favorite stops in Miami under any circumstances, both hanging on by their bohemian fingernails in the rampantly toney Wynwood: the far-out Locust Projects and Brook Dorsch's venerable Dorsch Gallery, which was showing incarnations of Ralph Provisero's fine sense of balance and form at the time. Pay close attention, Puerto Rico.
We've told our closest friends, but why keep secrets? The more or less official lists of restaurants seem to be aimed at the well-heeled or cafe-dwelling snoots. For hearty campesino fare—high in endurance-building carbs, easy on the pocketbook—we have some muy barrato, muy fresco, and bien out-of-the-way recommendations: Atlacatl, the Salvadorian redoubt at 466 SW 17th Avenue in Little Havana is pupusa heaven, and the tamal de elote and yucca frita con chicharron are not bad. Honduras Maya, 1115 SW 27th Avenue, is home of the baleada, a tortilla filled with chicharron, frijoles, huevos revueltos, and crema. ¡Hijole! Try one with a tall, cool horchata. For the best in comida nica, there are many choices, but if you like abundant kitsch trappings with your carne asada, eat in at Yambo, 1643 SW First Street. Don't forget the tortillas. There is a panadería dominicana called Repostería Rico on the corner of NW 17th Avenue and 34th Street whose pastelitos de coco, de mango, o de guayaba are flakey little heart attacks that make the 50 weight cafecitos go down easy.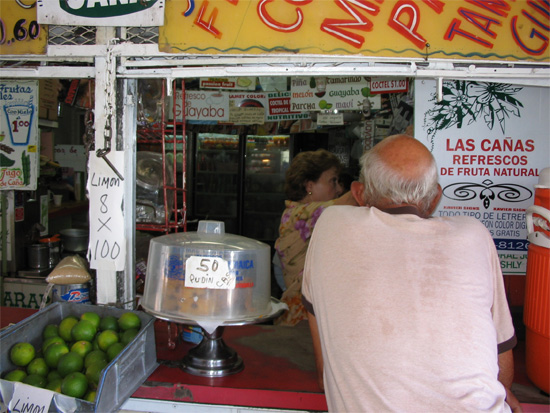 Just two blocks down 17th is Las Cañas (pictured above), a little juice bar whose jugo de guanabana and jugo de coco are so fresh you just want to slap them. Speaking of fresh juices and kitsch, ask around about El Palacio de los Jugos on Red Road, a thriving marketplace and quintessential Miami landmark where anything can happen, including a Sunday afternoon Caruso crooning ballads from a Cuban long ago. Any one of the several branches of Gilberts Bakery—there is one in the shopping center where Red Road crosses Bird—is another necessary stop on the sweet-tooth express. No matter what they tell you, Gilberts es Gilberts y lo demás es parking.
Here is more ABMB.
---