MUNDO ROTUNDO

THE KEY TO THE HIGHWAY:

Episode1, part 1, a brief, riled-up soliloquy about life in Puerto Rico.

Episode 1, part 2, a close-up look at one of the island's most personable coffee roasting operations, Café Mayor, plus Rotund's first roundup of art shows.

Episode 2, part 1, in which we review Pedro Vélez's "Godfuck," study an art sale posing as an exhibition, and get a haircut.

Episode 2, part 2: the haircut continues, there's a regrettable moment with fruit, and we drop by the fresh San Juan art-o-rama =DESTO for a talk with the founders.

Episode 3, part 1 covers, if not the waterfront, at least that occasional Nuyorican-Borinquen artfest "The (S) Files" at Museo de Arte de Puerto Rico, and visits scenic Caguas to marvel at another new kid on the block, ÁREA.

Episode 3, part 2 takes a wild ride on the Tren Urbano.

Episode 4, part 1 gets the unexpected: some mail. In part 2, we hit the road for points south, with stops at the Frade Museum, El Cuñao, King's Cream, and Museo de la Historia de Ponce.

Episode 5, part 1 weighs Puerto Rico's travails against Miami's prosperity and scratches its head. Why does Fred Snitzer say the things he says?

Episode 5, part 2: more art shows and the artists who make them, including the evergreen Antonio Martorell and a stealthy group called El Polverío.

Episode 6, part 1 and part 2 offer blow-by-blow coverage of Puerto Rico's first-ever art fair, CIRCA 2006, and the whole world asks, "What's it all about, Rotund?"

Episode 7 takes the slow train to Hato Rey and Galerías Prindari, where it meets the friendly natives.

Episode 8 knocks on the door of the Berezdivin collection, hoping to get in, and then muses disapprovingly about el Museo de Arte de Puerto Rico.

Episode 9, part 1 wallows in the paradoxes of summer in Puerto Rico, including a curious exhibition at la Escuela de Artes Plásticas, while part 2 looks at the work of painter-writer Javier Martínez.

Episode 10: the excellent exhibition space tagRom has a birthday and the laggardly Rotund crew tries to catch up on San Juan art doings, while Tiny Type travels southward to watch Rafael Trelles do his thing at el Museo de Arte de Ponce.

Episode 11: "Two Cards from the Bottom of the Deck?" This could only mean Pedro Vélez.

Episode 12 invites all and sundry to get down with La Muestra Nacional de Arte. Plus, =Desto hits its stride and doesn't look back.

Episode 13: is La Muestra Nacional the only thing on the Rotund mind? What about sex? Rapacious legislators? What happened to lechón, pasteles, and Heineken tall boys?

Episode 14 brings us yet more Muestra, but also, what? Yes, Pedro Vélez, now in his new role as Rotund art dick. Plus, new shows at San Juan's La Liga de Arte and Crema Gallery.

Episode 15 proves that the island is cooking: The International Book Fair, experimental prints at =Desto, Milton Rosa-Ortiz at Museo de Arte de Puerto Rico. The Basquiat drawing show is not terrible, but what is a private collection doing at MAPR?

Episode 16: the government is pilloried, artists are praised, food is mentioned, jokes are cracked that no one gets.

Episode 17 visits Art Basels past. This may strike some readers as cheap and retrograde, but we think the vintage years never get old. Besides, we also look at a Julie Kahn trading-card project, and what could be groovier than that?

Episode 18 looks like a preview, reads like a preview, and even smells a bit like a preview. But is it really a preview?

Episode 19: Barcelona. Need we say more?

Episode 20 visits the Corozal redoubt of Titi Noris, then gets down and gets funky with Julio Micheli.

Episode 21 tramps through the dirty snow of New York City and sees a bunch of fur coats posing as art.

Episode 22: the good, the bad, and the dubious underbelly of the Puerto Rican art world: shows and those who write about them.

Episode 23 takes a break from the box step and does the boogaloo instead: some advice about going public.

Episode 24 is an extensive chat about a wide-ranging show, The DAMS 2. Who exactly are Dildo and Culo?

Episode 25 marks the beginning of the end. At least the end of the long wait for CIRCA 2007.

Episode 26: enough CIRCA to please the gluttonous and outrage the discreet.

Episode 27 provides one last thrill from the Puerto Rican scene before our Ecuadorian sojourn: we visit =Desto's rad Publica.

Episode 28: Hello, Cuenca. Almost more news from one small Latin American country's premiere art event than a reader wants to know. Still, we bet the artists involved will like seeing their names in print.

Episode 29 is as nutty as a fruitcake. Don't miss the Coke cans, created by real, or once-real, graffiti artists.

Episode 30 brings us back to the island, but not without a detour to the Cuenca Biennial's dark past.

Episode 31: Can you believe the nerve of some people? The Rotund crew talks about art critics sin fin, which means, of course, a lot of self references.

Episode 32: We call out the forces of evil, who no longer bother to answer. Someone will be sorry one day.

Episode 33 visits La Perla and then takes off its hat to the organizers of the now-annual neighborhood art and music fest, La Perla Habla.

Episode 34 returns, if not from the dead, then from what seems like a long sleep. Reviews of Espacio 1414's latest doings, the good works at =Desto, and thoughts on the new boys in town, Galería Candela.

Episode 35: Why do we persist in making rude fun of the island's leading newspaper? And is it possible that the San Juan art scene deserves so many column inches of Rotund blather?

Not to be missed, of course: Booty Bundt, the cake that says it all, and BUY THIS NOW! an exclusive offer to be a part of this toney enterprize.



THE
OUTSIDE
WORLD

Follow the links to the Miami and Puerto Rican art worlds, and to perspectives bigger than both.

MIAMI
The Next Few Hours
Critical Miami
Miami Art Central
Locust Projects
Centro Cultural Español
Edge Zones
Brook Dorsch Gallery
Kevin Bruk Gallery
Bernice Steinbaum Gallery
Fredric Snitzer Gallery
Ambrosino Gallery
Leonard Tachmes Gallery
Diaspora Vibe Gallery
Subtropics
Miami Art Exchange
Worm-Hole Laboratory
The Moore Space

PUERTO RICO
Museo de la Historia de Ponce
Museo Pío López Martínez
(The Frade Museum)
Museo de Arte de Ponce
Museo de Arte de Puerto Rico
Museo de Arte Contemporaneo
Museo de la UPR
Museo de las Américas
Los Balcones de San Juan
La Casa del Arte
Galería 356
Galería Comercial
Galería Candela
Programa de Artes Plástics del ICP
CIRCA Puerto Rico
AUTOGIRO
Conboca
¿Dónde Veo Arte?
El Status
MSA-Xperimental Art
orificio
Repuesto
Trance Líquido
M de Mater O'Neill Audio Archive

THE WORLD
Art Nexus Magazine
artnet.com
Tom Moody's Weblog
BookDaddy
Edward Winkleman's Blog
Artkrush

Rotund World covers Miami, la Isla, and the world.

The magazine is designed and written by Joel Weinstein. It's satire, folks, all in snide fun. Don't believe a word of it. Nonetheless, you can now subscribe to our RSS feed.





Photos, unless otherwise credited, are by none other than J Weinstein.

Contact us at this address or this one. Note that rotund@coqui.net is defunct, R.I.P.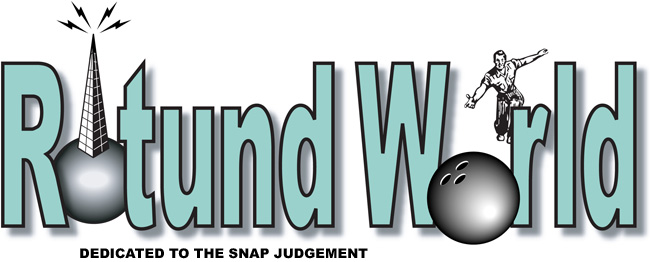 Happy, Shiny
When you revisit a place where you once lead a good, productive life, what makes the light bright and clear, the sky luminous, the streets alive with schemes and apparent purpose? Is it really possibility, or just a trick of memory?
We recently spent a week in Miami where we lived for almost six years before decamping for Puerto Rico a couple of summers ago. It seems like eons. Seen a certain way, at just the right distance, the Miami of today is a teeming, sky-high toy metropolis, as appealing as a dream. It looks like a sleek urban pleasure craft for the twenty-first century's captains of industry, or whatever they are these days: real estate moguls, no doubt, on-the-lam financiers from Venezuela, summering drug lords, homegrown art collector-pashas.
But the newness quickly curdles. The skyline is changing at a dizzying rate everywhere you look, as in a Sally Cruikshank cartoon, historic enclaves crumbling beneath a looming nightmare of lofty cages for young moderns; fine if you want to live like a lab rat, but not so great if you long for a plot of grass with bromeliads. We hear that there are few takers for this grotesque overbuilding, and condos are actually being auctioned off. How nice to imagine developers suffering the pangs of Hell—one monstrosity in particular, a high-rise called Kubik which was supposed to overshadow our lovely old bayside neighborhood, Morningside, looked dead as a mackerel as we drove by, a dusty vacant lot with a crane— but no amount of their writhing in the fiery furnace, nothing but an atomic blast will undo the monstrous proportions that the city's achieving.
In its early stages, its headiest dream state days, the planning for Miami Art Museum's move to the waterfront pictured Bicentennial Park as the terminus for a pedestrian-scale renewal of downtown, embracing a revived Overtown as one of its most ambitious goals. That was long, long before the grunters and the local weasels began to sniff the air and raise their morbid—and, as it turned out, prolonged—cries against the museum, and the inevitabilities of modern American urban development put an end to all that. "Pedestrian- scale" is hardly the way to describe how things have turned out. Witness the blocks across the street from where the museum will build itself, a dystopian barrier forever walling citizens off from one of their seats of culture. Below that is a view from the freeway leading into downtown, one heading to the beach, and the remnants of a bayside residential neighborhood.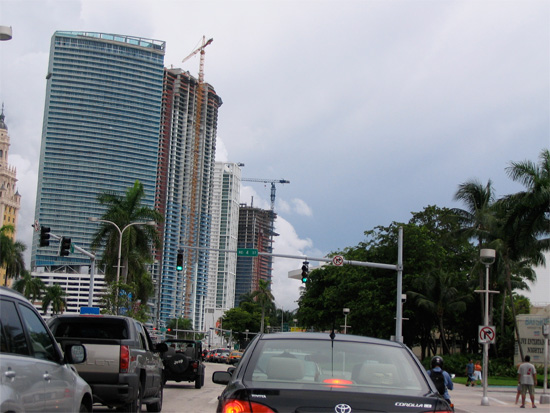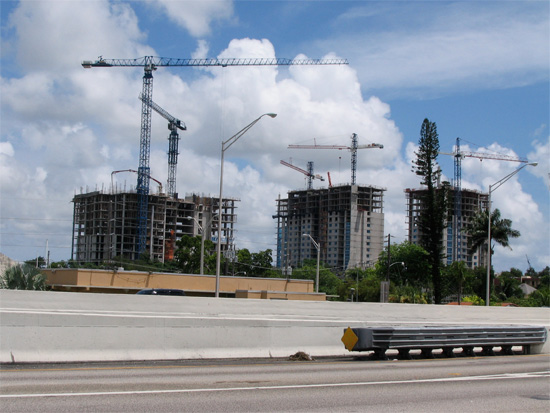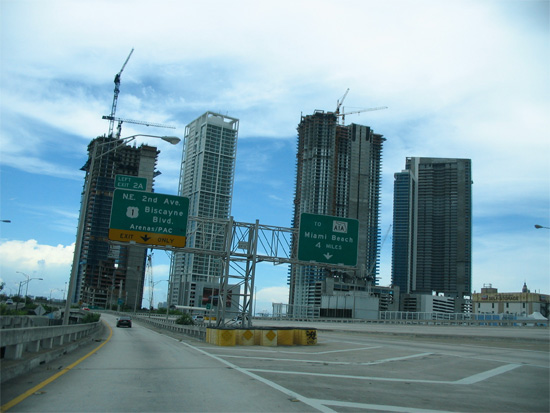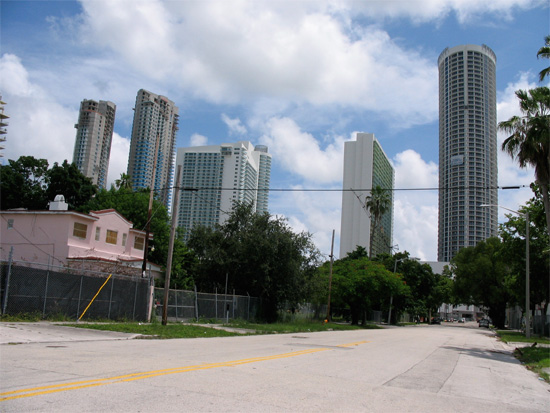 Our visit often seemed like one long motorized drift through ongoing desolation. Who's in charge here? It seems to be the same heedless moronocracy whose pockets were getting stuffed when we lived in Miami. The neighborhoods, like Miami's burgeoning Wynwood, suffer no less from boomthink and ravagement, though torqued a different way. A neighborhood that was, not so long ago, admittedly rasty, even dangerously so—and therefore perfect for that incarnation of the art world which, for however brief a moment, was gloriously stoned, slacking, pretty much without commercial potential and so what; a party, in other words—is getting a makeover that's rendering the place a grey, featureless "arts district," redeemed only by a few discount shoe stores, Latin cafes, auto-body shops, and other remnants of the old days.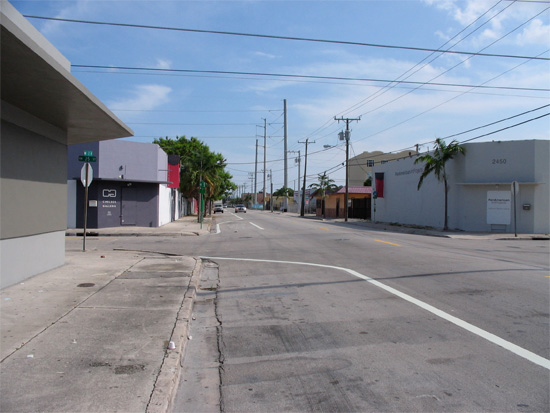 But we're supposed to be talking about a lovely memory, right? A life well lived. We revisited some spots that in fact seemed little changed. We met up with Gean Moreno at Enriqueta's, that 29th Street redoubt of Cuban breakfast and lunch, downed a clutch of flaky pastelitos with a bitter cafecito at Gilbert's Bakery on Red Road, dropped in on the inimitably, timelessly seedy Jimbo's out by Virginia Key, where beer is swilled and bocce balls tossed with bleary, snaggle-toothed abandon. We ended up at the Oasis Café in Key Biscayne, standing at the sweltering counter inside over a batch of freshly extruded churros con chocolate caliente. On Calle Ocho, it looks like Versailles will forever be a nexus for the aging stalwarts of exilio cubano, who pack the place after dark in their finery to remember the good times—sort of like us—and relish the ever-more imminent croaking of El Jefe.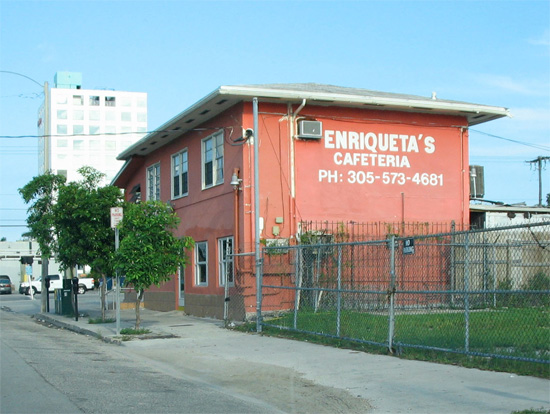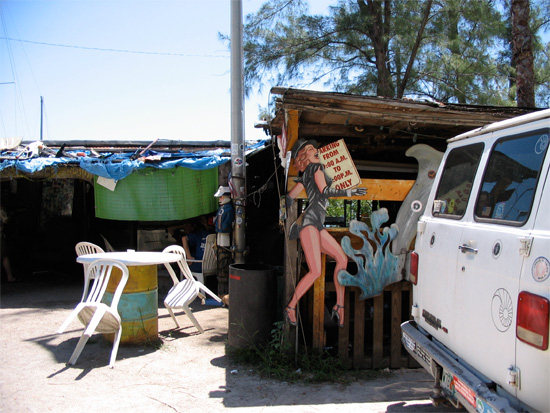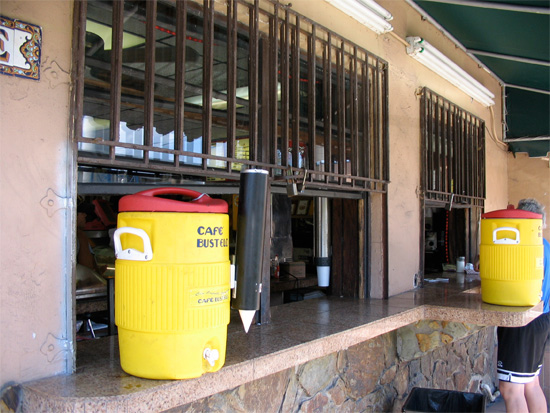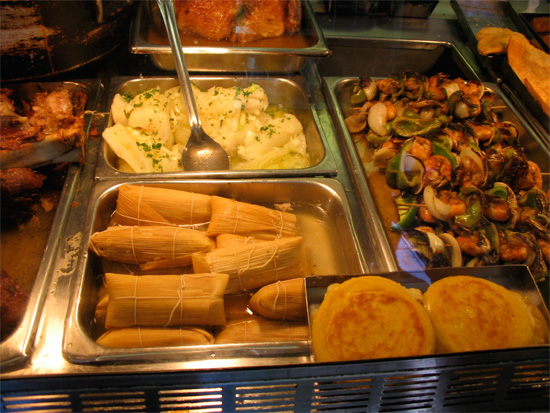 Bernice Steinbaum Gallery looked just like it did when we left, though wearing a fresh coat of paint. But the view across the street was shocking to behold. When last we saw it, the several square blocks of vacant land outside Bernice's gates was a fenced weed patch, and now it sports gigantic mutant growths like Target, Michael's, Circuit City, and towering— and still-unsold, one imagines—condos.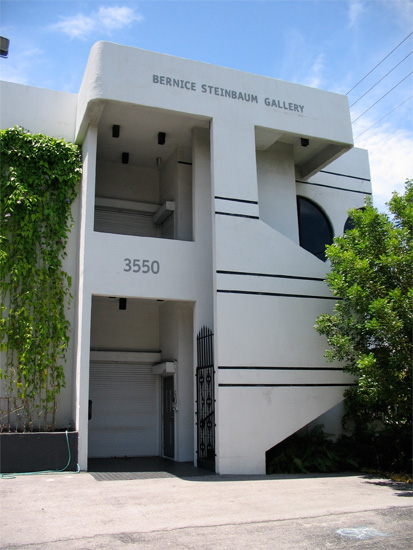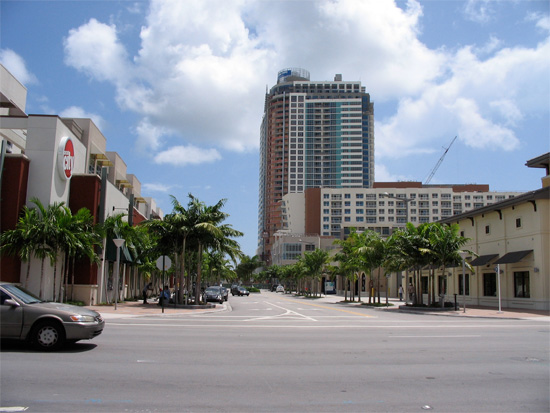 A few blocks away, in the Design District, we visited the Moore space and the artists' collective Bas Fisher Invitational. The district was once the bright promise of Miami's artworld future, and indeed it had its moments, but once the art scene headed south, it seemed to settle into relative listlessness, a neighborhood of one interior design palace after another, where, if you knew where to look, you could find hidden crannies of artistic production. Apparently those momentary outbursts still exist, still occupying vacant spaces in search of paying tenants, but Rosie-Gordon Wallace's Diaspora Vibe is almost alone among art galleries. Nothing symbolizes the fate of the Design District quite like The Livingroom, an architectural-scale installation by Roberto Behar and Rosario Marquardt which used two exterior walls of a remodeled one-story modernist building to pose a grandiose—and quite handsome—inquiry into scale, space, containment, and other metaphysical matters. It's funny. As we drove up Miami Avenue away from Wynwood's new consumerist cheese factory, we caught sight of The Livingroom and thought for a split- second, "Well, some things never change." Then, alas, we espied the vacant lot where the building around it used to be. That disheartening vista appears below, followed by a shot of Mike Taylor's installation at Bas Fisher Invitational, Animal Science, and below that Skip van Cel's . . . now lie in it, in a separate space in the Buena Vista Building.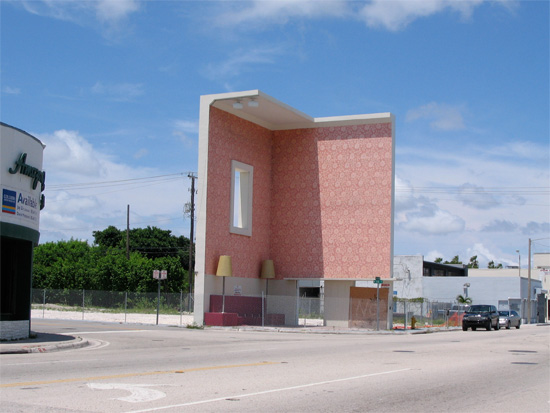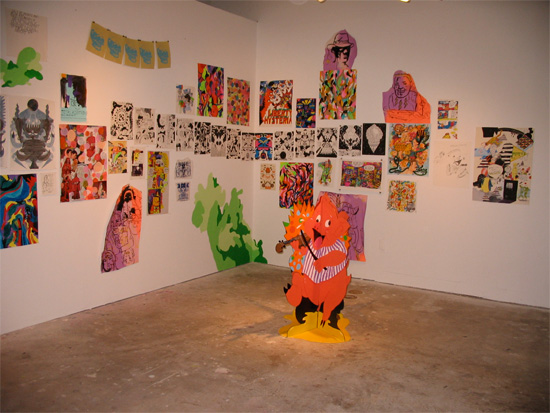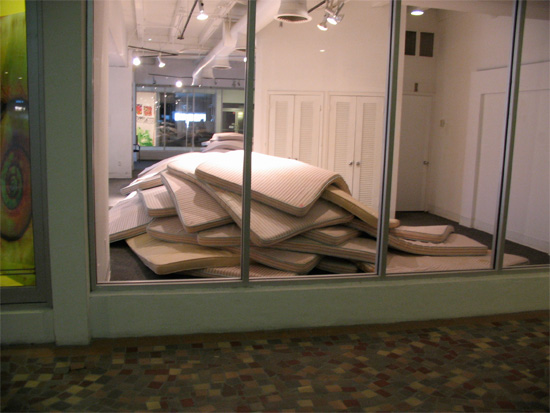 On the other hand, the warehouse on the corner of Northeast 39th Street and Second Avenue still has big José Bedia murals festooning its exterior walls like totems of a vanished indigenous culture. Bedia also participated in one of the most successful public art projects we've seen, One Miami Riverwalk. In addition to Bedia, Glexis Novoa, Michelle Weinberg, Liliana Porter, and Edouard Duval-Carrié, among others, created installations for a malecón where the Miami River empties into Biscayne Bay. Novoa's works—exquisite police-state cityscapes on marble, sitting inside stainless steel framed porthole-like display cases— depict the newly built urban landscape as a baleful totalitarian wasteland of airborne fascistic monuments, surveillance cameras, and listening instruments, while reflecting the actual high-rises on the river's opposite shore in their heavy glass fronts. He calls this collection of drawings N.E.O. (New Economic Order), and it interacts with its surroundings in a way that is both critical and gorgeous, something that few public artworks accomplish. We hope you're as warmed as we are by the sight of Bedia's monumental canvases, first image below, and the shots of Novoa's installation that follow. Lastly, Duval-Carrié's The Lady of Miami.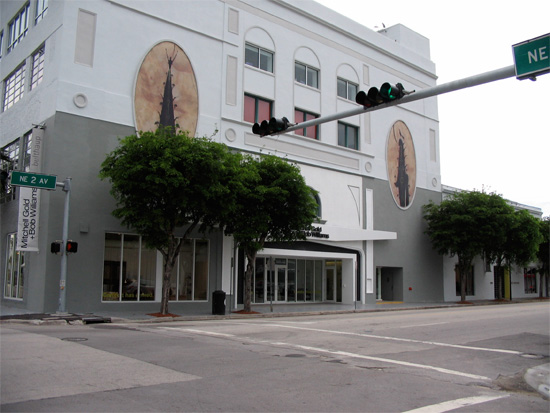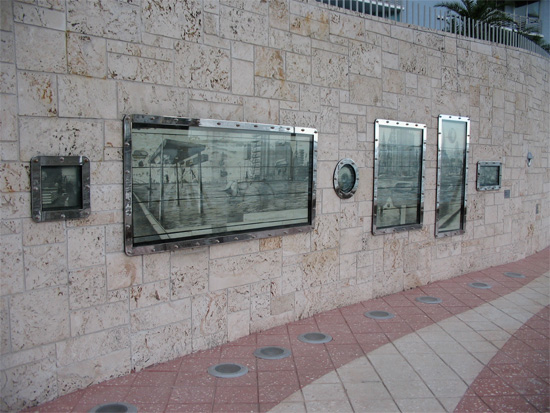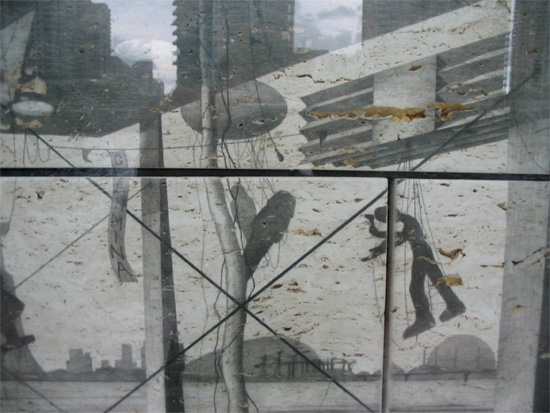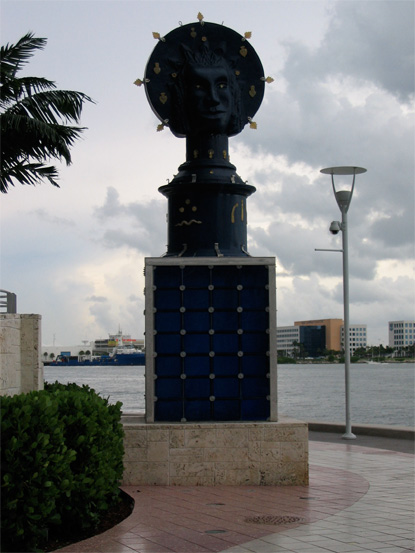 So Miami looks both considerably worse and better, depending on when you happen to look out the window. On balance, the list of things we found to like is far lengthier than our litany of woe. Surely we would bore the socks off our long-suffering visitors if we blabbed too much longer in this vein. We hope the abbreviated list on the following page will suffice to wrap things up.
Read more about Miami, or relive our jolly poke at ENDI.
---