MUNDO ROTUNDO

THE KEY TO THE HIGHWAY:

Episode1, part 1, a brief, riled-up soliloquy about life in Puerto Rico.

Episode 1, part 2, a close-up look at one of the island's most personable coffee roasting operations, Café Mayor, plus Rotund's first roundup of art shows.

Episode 2, part 1, in which we review Pedro Vélez's "Godfuck," study an art sale posing as an exhibition, and get a haircut.

Episode 2, part 2: the haircut continues, there's a regrettable moment with fruit, and we drop by the fresh San Juan art-o-rama =DESTO for a talk with the founders.

Episode 3, part 1 covers, if not the waterfront, at least that occasional Nuyorican-Borinquen artfest "The (S) Files" at Museo de Arte de Puerto Rico, and visits scenic Caguas to marvel at another new kid on the block, ÁREA.

Episode 3, part 2 takes a wild ride on the Tren Urbano.

Episode 4, part 1 gets the unexpected: some mail. In part 2, we hit the road for points south, with stops at the Frade Museum, El Cuñao, King's Cream, and Museo de la Historia de Ponce.

Episode 5, part 1 weighs Puerto Rico's travails against Miami's prosperity and scratches its head. Why does Fred Snitzer say the things he says?

Episode 5, part 2: more art shows and the artists who make them, including the evergreen Antonio Martorell and a stealthy group called El Polverío.

Episode 6, part 1 and part 2 offer blow-by-blow coverage of Puerto Rico's first-ever art fair, CIRCA 2006, and the whole world asks, "What's it all about, Rotund?"

Episode 7 takes the slow train to Hato Rey and Galerías Prindari, where it meets the friendly natives.

Episode 8 knocks on the door of the Berezdivin collection, hoping to get in, and then muses disapprovingly about el Museo de Arte de Puerto Rico.

Episode 9, part 1 wallows in the paradoxes of summer in Puerto Rico, including a curious exhibition at la Escuela de Artes Plásticas, while part 2 looks at the work of painter-writer Javier Martínez.

Episode 10: the excellent exhibition space tagRom has a birthday and the laggardly Rotund crew tries to catch up on San Juan art doings, while Tiny Type travels southward to watch Rafael Trelles do his thing at el Museo de Arte de Ponce.

Episode 11: "Two Cards from the Bottom of the Deck?" This could only mean Pedro Vélez.

Episode 12 invites all and sundry to get down with La Muestra Nacional de Arte. Plus, =Desto hits its stride and doesn't look back.

Episode 13: is La Muestra Nacional the only thing on the Rotund mind? What about sex? Rapacious legislators? What happened to lechón, pasteles, and Heineken tall boys?

Episode 14 brings us yet more Muestra, but also, what? Yes, Pedro Vélez, now in his new role as Rotund art dick. Plus, new shows at San Juan's La Liga de Arte and Crema Gallery.

Episode 15 proves that the island is cooking: The International Book Fair, experimental prints at =Desto, Milton Rosa-Ortiz at Museo de Arte de Puerto Rico. The Basquiat drawing show is not terrible, but what is a private collection doing at MAPR?

Episode 16: the government is pilloried, artists are praised, food is mentioned, jokes are cracked that no one gets.

Episode 17 visits Art Basels past. This may strike some readers as cheap and retrograde, but we think the vintage years never get old. Besides, we also look at a Julie Kahn trading-card project, and what could be groovier than that?

Episode 18 looks like a preview, reads like a preview, and even smells a bit like a preview. But is it really a preview?

Episode 19: Barcelona. Need we say more?

Episode 20 visits the Corozal redoubt of Titi Noris, then gets down and gets funky with Julio Micheli.

Episode 21 tramps through the dirty snow of New York City and sees a bunch of fur coats posing as art.

Episode 22: the good, the bad, and the dubious underbelly of the Puerto Rican art world: shows and those who write about them.

Episode 23 takes a break from the box step and does the boogaloo instead: some advice about going public.

Episode 24 is an extensive chat about a wide-ranging show, The DAMS 2. Who exactly are Dildo and Culo?

Episode 25 marks the beginning of the end. At least the end of the long wait for CIRCA 2007.

Not to be missed, of course: Booty Bundt, the cake that says it all, and BUY THIS NOW! an exclusive offer to be a part of this toney enterprize.



THE
OUTSIDE
WORLD

Follow the links to the Miami and Puerto Rican art worlds, and to perspectives bigger than both.

MIAMI
The Next Few Hours
Critical Miami
Miami Art Central
Locust Projects
Centro Cultural Español
Edge Zones
Brook Dorsch Gallery
Kevin Bruk Gallery
Bernice Steinbaum Gallery
Fredric Snitzer Gallery
Ambrosino Gallery
Leonard Tachmes Gallery
Diaspora Vibe Gallery
Subtropics
Miami Art Exchange
Worm-Hole Laboratory
The Moore Space

PUERTO RICO
Museo de la Historia de Ponce
Museo Pío López Martínez
(The Frade Museum)
Museo de Arte de Ponce
Museo de Arte de Puerto Rico
Museo de Arte Contemporaneo
Museo de la UPR
Los Balcones de San Juan
La Casa del Arte
Programa de Artes Plástics del ICP
CIRCA Puerto Rico
AUTOGIRO
Trance Líquido
M de Mater O'Neill Audio Archive

THE WORLD
Art Nexus Magazine
artnet.com
Tom Moody's Weblog
BookDaddy



Rotund World covers Miami, la Isla, and the world.

The magazine is designed and written by Joel Weinstein. It is a periodic compendium of smirking opinion, and is not be be taken seriously. Be warned.

Photos, unless otherwise credited, are by none other than J Weinstein.

You can contact Rotund World at this address or, if you prefer, our other one.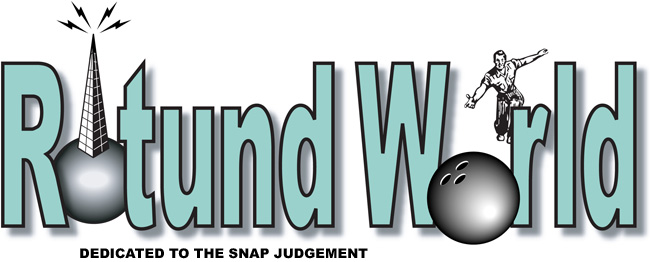 Rotund Rolls On
Stop us if you've heard this before. We've added an entire page to our CIRCA roundup since last you looked, or perhaps you haven't. You can skip the following preliminaries and go right to the main action—by which we mean scads of colorful images and line after line of unsolicited opinions about the second edition of Puerto Rico's one and only international contemporary art fair—by jumping over the pre-digested verbiage below to this page. Of course, first impressions are always a gas, so feel free to peruse the following.
The Party's Over . . .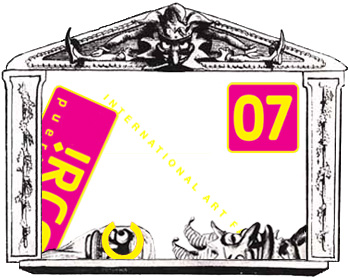 ¡Mano! We survived
another
cabroncito
CIRCA art fair, and are we happy just to be breathing through our noses once again. Five seemingly endless days and nights of contemporary art, stuff that pretends to be contemporary art, wild parties and copious bar-hopping with contemporary art as a thin pretext, and people yammering about contemporary art as if they'd just learned to tie their shoes. That doesn't count the weeks and months of fidgeting, grunting, sighing, hand- wringing, grinding of teeth, perhaps a little pants-wetting and other nervous tics too disgusting to mention that lead up to the fair itself. It's effing Miami all over again. Maybe someone could construct a narrative of what happened during that long, fever-dream weekend, because we suspect that it was not Miami at all and perhaps was even the anti-Miami. But it won't be us because we are still dizzy with the giddy, frothy, harrumphy, glad-handing, big-pat-on-the-back, art-flogging non-stopness of it all. If you're just tuning in, lucky you. Flip back to
here
and get a taste of the beginnings of the hoo-hah from the beginning. If you're looking for meaning, however, we suggest you have a little chat with your personal trainer, your clergyperson, or the police detective you're informing on your neighbors to. You might also consult our
Inside Dope
column, if it's open. But don't come crying to us if it's not.
Who Was that Masked Man?

We said it first, and best.
We can hardly believe our ears. Our inner ears that is, because while we were grumbling to ourselves like we always do, our steamy, one-sided conversation, usually so predictable and satisfying, suddenly broached some unexpectedly cheery sentiments. We were reminiscing darkly about our missing Miami friends, those visiting art dealers badly treated last year by the locals, or rather—let's be big about it—who suffered the heavy hand of La Hacienda and that plethora of disasters small and large certain to accompany any enterprise as theatrically complex as the debut of an international art fair, and who, lacking sufficient lighting, blighted by crappy walls, dicked around by Fate itself, it seemed —and who needs it?—decided never to return to la Isla del Encanto, or not any time soon. And what were we telling ourselves? "Those poor saps," we were saying, because the valiant few who came back to brave CIRCA 2007 found themselves at a fair that looked and felt considerably more like a real art fair, surrounded by a bustling cadre of smiling, congenial curatorial types, plus a crowd of sincere, fairly buttoned-down dealers much like themselves —give or take a wild card or two—and a bigger helping of decently presented art items than anyone had a right to expect. And at the end of their exhausting stay, this intrepid few went away considerably impressed; some of them perhaps marginally heavier in the pocketbook.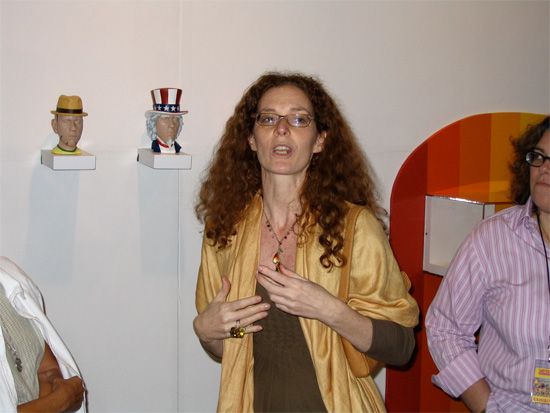 Amanda Coulson discusses her work with the fair's daily curatorial project, In the Spot.
What must have impressed them was this fantastic trick that CIRCA managed, a way of seeming both alert to the latest nervy folderol in international fairdom—plentiful artist's projects on the periphery, daily "curated" shows from gallery stock, periodic servings of art minstrelsy, thoroughly harmless though "relevant" panel discussions often keyed as much to testifying as to touching nerves—yet as down-home as the guy who sells fruit by the roadside on Loiza and pretends to be a jíbaro from Juana Díaz.
One flinty European art dealer said to us, "You'll probably laugh. I think Puerto Rico is going to be the next Miami. Big art fairs are just money machines, with the same galleries showing the same work all over the world. Who wants to see the same thing?" Several people remarked on the fair's warmth, the savvy and genuineness of local collectors, and the friendliness of the crowds. Who knows? They could be right. It didn't hurt that CIRCA's organizers picked their way out of last year's train wreck without missing a beat; stuck, in fact, with some of the impulses that made that fair interesting by inviting presiding live wires like Amanda Coulson and Lara Pan, and embracing—not to say co-opting, oh certainly not!—some of the more lively tendencies of the local scene: Pedro Vélez and his DAMS, the massive, party-hearty Candela show. This is the mode of day, of course, but in retrospect it looks like the mothers of organizers Paco Barragán, Roberto Nieves, and Celina Nogueras were not raising turnips all those years, but ringmasters.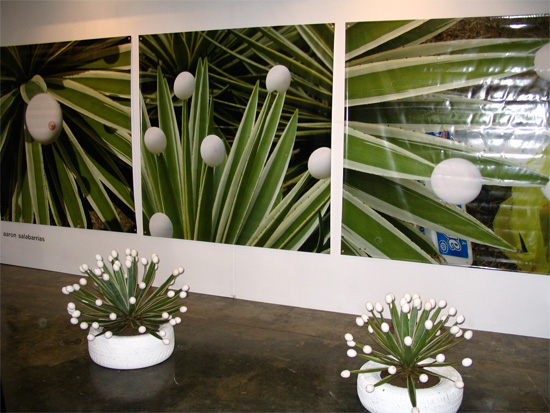 White Trash by Aaron Salabarrias at Viota Gallery.
This does not by any means say it all or explain anything, but we were immediately struck by how much the fair looked like any other fair, and what a good thing this was. You didn't have to scratch far beneath the surface to find some true, inspired weirdness, however. The presence of local legend Pablo Rodríguez made the art business look easy; a natural place for true innovators and outsiders though we know this is hardly ever the case. The artists he was showing in his booth—Swoon and Vargas-Suárez Universal, to name just a couple—would have been standouts in any booth in the fair.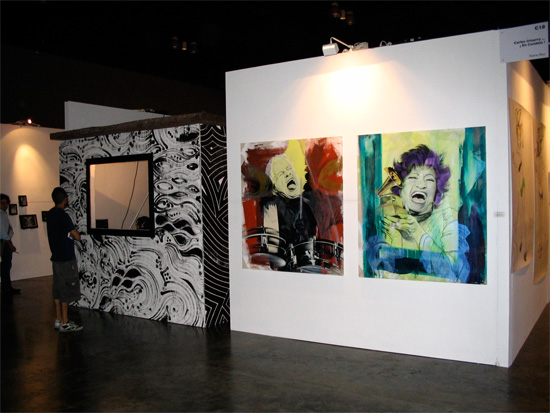 Rodríguez's Galería Carlos Irizarry en Candela, with dj booth. Paintings by Lee Quiñones.
But enough with the gasbaggery and pontificating, our fed-up reading public is no doubt complaining to itself and its long-suffering dwelling-mates. What the hell went on? Dearies, that's hard to say. There was so much, and we missed a great deal, though our little legs were constantly spinning. This we noted, however, in no particular order: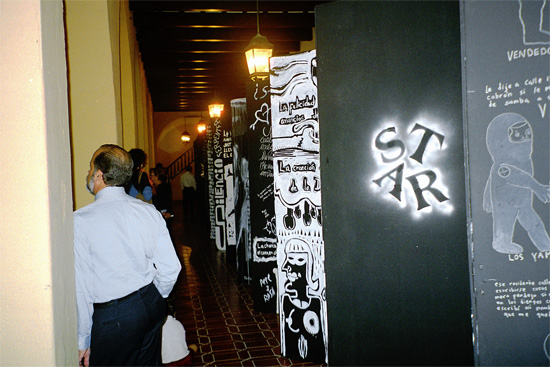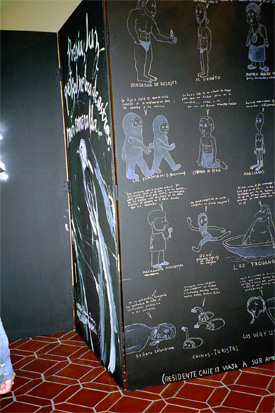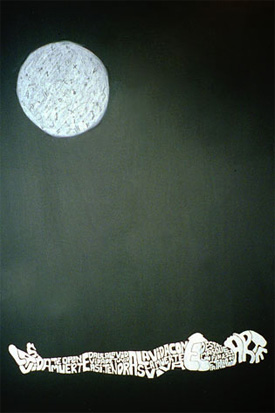 Following the opening of The Dams 2 at la Universidad del Sagrado Corazon—and in the same collaborative spirit—CIRCA 2007 began with a clamorous book project of sorts, called Pulpo. Pulpo was sponsored by the visual arts program of the Instituto de la Cultura Puertorriqueña and organized by Papo Colo, who got twenty-five artist-writer teams together to create the "pages"—sheets of plywood joined with hinges—for an accordian-fold screen that stretched the width of la Galería Nacional courtyard. Colo was the reigning spirit of opening night, donning a black leather mask, brandishing a clock, and tolling the passing moments. The writers read from their works in the aftermath of Colo's trippy thing, and everyone wandered about the grounds in the kind of mellifluous fog that used to seize poetry audiences in the days before that strange contemporary incarnation of readings known as slams. Pictured above, top: a shot of the book. Below, left, the page created by Rabindranat Díaz and the voice of Calle 13, René Pérez. To the right, a detail from a moonstruck panorama by Milton Rosa Ortiz using the words of Juan Manuel González.
Coinciding with The Dams 2 at la Unversidad del Sagrado Corazon, Rigoberto Quintana is offering up his latest baroque thinking in the form of a new work called Sin título, a Styrofoam sculpture and video installation. Below are a couple of shots of the work, which we hope you will go to see in person, post-haste.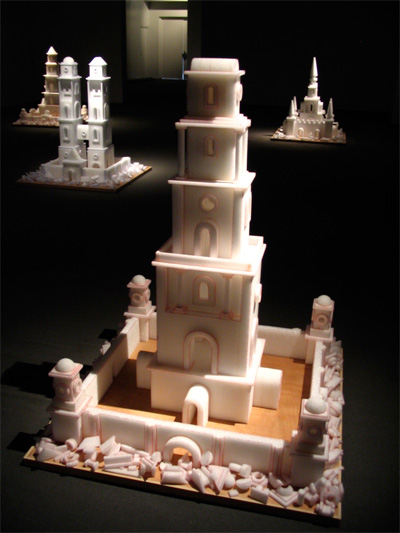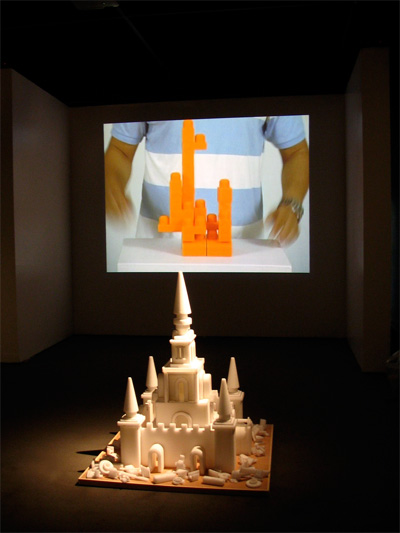 We have so much to show you, we're hyperventilating. We want to tell you all about Henrique Faría's curated booth, done up in fine style by Espacio 1414's Julieta González. We also want to tour for you our favorite spots at the fair, such as the funzappoppin Galería 356, and point out exceptionally groovy artworks and the artists who make them: immediately below is one of Rubén Torres Llorca's japing, jiving wordfests, presented at CIRCA by Praxis Gallery of Miami. Maybe we'll also direct your attention to the fair's peripheral events—which some people would characterize as scenes of the real action—plus something of CIRCA'S sporadically interesting, always wordy panel discussions: curating at art fairs, the impact of CIRCA on the local scene, and a dozen other snoozy topics. Stay tuned!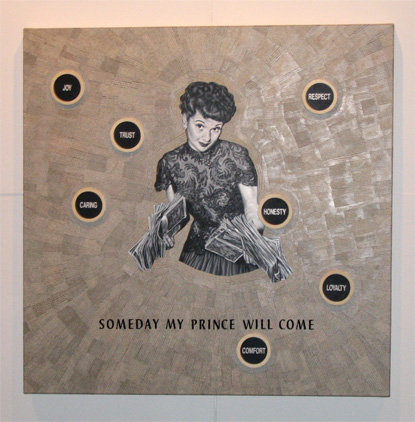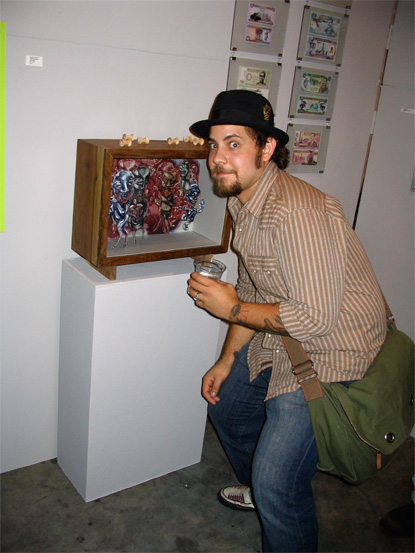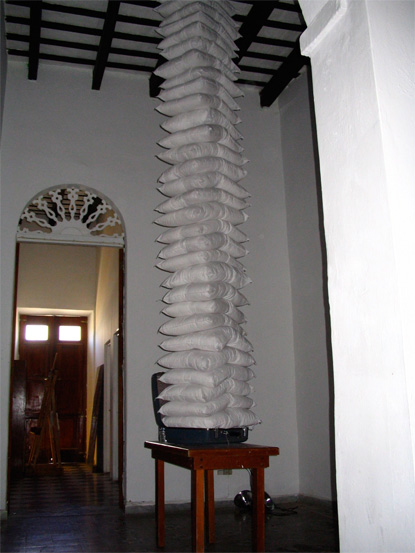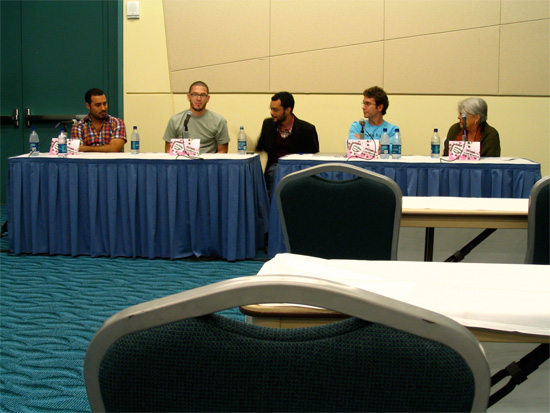 Above, following Torres Llorca's work: Christopher Rivera in front of an Elsa Meléndez box containing his likeness. Next down, Karlo Ibarra's installation at Rumba. Bottom: a panel discussion with the weighty theme: "How to manage dynamic and responsible cultural institutions," with, from left, Arí Manuel Cruz, Omar Obdulio Peña Forty, moderator Ralph Vázquez, Quintín Rivera-Toro, and Marimar Benítez.
Last episode was where this all began. If you're a linear sort, click on the link below and wander with us through the eeriness of the almost empty Centro de Convenciones just as things are getting underway. To continue with our colorful wrap-up, go to the next page.
Back to the beginning, here.
---