MUNDO ROTUNDO

THE KEY TO THE HIGHWAY:

Episode1, part 1, a brief, riled-up soliloquy about life in Puerto Rico.

Episode 1, part 2, a close-up look at one of the island's most personable coffee roasting operations, Café Mayor, plus Rotund's first roundup of art shows.

Episode 2, part 1, in which we review Pedro Vélez's "Godfuck," study an art sale posing as an exhibition, and get a haircut.

Episode 2, part 2: the haircut continues, there's a regrettable moment with fruit, and we drop by the fresh San Juan art-o-rama =DESTO for a talk with the founders.

Episode 3, part 1 covers, if not the waterfront, at least that occasional Nuyorican-Borinquen artfest "The (S) Files" at Museo de Arte de Puerto Rico, and visits scenic Caguas to marvel at another new kid on the block, ÁREA.

Episode 3, part 2 takes a wild ride on the Tren Urbano.

Episode 4, part 1 gets the unexpected: some mail. In part 2, we hit the road for points south, with stops at the Frade Museum, El Cuñao, King's Cream, and Museo de la Historia de Ponce.

Episode 5, part 1 weighs Puerto Rico's travails against Miami's prosperity and scratches its head. Why does Fred Snitzer say the things he says?

Episode 5, part 2: more art shows and the artists who make them, including the evergreen Antonio Martorell and a stealthy group called El Polverío.

Episode 6, part 1 and part 2 offer blow-by-blow coverage of Puerto Rico's first-ever art fair, CIRCA 2006, and the whole world asks, "What's it all about, Rotund?"

Episode 7 takes the slow train to Hato Rey and Galerías Prindari, where it meets the friendly natives.

Episode 8 knocks on the door of the Berezdivin collection, hoping to get in, and then muses disapprovingly about el Museo de Arte de Puerto Rico.

Episode 9, part 1 wallows in the paradoxes of summer in Puerto Rico, including a curious exhibition at la Escuela de Artes Plásticas, while part 2 looks at the work of painter-writer Javier Martínez.

Episode 10: the excellent exhibition space tagRom has a birthday and the laggardly Rotund crew tries to catch up on San Juan art doings, while Tiny Type travels southward to watch Rafael Trelles do his thing at el Museo de Arte de Ponce.

Episode 11: "Two Cards from the Bottom of the Deck?" This could only mean Pedro Vélez.

Episode 12 invites all and sundry to get down with La Muestra Nacional de Arte. Plus, =Desto hits its stride and doesn't look back.

Episode 13: is La Muestra Nacional the only thing on the Rotund mind? What about sex? Rapacious legislators? What happened to lechón, pasteles, and Heineken tall boys?

Episode 14 brings us yet more Muestra, but also, what? Yes, Pedro Vélez, now in his new role as Rotund art dick. Plus, new shows at San Juan's La Liga de Arte and Crema Gallery.

Episode 15 proves that the island is cooking: The International Book Fair, experimental prints at =Desto, Milton Rosa-Ortiz at Museo de Arte de Puerto Rico. The Basquiat drawing show is not terrible, but what is a private collection doing at MAPR?

Episode 16: the government is pilloried, artists are praised, food is mentioned, jokes are cracked that no one gets.

Episode 17 visits Art Basels past. This may strike some readers as cheap and retrograde, but we think the vintage years never get old. Besides, we also look at a Julie Kahn trading-card project, and what could be groovier than that?

Episode 18 looks like a preview, reads like a preview, and even smells a bit like a preview. But is it really a preview?

Episode 19: Barcelona. Need we say more?

Not to be missed, of course: Booty Bundt, the cake that says it all, and BUY THIS NOW! an exclusive offer to be a part of this toney enterprize.



THE
OUTSIDE
WORLD

Follow the links to the Miami and Puerto Rican art worlds, and to perspectives bigger than both.

MIAMI
The Next Few Hours
Critical Miami
Miami Art Central
Locust Projects
Centro Cultural Español
Edge Zones
Brook Dorsch Gallery
Kevin Bruk Gallery
Bernice Steinbaum Gallery
Fredric Snitzer Gallery
Ambrosino Gallery
Leonard Tachmes Gallery
Subtropics
Miami Art Exchange
Worm-Hole Laboratory
The Moore Space

PUERTO RICO
Museo de la Historia de Ponce
Museo Pío López Martínez
(The Frade Museum)
Museo de Arte de Ponce
Museo de Arte de Puerto Rico
Museo de Arte Contemporaneo
Museo de la UPR
Los Balcones de San Juan
La Casa del Arte
Programa de Artes Plástics del ICP
CIRCA Puerto Rico
AUTOGIRO
M de Mater O'Neill Audio Archive

THE WORLD
Art Nexus Magazine
artnet.com
Tom Moody's Weblog
BookDaddy



Rotund World covers Miami, la Isla, and the world.

The magazine is designed and written by Joel Weinstein. If you think it's satire, you might be right.

Photos, unless otherwise credited, are by none other than J Weinstein.

You can contact Rotund World at this address or, if you prefer, our other one.





Where the Buffalo Roam
Good evening. It's been another sunny, mild, murderous week in Puerto Rico. Seventy-two dead in felonious mayhem so far this year, friends and neighbors. So as we like to say, take a deep breath 'cause we're just getting started.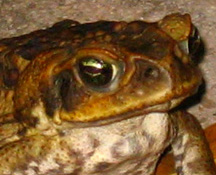 The superintendent of police, Pedro Toledo, has assured us he is on the case, shuffling officers about, having meetings with staff, shaking his ample jowls and casting a flinty eye at the camera during photo ops. Of which there are uncomfortably many these days, no doubt. About a week ago, over in Rio Grande, two of his officers, a married couple, dispatched her mom and dad and her sister-in-law and gravely wounded her brother in a wild bout of internecine gunplay which was provoked, apparently, by a family disagreement over
some speedbumps. These are called "muertos" hereabouts. Curious, isn't it? Could this be part of Toledo's mysterious plan?
Meanwhile, a little further from home, who has not read of, and marveled over, the love-sick astronaut and her wig-hat and trenchcoat and diaper? Her bb gun, knife, steel mallet, and pepper spray, with which, she maintains, she hoped merely to "talk to" her rival for the affections of a fellow space cadet?
Well, folks, it's like that here, too, in a way.
We would be nincompoops to complain, however. Unspeakable yahoos, even. We just returned from three days at the Corozal aerie of Titi Noris, gazing across the vista you see below—yes, indeed, that is the blue Atlantic off in the distance—and yuking it up as if there was no tomorrow. We spent much of our time sitting like poobahs on the porch of the house which Titi Noris herself built with considerable sweat of the brow, while our industrious hostess piled on the habichuelas and mango pudding. My goodness, the belt came out at least three notches.
Puerto Ricans love their chickens, so we got some exercise chasing a couple of bad neighborhood dogs and chucking rocks in their general direction, the little these pea- brained sacks of drool cared. We were more successful traipsing around Titi Noris's acreage and gawking at the verdure.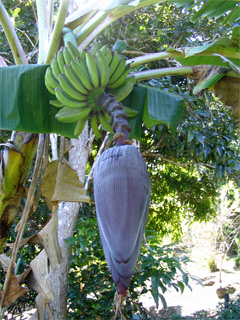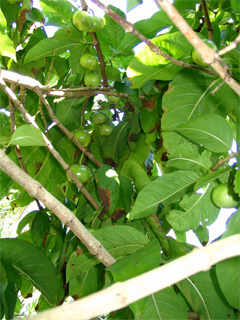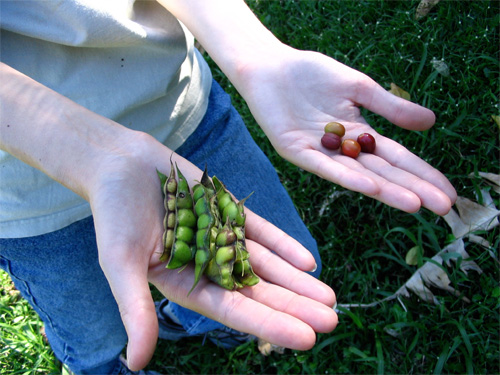 Even as we were indulging our selfish pleasures to the max, we couldn't help thinking about the poor lechones who might be snuffling through the nearby underbrush, fattening themselves unawares for that fateful trip to Guavate and La Ruta Lechonera.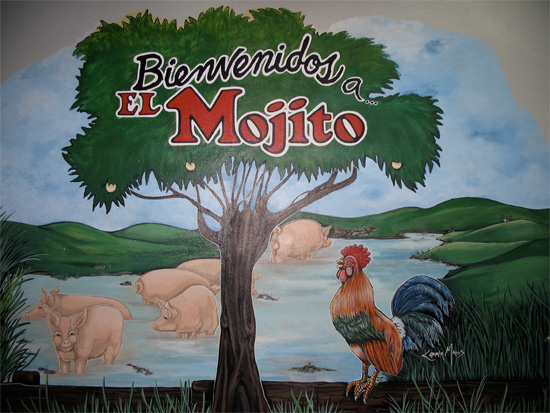 It so happens that we had hit the Lechón Trail not long ago in the company of Guillermo Rodríguez, presiding spirit of the Puerto Nuevo gallery, La Casa del Arte. We rode with Rodríguez to the Ponce home and studio of Julio Micheli to see works the artist was preparing for his upcoming Casa del Arte show, Cosas del Mago. For those who know Micheli for looming, bright abstract slather, this exhibition will be unexpected and well worth a look-see. Micheli is a man of abundant talents and fascinations, possessing the keen intellect and expansive wit that once characterized the art world's truest bohemians. He is an inveterate collector—electric trains, small cameras, duck decoys, coffee grinders, you name it—and for some time now he has been busying himself with a series of wooden boxes which you might say showcase one of his more arcane collections, his inventory of artistic ideas. He has not lost any of his abstractionist's roundaboutness, but, as the details here show, these are vivid, tangible, pleasurable objects for all their elusive meaning.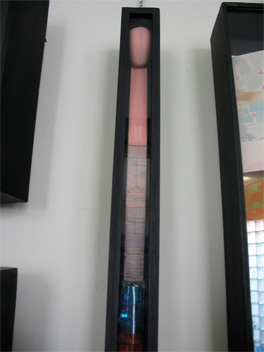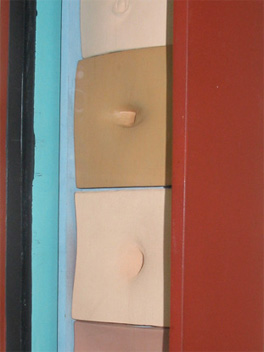 The exhibition opens on Thursday, February 15th, at La Casa del Arte, Calle Andalucía #500. Call 787-792-7373 for information or visit the web site at www.lacasadelarte.com.
Speaking of unexpected pleasures, a few nights ago we were having a late dinner at one of our fave Viejo San Juan hideaways, Bodega Chic, with one of our fave former contemporary-art-curators-turned-auction-house-functionary, Marysol Nieves. The conversation hovered, as it always does when curators and art world hanger-ons get together, around the new job, what's happening in the greater world, and the always muy chistoso local scene, with its chronic itch: that touching mix of decent chops, eternal hope, and an acute, and barely concealed, mortification about underdevelopment. The island wallows in its extended pubescence. Puerto Rico, and San Juan in particular, has always seemed to us much too eager, ever ready to throw itself like a tomcat in full-throated blueball mode at the imperious pussies that rule the global scene. The selfsame art dealer Guillermo Rodríguez, for example, is presently in a giddy froth, about to jet off to Scope New York with a cadre of young bright-eyes he has already drayed to Art LA, Gamaliel Rodríguez-Ayala and Rogelio Báez-Vega among them. Better bright than beady, we always say.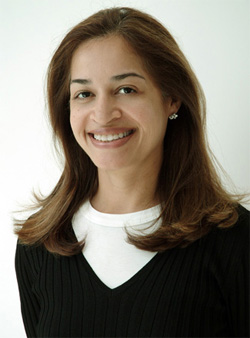 Getting back to Nieves, from the late 1980s until her recent defection to the dark side, she was a curator in various institutional settings. She spent twelve fruitful years at the Bronx Museum during a time when the art world—and much of the rest of our cultural lives—was defined in part by something called identity politics. For Nieves, whose outlook was forged by an internship under the wing of the remarkable Lowry Sims in the 20th century department of New York's Metropolitan Museum of Art, serving the local community was every bit as much a part of curating as putting paintings on the walls—or installations in the vestibules—and she describes her Bronx Museum tenure with the verve and evident pleasure of a raconteur.
We bring this up because in the time that followed, Nieves eventually found her way back home, here to San Juan, Puerto Rico, where she had decamped for
New York many years before, as soon as she completed her undergraduate studies at Universidad de Puerto Rico, Recinto Río Piedras. She skedaddled, in other words, as any intelligent, ambitious art world hopeful would, the moment she caught sight of her future. Almost two decades later, after stints working for the Bronx Museum and the Americas Society, she returned to the island at the urging of local contemporary art collector Diana Berezdivin—then the chair of the acquisitions committee of Museo de Arte de Puerto Rico (MAPR)—who was certain that Nieves had the bona fides and desire to lead that chronically underachieving institution into the twenty-first century.
Alas, like all too many boricua tales, the story of Marysol Nieves at MAPR is brief and bittersweet, managing only in the end to rise above the squalor of its setting.
Nieves lasted at MAPR just over a year, organizing, among other shows, The Figurative Impulse—selections of modern and contemporary works from the UBS Collection—and working with New York's El Museo del Barrio on last spring's The (S) Files, both of which were highly praised by local observers for their exhibition design. She created a program for the museum's project space guided by an expansive idea about what both "contemporary" and "local" can mean in the often crabbed perspective of the island art world, inviting smart young turks like Alora and Calzadilla, Anthony Goicolea, and Milton Rosa-Ortiz to show recent works. It was an effort which would make any solid, forward- looking institution anywhere look good.
Beyond her highly public exhibition work, according to Berezdivin, Nieves took her behind-the-scenes duties very seriously. She liked to visit artists' studios, and she was vigilant about acquisitions and conservation, knowing very well that the safekeeping and nurturing of the museum's collection is the key to the institution's the future. "She wanted to buy with a vision toward building the collection," Berezdivin says, "and not just whatever is being offered at the moment. When you have a vision, you study the collection, then you go out and look for what you want. She was very professional. She had high standards."
Although Nieves would never couch it in these terms, we have no doubt that she was outmaneuvered and finally worn out by an obdurate system of dubious museum practices and the institutional inertia that stifles innovation at all levels of Puerto Rican society. Once Berezdivin, her patron, left the museum board under less than cordial circumstances, the smart money doubted that Nieves herself would stay. Sure enough, by the fall of 2006, the curator announced that she and MAPR were parting ways. After a brief respite to consider her curatorial options, Nieves appears to have left honest work altogether, joining the staff of the art auction house Sotheby's in their Latin American department. We like to kid Nieves about selling out, but as we lingered over our cafecito and profiterole at Bodega Chic, it became apparent that she has learned a great deal in a short time and enjoys visiting collections throughout Latin America, an activity she thinks of as not all that different from what she's always done. It appears that her brush with Puerto Rican institutional life took nothing away from her discernment or enthusiasm for art and the people that surround it.
Barcelona awaits here.
---