MUNDO ROTUNDO

GETTING AROUND THE WAY FOLKS USED TO, BY MOVING THEIR LIPS AS THEY READ:

Episode1, part 1, a brief, riled-up soliloquy about life in Puerto Rico.

Episode 1, part 2, a close-up look at one of the island's most personable coffee roasting operations, Café Mayor, plus Rotund's first roundup of art shows.

Episode 2, part 1, in which we review Pedro Vélez's "Godfuck," study an art sale posing as an exhibition, and get a haircut.

Episode 2, part 2: the haircut continues, there's a regrettable moment with fruit, and we drop by the fresh San Juan art-o-rama =DESTO for a talk with the founders.

Episode 3, part 1 covers, if not the waterfront, at least that occasional Nuyorican-Borinquen artfest "The (S) Files" at Museo de Arte de Puerto Rico, and visits scenic Caguas to marvel at another new kid on the block, ÁREA.

Episode 3, part 2 takes a wild ride on the Tren Urbano.

Episode 4, part 1 gets the unexpected: some mail. In part 2, we hit the road for points south, with stops at the Frade Museum, El Cuñao, King's Cream, and Museo de la Historia de Ponce.

Episode 5, part 1 weighs Puerto Rico's travails against Miami's prosperity and scratches its head. Why does Fred Snitzer say the things he says?

Episode 5, part 2: more art shows and the artists who make them, including the evergreen Antonio Martorell and a stealthy group called El Polverío.

Episode 6, part 1 and part 2 offer blow-by-blow coverage of Puerto Rico's first-ever art fair, CIRCA 2006, and the whole world asks, "What's it all about, Rotund?"

Episode 7 takes the slow train to Hato Rey and Galerías Prindari, where it meets the friendly natives.

Episode 8 knocks on the door of the Berezdivin collection, hoping to get in, and then muses disapprovingly about el Museo de Arte de Puerto Rico.

Episode 9, part 1 wallows in the paradoxes of summer in Puerto Rico, including a curious exhibition at la Escuela de Artes Plásticas, while part 2 looks at the work of painter-writer Javier Martínez.

Episode 10: the excellent exhibition space tagRom has a birthday and the laggardly Rotund crew tries to catch up on San Juan art doings, while Tiny Type travels southward to watch Rafael Trelles do his thing at el Museo de Arte de Ponce.

Episode 11: "Two Cards from the Bottom of the Deck?" This could only mean Pedro Vélez.

Episode 12 invites all and sundry to get down with La Muestra Nacional de Arte. Plus, =Desto hits its stride and doesn't look back.

Not to be missed, of course: Booty Bundt, the cake that says it all, and BUY THIS NOW! an exclusive offer to be a part of this toney enterprize.



THE
OUTSIDE
WORLD

The following links suggest possibilities for the future of art in Puerto Rico and the conversations that might ensue. Here you will find, in no particular order, cyber- connections to the Miami art world, a rather haphazard look at the island scene, and some art magazines with international scope.

The Next Few Hours
Critical Miami
Miami Art Central
Locust Projects
Centro Cultural Español
Edge Zones
Brook Dorsch Gallery
Kevin Bruk Gallery
Bernice Steinbaum Gallery
Fredric Snitzer Gallery
Ambrosino Gallery
Leonard Tachmes Gallery
Subtropics
Miami Art Exchange
Worm-Hole Laboratory
Museo de la Historia de Ponce
Museo Pío López Martínez
(The Frade Museum)
Museo de Arte de Ponce
Museo de Arte de Puerto Rico
Museo de Arte Contemporaneo
Museo de la UPR
Los Balcones de San Juan
La Casa del Arte
Programa de Artes Plástics del ICP
CIRCA Puerto Rico
AUTOGIRO
Art Nexus Magazine
artnet.com
Tom Moody's Weblog



Rotund World covers Miami, la Isla, and the world.

The magazine is designed and written by Joel Weinstein, in collaboration with unnamed others. The commentary, inspired by real events, is of a satirical nature and is not to be believed.

Photos, unless otherwise credited, are by none other than J Weinstein.

Contact Rotund World at this address.





La Muestra, If Ever There Was One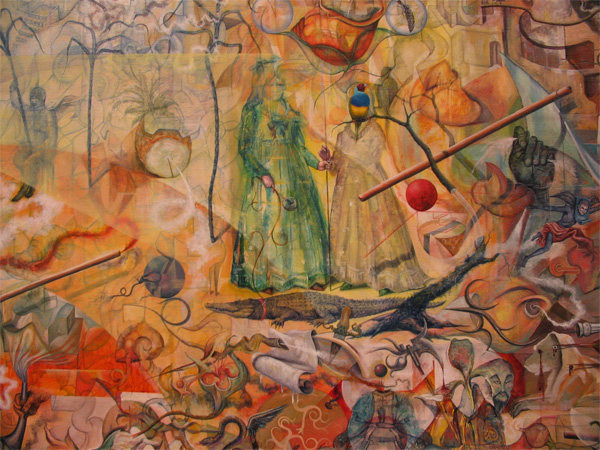 Now that our official duties are over, it's time to get down and get funky with that Puerto Rican show of shows, that island art-o-rama, that object of our affection, La Muestra Nacional de Arte. We'd love to give you the full fifty-cent tour, but owing to the fact that there are works by one hundred twenty-seven artists crammed into La Muestra's four multi-room salons, it probably behooves us to put a lid on it for once and let the exhibition do the talking.
In fact, the following is but a tiny sampling. It hurts us more than it hurts you to admit how backwards, gauche, and downright spasmo Rotund World is in this snappy, fast-acess world of ours. There will be no virtual excursions, no YouTube-ready videos. You're stuck with a thoroughly random sampling of Rotund snapshots of the show every boricua loves to hate. Though maybe not this year, and with good reason as you'll see.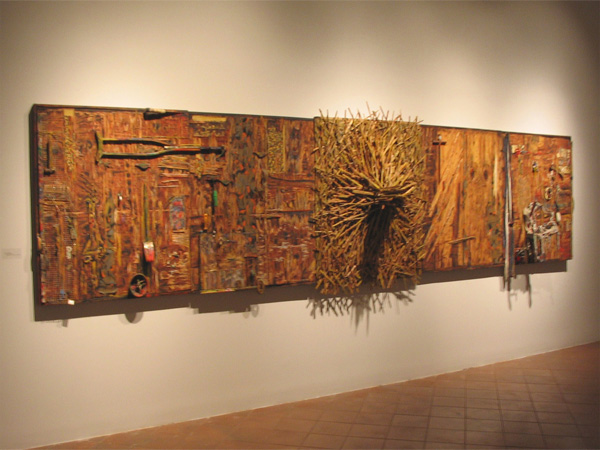 To put yourself in the proper frame of mind, it would hardly do to think of La Muestra Nacional as a well-oiled machine. But neither is it the breathtaking botch job at the end of a bumbling, hopelessly corrupt selection process that some people would have you believe it is. It more accurately resembles the detail from Rigoberto Quintana's painting Había una vez, top, or Ramón Feliciano's Autobiografía, above: a dizzying, improbable array that somehow manages to add up; though what, exactly, it adds up to no one can be sure. Have we taken the pulse of the nation, catered to the mob, or thrown the baby out with the bathwater? Is it six to one, half-a-dozen to the other? Dog eat dog or knick knack paddy wack? You be the judge.
One way to take the measure of a "national" exhibition of contemporary art is to see where and how deeply it roots itself, and La Muestra Nacional de Arte 2005-2006 certainly did the right thing in that respect. This edition is dedicated to two artists, Antonio "Tony" Maldonado and Eduardo Vera Cortés, who helped make the Puerto Rican printmaking tradition among the finest, most socially committed in Latin America, especially through their work with the legendary División de Educación de la Comunidad, DIVEDCO.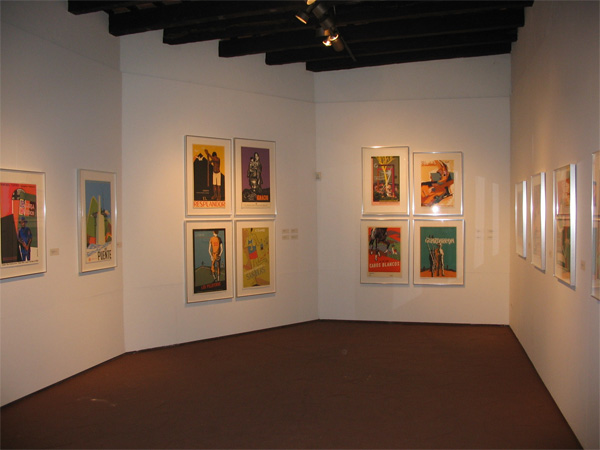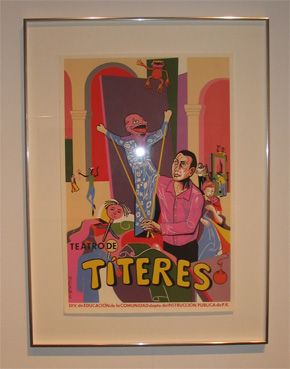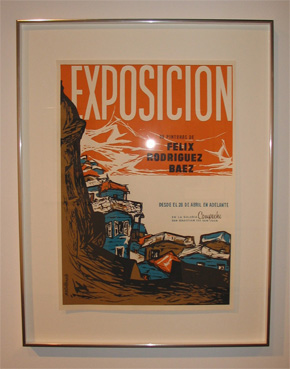 Both artists died within the past year, and La Muestra Nacional mounted a small show of their posters. Above left is Vera Cortés's "Teatro de Títeres" from 1978, and to the right is Maldonado's exhibition poster for a 1959 painting show by Félix Rodríquez Báez.
Elsewhere in the exhibition—nearby in fact—we offer glimpses of what things look like installation-wise. Below are shots of the salas that make the Old Arsenal at La Puntilla a dicey place to mount an art exhibition. You can make out Filipo C Tirado Medina's jaunty "Para poder ser yo, tengo que ser otro" in the image to the right just below, and lest you think that Tirado Medina is making crude fun of cherished icons—George W. Bush as a penis-headed Tinky Winky?—the work's title assures us that each decked-out noodle is a likeness of the artist himself (2005, plastic, wood, metal and latex, dimensions variable).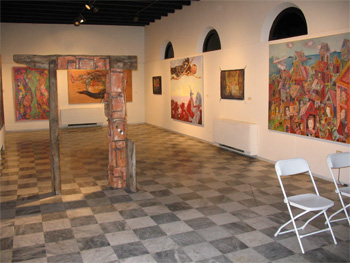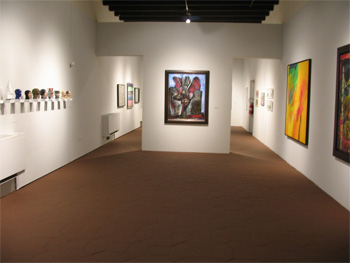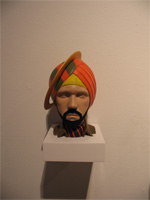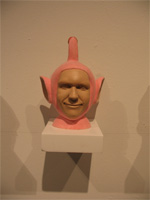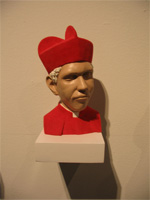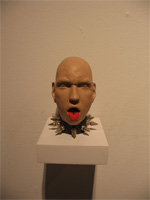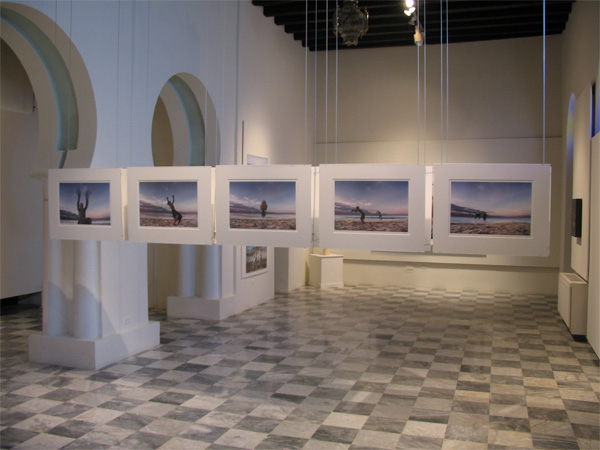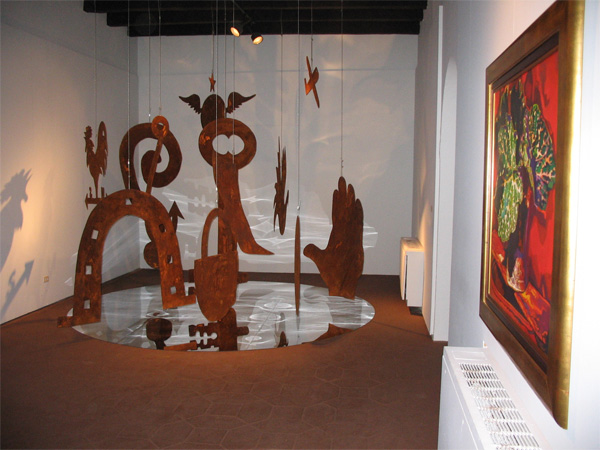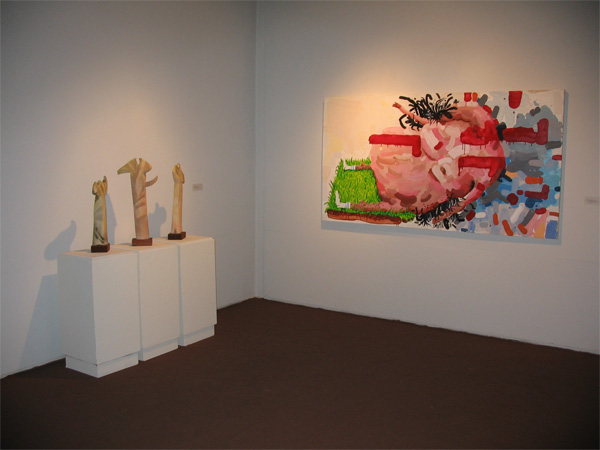 Underneath Tinky Winky and friends, in descending order: one half of Guillermo Real's series of photographs, "Los voladores del último trolley," 2005. There are ten prints, each 29" x 23". Next, to the left, Anaida Hernández's metal, cor-ten, mirror, plexiglass, cable, and light installation "La sombra," 2004-2006, dimensions variable. To its right, Francisco Rodón's barely glimpsed 2005 oil and ink on paper "Hora verde." Next, our fave juxtaposition in the entire exhibition: on the left, Sylvia Blanco's "Germinados II (Tríptico)," 2005, earthenware sculptures, 18" x 23", and to the right, Roberto Marquéz's "Everything happened in my mind and this fucking fatness didn't help," 2005, acrylic on canvas, 47" x 87".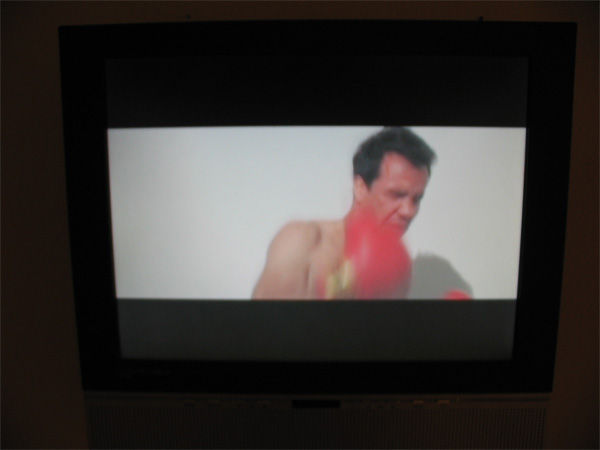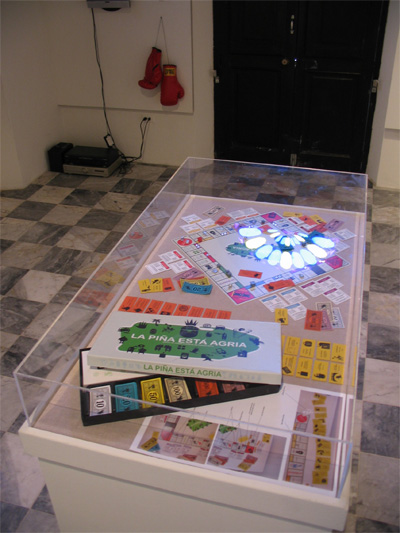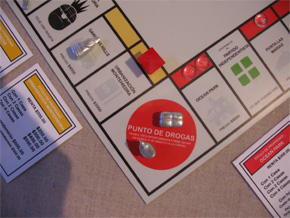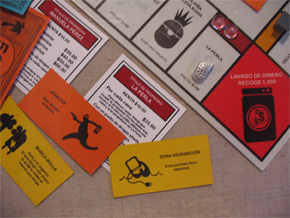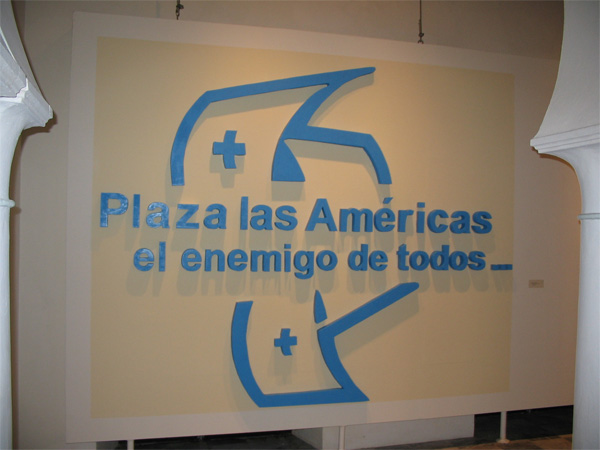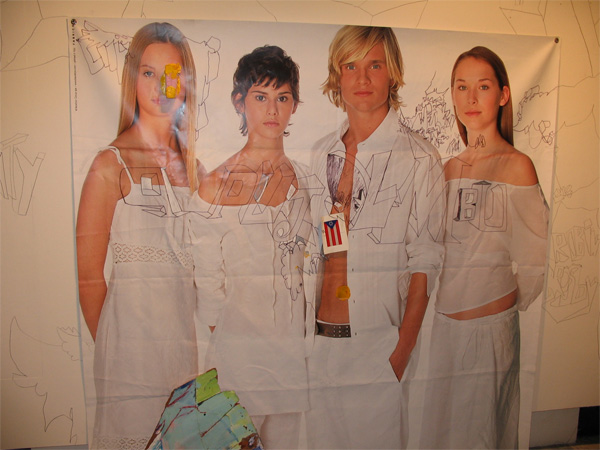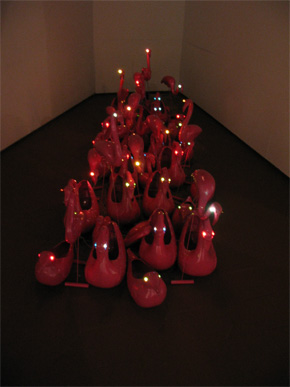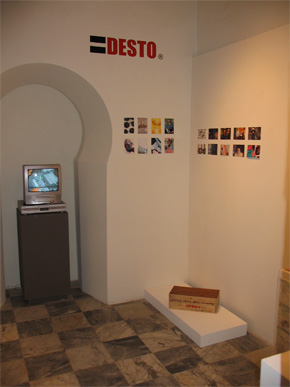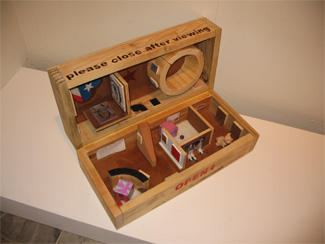 From the top down: Carlos Reyes beats the crap out of himself in the three-minute (one round) video installation "Fallen," 2006. Next, Carlos Aponte's dark, boricua adaptation of Monopoly, "La piña está agria," 2006, which includes gameboard, dice, and cards, dimensions variable; with two details below. Next, Quintín Rivera Toro's swift uppercut to capitalist excess, "Plaza Las Américas, el enemigo de todos," 2006, an 8' x 10' installation. Next, a detail from Pedro Vélez's installation "Puerto Rican-Jewish," 2006, collage, advertising banner, ink, paper, and wall drawing. Lastly, on the left, Melquíades Rosario Sastre's "The Flock," 2006, thermoplastic sculpture with lights and battery, dimensions variable, and on the right, a gallery within the gallery by the formidable =Desto crew, Omar Obdulio Peña Forty, Jason Mena, and Raquel Quijano, with works by several of the artists they have shown in the year-plus of their raucous existence.
Come with us now to La Ballajá here.
---