Sexy Beast
Quintín Rivera-Toro came home to Caguas a year or so ago after a five-year stint at Hunter College in New York, so he has a lot to say about the mixed pleasures of returning to the ancestral bosom after some significant time in the outside world. Quintín is voluble, curious, and quick on the uptake about many subjects – a great talker, in other words – and besides that he always has some neat new buzzcut or little dork-handle or other conspicuous skull job, giving him a boho aura of critical impropriety. For the opening of "The S Files" at the Museo de Arte de Puerto Rico, he had the word "gíbaro," his own misspelling, shaved into his haircut. But however open and easy-going he might appear, in some essential way Quintín is a snake-charmer, and he can thoroughly dominate a room full of people for an entire evening. This formidable combination of talents has served him well as the weekly master-of-ceremonies for that vortex of suburban culture, ÁREA, which he founded and presides over with the support of Caguas art collector-housing developer José Hernández Castrodad.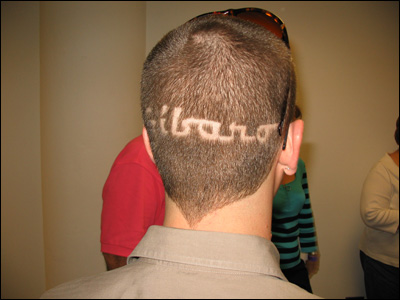 Gíbaro Q
Perhaps saying "vortex" is overstating the case. I've heard that ÁREA has had substantial crowds, but some nights must be better than others. I've been there when the turnout was meager, as few as six or eight people scattered about the sofas and overstuffed chairs. Quintín recently invited the president of La Fundación de Cine de Puerto Rico, Luis J Cruz, to lecture about the contemporary Polish filmmaker Krzysztof Kieslowski, and Cruz proved to be well informed and thoroughly engaging. But one night the guest was a bit of an academic blowhard, doggedly reading page after page of an arcane, and, I thought, muddle-headed, interpretation of a dark – though not really dark enough – art world crevice. Another night it was a poet laboring mightily in a Borgesian mode
No matter how far over to the doofy side the evening drifts, however, Quintín manages gracefully to keep it moving along.
This is why I enjoy my visits without fail. Even when tedium threatens, there is always the chance to watch someone in action who, if he wasn't so damned sincere about his project – described in ÁREA publicity as a "utopian proposal for an open space, offering its facilities totally free of charge for humanistic and multidisciplinary projects" – he might show up on television one day with a towering comb-back and silly plastic glasses, an oily herder of celebrities on the long, desperate slide toward oblivion and a willing slut for the body-products industry.
But as I say, Cruz was a different order of fellow, and he discussed Kieslowski's background and working methods with aplomb and a decent enough Powerpoint show. Although his audience was small, we all shared the satisfaction of the similarly engaged and received his message like an easy-to-swallow, low-buzz stimulant.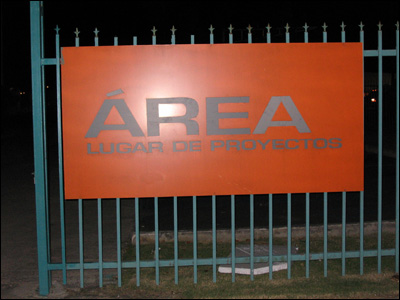 AREA, obviously
Because it so happened that a Kieslowksi film, "Blue," was showing at ÁREA the following night, the first in a month-long decanting of the director's famous "Blue," "White," and "Red" trilogy from the early 1990s. This not very coincidental synchronicity is, in fact, what Quintín thinks up when he dreams of Caguas becoming a kind of Borinquen Austin, Texas; a sleepy outback with a burgeoning contemporary film scene. In addition to lectures, literary readings, performances, concerts, and other Tuesday evening soirees, ÁREA is the scene of a monthly film series that shows every Wednesday, based on a boyish idea about cool contemporary directors: the Coen Brothers, Quentin Tarantino, Woody Allen, the formidable Lars von Trier, and others of this auteurish ilk. The Tuesday and Wednesday happenings kick off at 7:30 both evenings, in Caguas, just off exit 18 of the Luis A Ferré highway between San Juan and Ponce. (To receive monthly email updates with a detailed map to the space, inquire at proyectos_area@yahoo.com or call 787-402-9271.)
To tell the truth, however, things got much more interesting for me after the lecture when I asked Quintín for his opinion of "The S Files," the new exhibition at the Museo de Arte de Puerto Rico, which is a collaboration between that institution and New York City's Museo del Barrio. The "S" of the title stands for "selected," which is what curators from both institutions did after receiving proposals from artists from the New York metropolitan area and Puerto Rico. Quintín is one of the few locals in a largely Nuyorican show, and when I asked him what he thought about it, he did not miss a beat in summing up his indifference. "Juvenil," he observed. "Derivada."
It's been my bad luck, a curse, really, to know a lot of artists with really rotten attitudes: pissy with dealers who do not sufficiently appreciate their work and don't try hard enough to sell it, angry at other artists who are talentless hacks but have museum shows and pretty girlfriends, hateful toward collectors who once supported them but no longer come around; who just don't fucking get the breaks, in other words. Quintín is not one of those. His testiness is far-reaching and emphatic, but not sour. He seems to have the temperament of a connoisseur. He takes his work and his place in the community seriously, so I enjoy hearing him talk, and I listen.
Our conversation about "The S Files" was brief, but it stirred up some things I'd thought I'd pretty much settled in regard to the show. Quintín was especially dismissive of what I'd liked the most. I was struck by how the conceptual, low production value thrust of the Borinqueños didn't show up much in the work of the Nuyoricans, and, al reves, how several of the Nuyoricans prized their Borinquen roots as a way of expressing "authenticity" in their work, an approach that many of the young Puerto Ricans might have found laughably retrograde. Julia Burgos and Andrés Jiménez as machete-wielding jíbaros? ¡Por favor!
---
You can access Rotund World features and the archives here. The best place to start, a cozy- sounding place called "The Latest Episode," is very nearby. To find out how to participate in this swell, very avant, very too-too enterprise, click here. For Rotund Episode #1, Part I, an island soliloquy, click here. Part II features a tribute to the outstanding Ponceño torrefacción, Café Mayor, and our first roundup of Island art exhibitions, including an ill-conceived look at Pedro Vélez' ill-conceived show, "Godfuck." Cliquea aquí. Rotund Episode #2 reconsiders Pedro, visits an art show curiosity, and gets a haircut, here. And, of course, if you will want to watch something wiggle, there is no tastier place than Booty Bundt. Cuidao, mano. La tribu está salvaje.