MUNDO ROTUNDO

GETTING AROUND THE WAY FOLKS USED TO, BY MOVING THEIR LIPS AS THEY READ:

Episode1, part 1, a brief, riled-up soliloquy about life in Puerto Rico.

Episode 1, part 2, a close-up look at one of the island's most personable coffee roasting operations, Café Mayor, plus Rotund's first roundup of art shows.

Episode 2, part 1, in which we review Pedro Vélez's "Godfuck," study an art sale posing as an exhibition, and get a haircut.

Episode 2, part 2: the haircut continues, there's a regrettable moment with fruit, and we drop by the fresh San Juan art-o-rama =DESTO for a talk with the founders.

Episode 3, part 1 covers, if not the waterfront, at least that occasional Nuyorican-Borinquen artfest "The (S) Files" at Museo de Arte de Puerto Rico, and visits scenic Caguas to marvel at another new kid on the block, ÁREA.

Episode 3, part 2 takes a wild ride on the Tren Urbano.

Episode 4, part 1 gets the unexpected: some mail. In part 2, we hit the road for points south, with stops at the Frade Museum, El Cuñao, King's Cream, and Museo de la Historia de Ponce.

Episode 5, part 1 weighs Puerto Rico's travails against Miami's prosperity and scratches its head. Why does Fred Snitzer say the things he says?

Episode 5, part 2: more art shows and the artists who make them, including the evergreen Antonio Martorell and a stealthy group called El Polverío.

Episode 6, part 1 and part 2 offer blow-by-blow coverage of Puerto Rico's first-ever art fair, CIRCA 2006, and the whole world asks, "What's it all about, Rotund?"

Episode 7 takes the slow train to Hato Rey and Galerías Prindari, where it meets the friendly natives.

Episode 8 knocks on the door of the Berezdivin collection, hoping to get in, and then muses disapprovingly about el Museo de Arte de Puerto Rico.

Episode 9, part 1 wallows in the paradoxes of summer in Puerto Rico, including a curious exhibition at la Escuela de Artes Plásticas, while part 2 looks at the work of painter-writer Javier Martínez.

Episode 10: the excellent exhibition space tagRom has a birthday and the laggardly Rotund crew tries to catch up on San Juan art doings, while Tiny Type travels southward to watch Rafael Trelles do his thing at el Museo de Arte de Ponce.

Episode 11: "Two Cards from the Bottom of the Deck?" This could only mean Pedro Vélez.

Episode 12 invites all and sundry to get down with La Muestra Nacional de Arte. Plus, =Desto hits its stride and doesn't look back.

Episode 13: is La Muestra Nacional the only thing on the Rotund mind? What about sex? Rapacious legislators? What happened to lechón and pasteles de carne?

Not to be missed, of course: Booty Bundt, the cake that says it all, and BUY THIS NOW! an exclusive offer to be a part of this toney enterprize.



THE
OUTSIDE
WORLD

The following links suggest possibilities for the future of art in Puerto Rico and the conversations that might ensue. Here you will find, in no particular order, cyber- connections to the Miami art world, a rather haphazard look at the island scene, and some art magazines with international scope.

The Next Few Hours
Critical Miami
Miami Art Central
Locust Projects
Centro Cultural Español
Edge Zones
Brook Dorsch Gallery
Kevin Bruk Gallery
Bernice Steinbaum Gallery
Fredric Snitzer Gallery
Ambrosino Gallery
Leonard Tachmes Gallery
Subtropics
Miami Art Exchange
Worm-Hole Laboratory
Museo de la Historia de Ponce
Museo Pío López Martínez
(The Frade Museum)
Museo de Arte de Ponce
Museo de Arte de Puerto Rico
Museo de Arte Contemporaneo
Museo de la UPR
Los Balcones de San Juan
La Casa del Arte
Programa de Artes Plástics del ICP
CIRCA Puerto Rico
AUTOGIRO
Art Nexus Magazine
artnet.com
Tom Moody's Weblog



Rotund World covers Miami, la Isla, and the world.

The magazine is designed and written by Joel Weinstein, in collaboration with unnamed others. The commentary, inspired by real events, is of a satirical nature and is not to be believed.

Photos, unless otherwise credited, are by none other than J Weinstein.

Contact Rotund World at this address.





Take a Deep Breath, We're Just Getting Started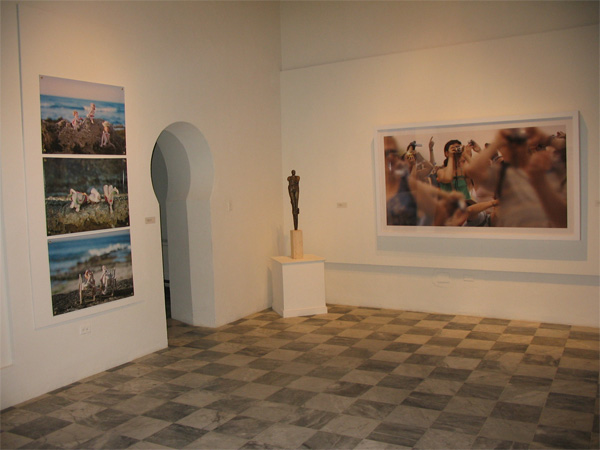 Are we flogging La Muestra Nacional too much? We daresay not. In fact, here at Rotund World we believe we've just scratched the surface of this behemoth sampling of the contemporary island scene. Above, on the left, three works from Aaron Salabarrías Valle's serial romp, "Los turistas," 2006, photography on vinyl, 2' x 3' each. To the right of the doorway, Susana Espinosa's bronze and marble "La demora 1/8" from 2006, 21" x 6" x 2". And next to Espinosa's work, one of the "Visitors/Visitantes BCN" photo-collages by Carlos Ruíz Valarino, 2006, digital photography, 90" x 50".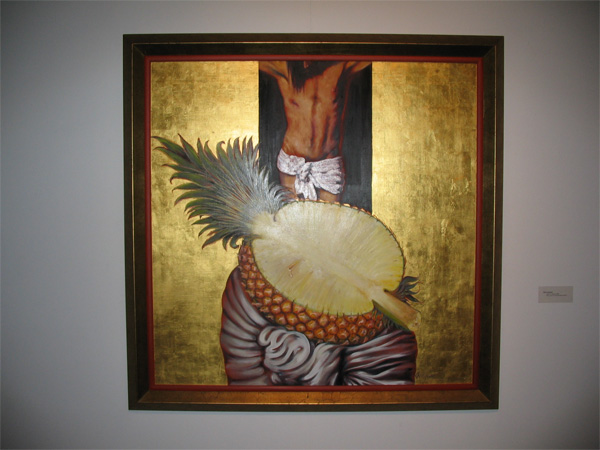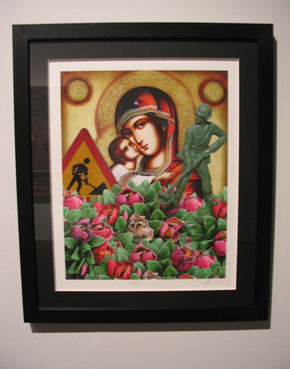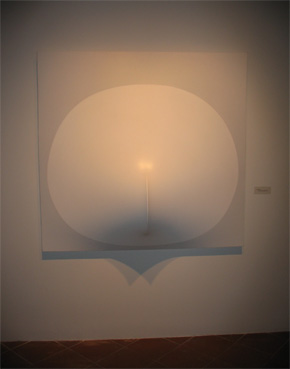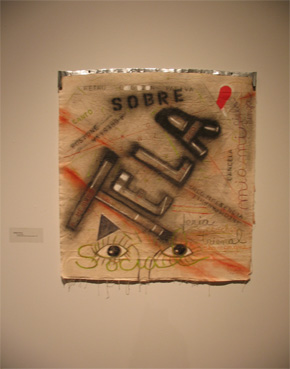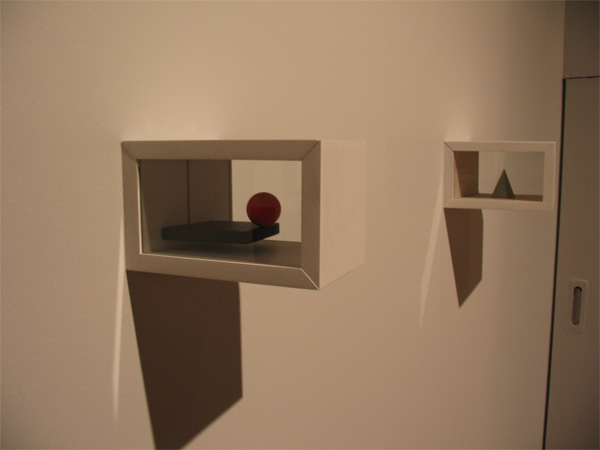 While hardly "mellow," some of the above selections walk a bit on the cooler side. From the top: Nick Quijano's "Corona de espinas," 2004, oil and 24k gold leaf on wood, 48" x 48". On the left below, Garvin Sierra's "Sor-dado"—from the series "Que Dios te lo pague" —2006, digital print, 24" x 30". On the right, from the "Las Amazonas" series, "Mujer" by Zilia Sanchez, n.d., wood with molded canvas and acrylic, 60" x 72". Below, on the left, Lope Max Díaz, "Oops No. 9," 2006, acrylic on wood, 24" x 24". On the right, one of Rafael Ferrer's wordfest pantings, "En tela," 2006, acrylic on canvas, graffiti, gouache, and zinc, 30" x 37". Finally, a detail of Carlos Rivera's three-part installation, including "The Ball," foreground, and "Pirámide al cuadrado" behind it, 2006, wood, glass, plastic, and acrylic, dimensions variable.
We encourage you to visit our previous coverage, here, but only if you cannot walk, run, hop, skip, or jump to La Muestra Nacional de Arte. Remember, you have until February 4, 2007, to pay the show a visit. Stay tuned for symposia, guided tours, and the presentation of the fab, shiny exhibition catalogue.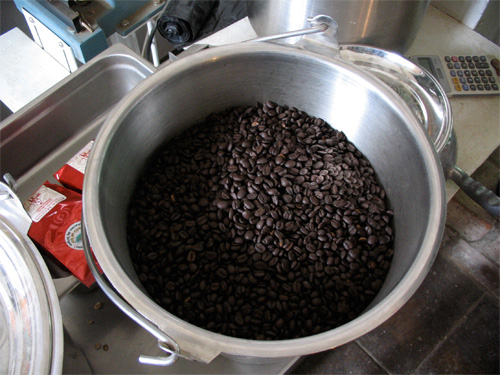 How we like to hoot at the misfortune that is Ponce. We've razzed its ruins and belittled the bumpkin ways of its inhabitants. We act like Puerto Rico's second city is somewhere south of Podunk Hollow, and, in a sense, it is. But for shame! There is good in every benighted, out-of-the-way burg, and Ponce has its share of pleasantly wacked, intrepid souls. Take Luis Valldejuly Sastre, whose hand-cranked torrefacción—we're kidding, folks, the machinery may be small but it runs on actual electricity—produces, hands down, the best-roasted coffee on the island.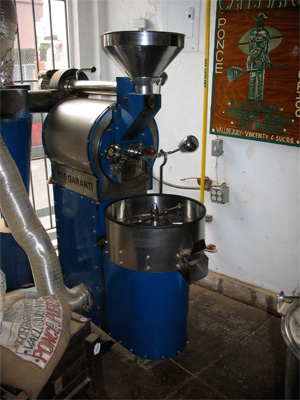 You can scout the cloud-shrouded mountains of Gripiñas all you want, searching for the perfect harvest, and you can sit hour after hour sorting and sizing unroasted beans until your eyeballs spin in their sockets. But roasting is the name of the game, and until now we never actually witnessed the critical moments in which Luis transforms those curious little blue-green nubbins into the dark, aromatic vessels of a jazzy, life-affirming brew.
Café Mayor maintains an outrageous advantage in flavor and what we call the "bliss factor" over the corporate roasters that prevail in Puerto Rico. Luis explains this with the old saw about timing being everything. Whereas some torrefacciones roast their coffee for as little as fifteen minutes at a relatively high temperature, he takes his time. Using Arabica beans grown in shadow at high altitudes, he attends his roaster like a mother hen with an unruly brood. Luis is always a voluble, jolly host when the Rotund mob descends on his place unexpectedly, but a deep inner ear remains attuned to the subtle shifts and increments in the next room.
At an exact moment, following a series of close visual checks and some feral sniffing of the air, Luis cranks a lever and cascade of brown gold issues forth, amidst steam clouds and an insect chorus of popping and crackling.
According to Luis, these are the sounds of flavor and aroma coming to life as the beans' oils reach the surface after roasting. He first observed this phenomenon in the company of a certain Mujbat Aydin, a coffee roaster in Izmir, Turkey, and he believes it signals the outward manifestation of all that has been going on during the bean's growth process. You, rational reader, may find such talk a shade too psychobabbly, but we Rotunders think it's lovely because that's the kind of guy Luis is.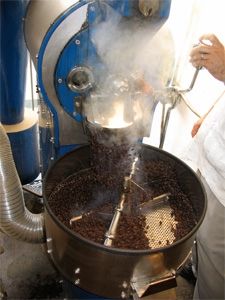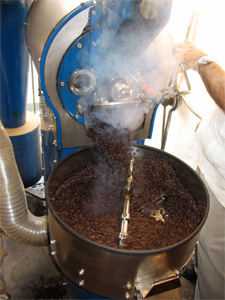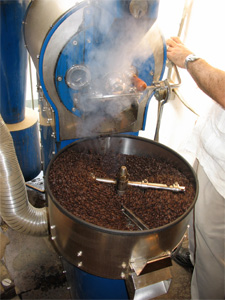 With Café Mayor, Luis performs the unlikely feat of making Ponce seem cool, civilized, and timeless for his city-mouse cousins, the finicky Rotund crowd which finds the south an overwarm, dour, faraway, and generally exasperating place. Whatever he and Wastrel Chico put in the espresso—yes, the very same, looking muy suave, muy debonair these days—it is a balm for frazzled boricua living, and we'll take a pound or two any time.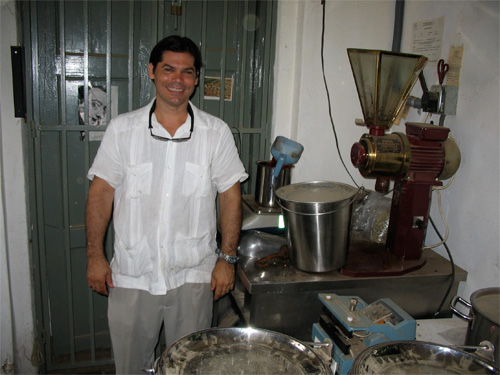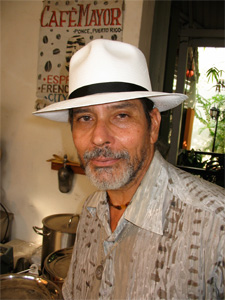 But there is more to life in Puerto Rico than La Muestra Nacional and black coffee, isn't there? Who the devil is Martin Creed, and why are they saying those things about him? Aren't there some art shows going on?
Find out what we're talking about, page 2.
---