MUNDO ROTUNDO

THE KEY TO THE HIGHWAY:

Episode1, part 1, a brief, riled-up soliloquy about life in Puerto Rico.

Episode 1, part 2, a close-up look at one of the island's most personable coffee roasting operations, Café Mayor, plus Rotund's first roundup of art shows.

Episode 2, part 1, in which we review Pedro Vélez's "Godfuck," study an art sale posing as an exhibition, and get a haircut.

Episode 2, part 2: the haircut continues, there's a regrettable moment with fruit, and we drop by the fresh San Juan art-o-rama =DESTO for a talk with the founders.

Episode 3, part 1 covers, if not the waterfront, at least that occasional Nuyorican-Borinquen artfest "The (S) Files" at Museo de Arte de Puerto Rico, and visits scenic Caguas to marvel at another new kid on the block, ÁREA.

Episode 3, part 2 takes a wild ride on the Tren Urbano.

Episode 4, part 1 gets the unexpected: some mail. In part 2, we hit the road for points south, with stops at the Frade Museum, El Cuñao, King's Cream, and Museo de la Historia de Ponce.

Episode 5, part 1 weighs Puerto Rico's travails against Miami's prosperity and scratches its head. Why does Fred Snitzer say the things he says?

Episode 5, part 2: more art shows and the artists who make them, including the evergreen Antonio Martorell and a stealthy group called El Polverío.

Episode 6, part 1 and part 2 offer blow-by-blow coverage of Puerto Rico's first-ever art fair, CIRCA 2006, and the whole world asks, "What's it all about, Rotund?"

Episode 7 takes the slow train to Hato Rey and Galerías Prindari, where it meets the friendly natives.

Episode 8 knocks on the door of the Berezdivin collection, hoping to get in, and then muses disapprovingly about el Museo de Arte de Puerto Rico.

Episode 9, part 1 wallows in the paradoxes of summer in Puerto Rico, including a curious exhibition at la Escuela de Artes Plásticas, while part 2 looks at the work of painter-writer Javier Martínez.

Episode 10: the excellent exhibition space tagRom has a birthday and the laggardly Rotund crew tries to catch up on San Juan art doings, while Tiny Type travels southward to watch Rafael Trelles do his thing at el Museo de Arte de Ponce.

Episode 11: "Two Cards from the Bottom of the Deck?" This could only mean Pedro Vélez.

Episode 12 invites all and sundry to get down with La Muestra Nacional de Arte. Plus, =Desto hits its stride and doesn't look back.

Episode 13: is La Muestra Nacional the only thing on the Rotund mind? What about sex? Rapacious legislators? What happened to lechón, pasteles, and Heineken tall boys?

Episode 14 brings us yet more Muestra, but also, what? Yes, Pedro Vélez, now in his new role as Rotund art dick. Plus, new shows at San Juan's La Liga de Arte and Crema Gallery.

Episode 15 proves that the island is cooking: The International Book Fair, experimental prints at =Desto, Milton Rosa-Ortiz at Museo de Arte de Puerto Rico. The Basquiat drawing show is not terrible, but what is a private collection doing at MAPR?

Episode 16: the government is pilloried, artists are praised, food is mentioned, jokes are cracked that no one gets.

Episode 17 visits Art Basels past. This may strike some readers as cheap and retrograde, but we think the vintage years never get old. Besides, we also look at a Julie Kahn trading-card project, and what could be groovier than that?

Episode 18 looks like a preview, reads like a preview, and even smells a bit like a preview. But is it really a preview?

Not to be missed, of course: Booty Bundt, the cake that says it all, and BUY THIS NOW! an exclusive offer to be a part of this toney enterprize.



THE
OUTSIDE
WORLD

Follow the links to the Miami and Puerto Rican art worlds, and to perspectives bigger than both.

MIAMI
The Next Few Hours
Critical Miami
Miami Art Central
Locust Projects
Centro Cultural Español
Edge Zones
Brook Dorsch Gallery
Kevin Bruk Gallery
Bernice Steinbaum Gallery
Fredric Snitzer Gallery
Ambrosino Gallery
Leonard Tachmes Gallery
Subtropics
Miami Art Exchange
Worm-Hole Laboratory
The Moore Space

PUERTO RICO
Museo de la Historia de Ponce
Museo Pío López Martínez
(The Frade Museum)
Museo de Arte de Ponce
Museo de Arte de Puerto Rico
Museo de Arte Contemporaneo
Museo de la UPR
Los Balcones de San Juan
La Casa del Arte
Programa de Artes Plástics del ICP
CIRCA Puerto Rico
AUTOGIRO
M de Mater O'Neill Audio Archive

THE WORLD
Art Nexus Magazine
artnet.com
Tom Moody's Weblog
BookDaddy



Rotund World covers Miami, la Isla, and the world.

The magazine is designed and written by Joel Weinstein, in collaboration with unnamed others. The commentary, inspired by real events, is of a satirical nature and is not to be believed.

Photos, unless otherwise credited, are by none other than J Weinstein.

You can contact Rotund World at this address or, if you prefer, our other one.





La Ciudad Más Bohemia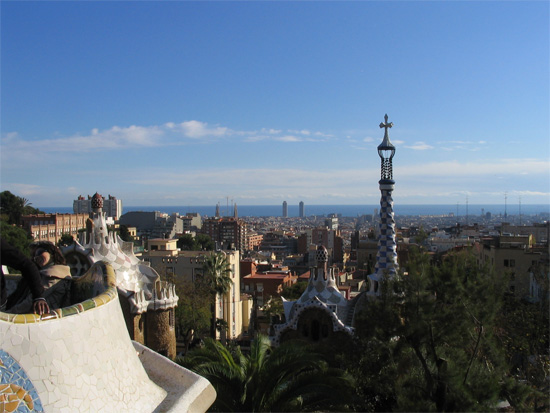 While most of our acquaintances were plunging headlong into the fiery furnace known as Art Basel Miami Beach like so many art world lemmings, La Tribu Rotunda was off basking in Old World calm and civility in Barcelona. Yes, we were ensconced in the very bosom of Catalonia, munching sugar-coated churros and sipping chocolate in view of the blue Mediterranean. A new generation was draying itself into unspeakable chaos, and we could care less.
We were total turistas, losing ourselves in the cobbled, improbably narrow streets of the old city, loafing in the Picasso Museum and the Fundación Joan Miró. We scared ourselves silly riding the tram up Montjuïc to the Palau Nacional. We made faces at the funny fish in the vast aquarium—the pot-bellied sea horses are hilarious—and gaped with the crowds at Gaudí's towering mélange, La Sagrada Familia. In fact, when it came to Gaudí, we were hopelessly enthused.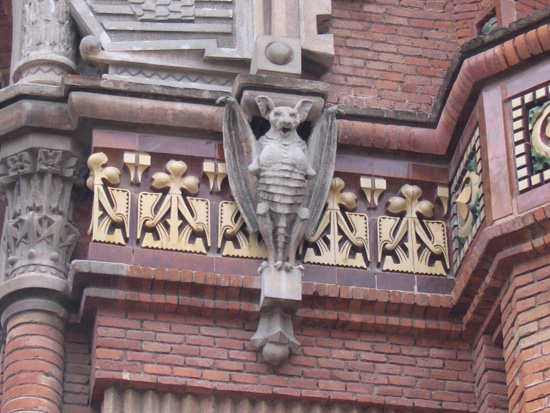 Much as we'd like to, we won't drag out our three-hundred-ninety-one-image slideshow of Barcelona with Kid A soundtrack. You will miss the many Victorian façades of El Eixample, the mimes along La Rambla, the rabbits hanging in the stalls of the mobbed Boquería Market. No three dozen views of the city from Parque Güell for you. No shitting-shepherd figurines in the city square nativity. Sorry. Maybe a demon bat gargoyle left over from one of the late-nineteenth- and early-twentieth-century international expositions that the Catalunyans, usually diligent modernizers, can't bear to knock down.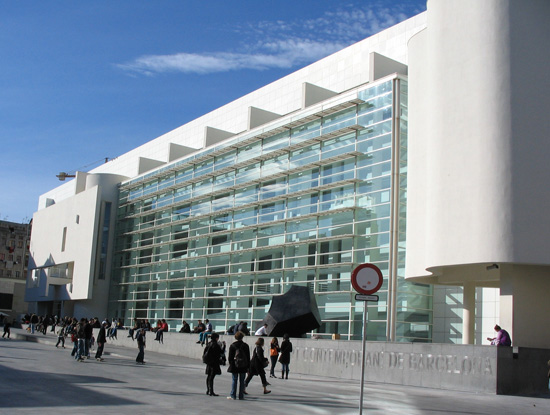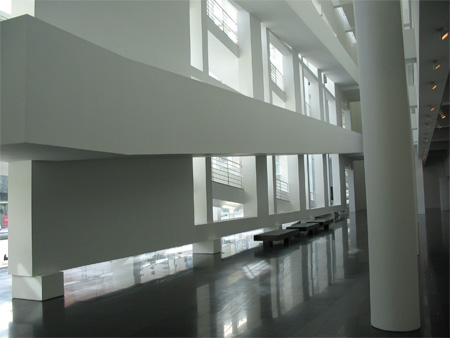 We'll get to the point for once, which in this case is the Museum of Contemporary Art of Barcelona, housed in this sleek Richard Meier building in a boho-student setting not far from the seething, carnivalesque Rambla. Our visit to El Museo left us thrilled but also glum. Things started off with a bang: an installation from the permanent collection which included works by some of our fave contemporary artists from Latin America, like this map by Guillermo Kuitca wherein the towns are all San Juans. (San Juan, 1991, acrylic on canvas, dimensions n.a.)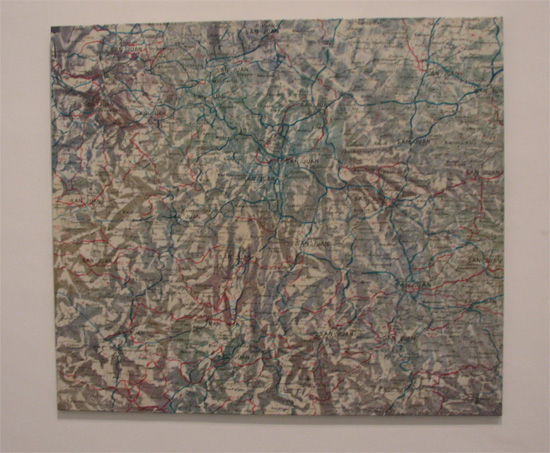 Nearby there was a room-sized installation with a few of Juan Muñoz's almost featureless, exquisitely melancholy figures, who always seem to dwell in an impenetrable loneliness no matter how many of them throng a given space. Down the hall it was our unexpected luck to find an exhibition of the wire gridworks of Gego, one of the late- twentieth-century's great restless spirits. Gego's sculptures are like threadwork maps, plans, or intricate puzzles floating in air. Her self-contained formalist innovations could not be further from Muñoz's needling existential woe; yet each artist never fails to deliver a theatrical wallop. (We neglected to note the pertinent details of the pieces below. The first image shows a room of dangling and free-standing sculptures, the tallest about six feet by twelve inches wide. Below, a wall sculpture, not really typical of the artist's work, that measures two-and-a-half to three feet across.)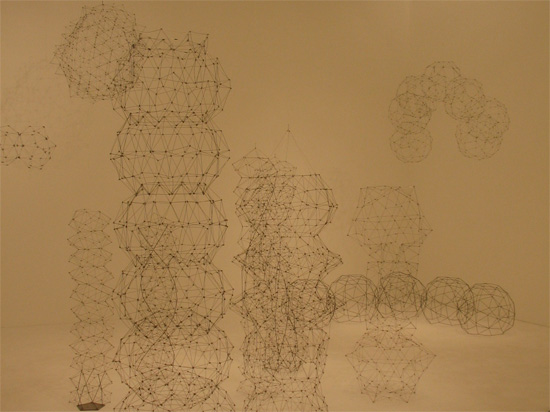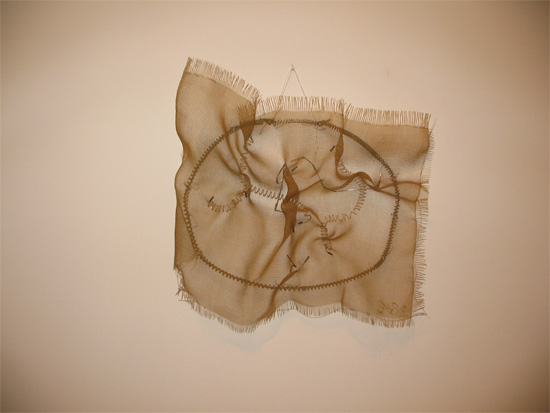 In that same vein, there was also a powerful, recent-vintage video installation by Kristof Wodiczko, a dark meditation on the immigrant experience in twenty-first century America. If You See Something, 2005, takes place in a very dark, high-ceilinged room with several doorways, each showing figures moving in dim light behind translucent glass. The figures appear and recede, never very clearly but sometimes for extended periods of restless standing around. By way of earphones on the wall opposite the doorways, you can listen to conversations—perhaps between the artist and the person you're watching or simply two subjects, each with a story to tell—all about the violence and humiliations, small and great, visited daily on the newly-arrived and never-assimilated in America.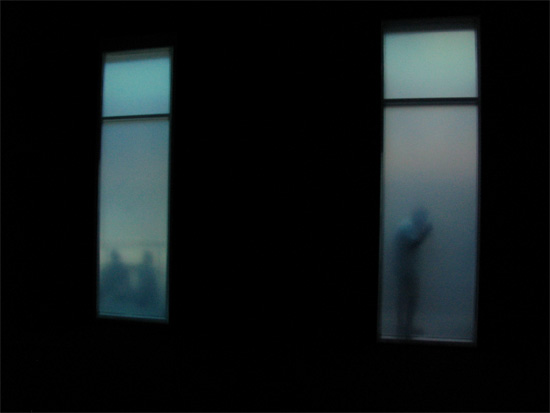 We were fairly giddy with the fabulousness of our circumstances throughout our stay in Spain, and it often occurred to us that our pals in Miami, relentlessly hectored and pitched to on all sides by baloney merchants, sideshow barkers, and other art world blowhards were not having nearly as much fun. Although perhaps their artistic ideal is to party hearty, in which case they were definitely in the right place. Are we waxing supercilious here? If you think so, take some pleasure in how quickly we came down, realizing almost at once that, compared to the historical and cultural expanses we were traveling through, Puerto Rico is a tiny, hermetic place—an island, after all—and would not provide us with such luxuriance any time soon.
Wodiczko? Gego? The San Juan art collectors Diana and Manolo Berezdivin own work by the Venezolana master, but who would think to mount a museum-scale show in Puerto Rico? What institution would have the resources or the cojones to try? Museo de Arte de Ponce is, by a long shot, the only boricua institution with a remotely challenging mindset, but look here: Frida Kahlo? Carved wooden saints? If the recent drift of the MAP exhibition schedule is any indication, the brass monkeys will be chilling in Puerto Rico before a full-blown Gego exhibition arrives on the island.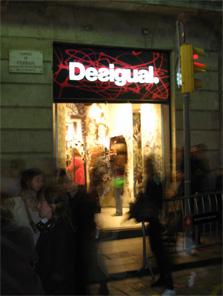 Our doleful musings were helped along by encounters with the elaborate graffiti that festoons every quarter of the ancient city. Over the centuries, Barcelona has done an impressive job of embracing what is remarkable, statuesque, and just plain old, and turning it to cosmopolitan uses. This has not always been entirely agreeable. In the six years since our last visit, the Gothic Quarter has gone from a shadowy, somewhat grimy historic neighborhood to a spiffy, shop-lined history- themed mall. The same thing happened in Rudolph Guliani's New York City, and one gets used to it. We don't want to seem like glowering sourpusses, so what the hey! Puerto Rican coffee was the special of the day in one Barcelona sidewalk café: "Direct from Jayuya and Yauco!" This is true upscalery, and we would not have missed it for the world.
But getting back to the graffiti, we were guessing that, in some cases at least, given the jaunty imagery and spruce execution, artists were hired to do their things on the corrugated doors of various shops. And it also seemed likely that otherwise bland public spaces—like the park with tennis courts below—were enlivened through some process more purposeful than aerosol-wielding youths scurrying furtively through the night. In all, we found the painting skillful and jolly, lending a comically urbane quality to the imposing old city.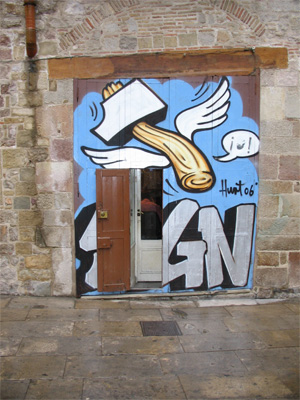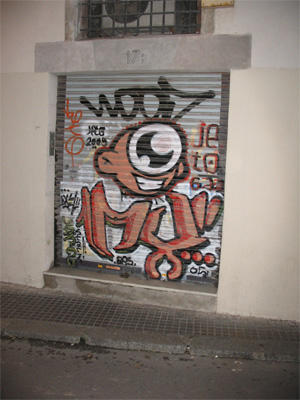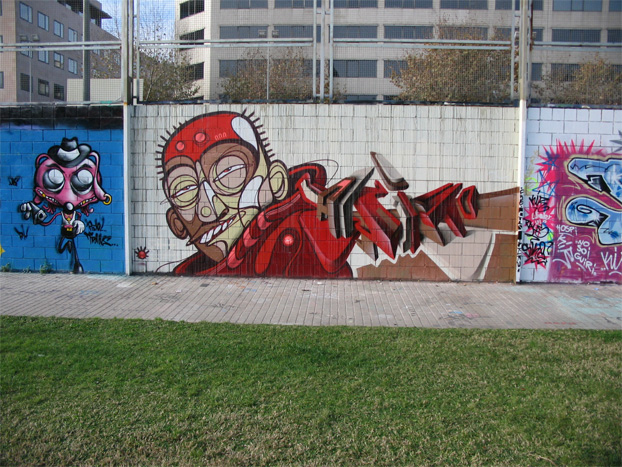 More impressive still was the equanimity of the populace who, if they did not swoon as we did over street art, didn't complain much about it either. In sharp contrast to the histrionics we are living with in Puerto Rico where, on one hand, night-riding nouveau action painters of San Juan are actually being arrested for expressing themselves on available public property under the easily perturbed noses of the authorities, and, on the other, the island's precarious traditional architecture more and more resembles American Midwest small town water towers and roadside boulders. For that matter, even in cookie cutter suburban neighborhoods many people would rather not know the heavy hand of the graffiteros.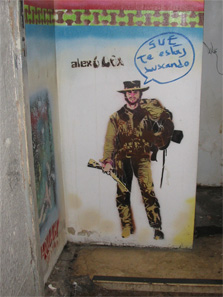 There are a few clear demarcations in the controversy. Mural-size homages to murdered Machetero Filiberto Ojeda Ríos or reputed outlaw José "Coquito" López Rosario certainly liven up the neighborhood better than the stark walls on which they were painted—by members of the communities in which they appeared, it might be added. It's equally evident that murals like these are erased because their supposed "messages" vex prominent personages—such as the superintendent of police, who read a personal challenge in Coquito's toothy visage—as much as any other reason.
As for graffiti, it's possible that some people remain ignorant of the extent to which the form is part of a broader culture, but there you are: language, music, fashion, and, under certain circumstances, a mild- mannered anti-establishment political stance. Like any
art, its aesthetic value depends on your taste. Graffiti seems to get the goat of the powers that be as much for its defiance as for what it means to our city's cleanliness, judging by all the fulminating about it.
Beyond these considerations, things are pretty murky. It seems that even those who are not part of graffiti culture but are most naturally its allies—art world practitioners, teachers, analysts, and so forth—have a tenuous grasp of what's at stake. A few weeks ago, the lsland's largest daily newspaper, El Nuevo Día, hosted a "roundtable" on the subject, curiously without an audience. Among the invited "specialists" were a painter, a graffitero, San Juan's chief of security, a couple of scholars, and representatives from El Museo de Arte de Puerto Rico and La Escuela de Artes Plásticas. The discussion had its telling moments, such as when the graffitero, Omar Torres, indicated that illegal painting's adrenaline rush is one of its chief pleasures. One of the scholars followed that by saying that "the nature of graffiti is subversive. To appropriate spaces and give them new meaning is one of its principle aims." As if no one had heard, someone suggested that the city create an official process whereby artists apply to do graffiti in approved places, and someone else chimed in about how the museum would "evaluate" graffiti so as to separate the good from the bad. The absurdity of this exchange was not lost on the scholar, who tried to get through once again. "If we impose limits in some manner, it's no longer graffiti," she pointed out.
The Rotund think tank has ideas of its own. Graffiti painting is already among the host of crimes whose prosecution is highly selective, like prostitution. The mayor needs to look tough at election time? Bust the hookers and their johns. Erase some murals depicting terrorists. Go after those baggy-pants hip-hop types. It's the usual game of making political hay at the expense of a few relatively powerless, not very well-liked citizens.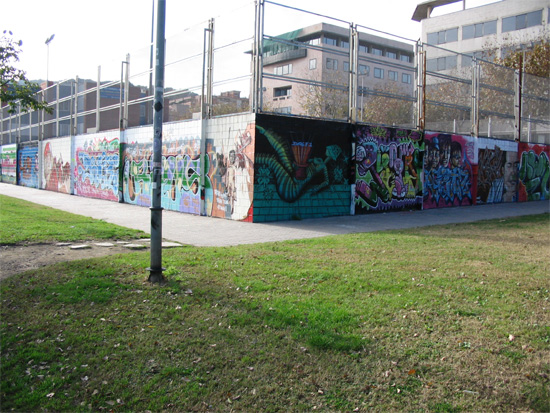 Simply by refining the blunt, and basically hypocritical, instrument of public policy and giving it a bit of nuance, it might be possible to achieve the balance by which the city protects those places that need protection and still allows graffiti to flourish in a sub rosa fashion; which, in a basic way, is what most graffiteros want anyway. First the mayor needs to proclaim a crackdown on graffiti and pursue the crackdown a toda máquina, perhaps smacking a few recalcitrants where they'll feel it, levying huge fines, meting out jail time, the whole nine yards. In other areas, half-hearted, fruitless chases might ensue, with the perps invariably escaping after a spray-painting spree. Word is sure to get around: watch out for the cops in Viejo San Juan, who are serious trouble. But those guys in Rio Piedras —or wherever—run like a bunch of grannies. Graffiti-wise, San Juan could evolve into the next Barcelona. Urban planners and businesses might find a way to co-opt outlaw-artists, subtly, bit by bit, as a means of turning their unruly acts into the kind of hip urban decoration that befits a metropolis-to-be in the twenty-first century.
Visit last episode here and you'll be glad you did.
---