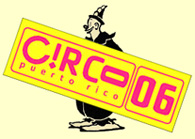 Dream a Little Dream
The pictures probably tell it better than we ever could. As you know, the Rotund bunch is a cynical, thin-lipped crowd, given to smirking at the well-intentioned, nay-saying in the face of every sunny prospect, and quejando amargamente sin fin. CIRCA 2006 seemed made for us, a train wreck of stumbling out of the gate, hootably contradictory mispronouncements, and thoroughly fuzzy-headed, palpably baseless expectations. If dank souls could ever be said to be "exuberant" at looming disaster, we were it.
Then the last weekend in May rolled around, things actually turned out well—initial stumbles notwithstanding—and what can we say? Personally, almost everyone I know had a smashing time and so did I, but I was easily bought out. First of all, I was invited to be on a panel discussion about "Artistic Practices in Puerto Rico," and the less said about that the better. The artists in attendance, thinking the panel would be all about them, held their noses and made barfing noises throughout the question and answer period, especially the bad boys in the front row.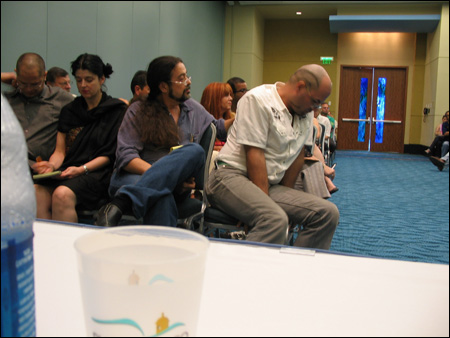 Moderator Paco Barragán, usually the picture of droll Spanish knowingness, repeatedly got into it with the hecklers, whom he suggested move their culos, if I understood him correctly, some distance away. My cohorts Yasmín Ramírez, Quintín Rivera-Toro, and I thoroughly enjoyed ourselves for awhile; Yasmín because she got through her talk in fine form, Quintín because his dad was there and rose up and gave a beaming endorsement to his boy's way of life, and I because I couldn't really follow very much of the teeth-gnashing and veiled and not-so-veiled gringo-baiting directed my way.
As for my talk the following day, it was an altogether different kettle of fish, as the cliché mongers like to say, and none of us want that beloved chestnut to fall out of use, do we? First, in spite of writing a reminder in big, block letters across the first page of my talk, I forgot to thank my swanky host because when I discovered that only a handful of my closest friends had shown up, I felt a huge surge of confidence and threw away the text. Ha ha ha. Sorry, Quintín.

CIRCA 2006 may have been a good thing for the contemporary art world today in Puerto Rico, but at this time, I would like to bore you with my thoughts on the baneful, increasingly commercial drift of the art world in general: how we are all going to Hell in a hand basket; the soulless ego-maniacs who collect; their rapacious accomplices, the dealers; the poor, poor artists who are the ultimate victims in all this market-driven hugger-mugger; and so on and so forth. And one episode soon, perhaps the next one—be warned!—I'll reproduce snippets of the jeremiads I treated fair-goers to, uncomprehending though they were. Or perhaps just bored stiff. Suffice it to say that I believe that an art fair is just another trade fair—like the boat fairs where they try to sell you insanely overpriced yachts, or dental appliance fairs, abounding in monstrous chair-like body-seizers and frightening-looking chrome appliances—where the point is money changing hands. Fairs have become the motor that runs the art world, if you ask me, and we—critics, museum professionals, freelance curators, what have you—are just the clowns and acrobats, the sideshow freaks at the circus.
Someone in the symposium audience uttered a cry of alarm which I heard several times in the course of the fair, "No one is selling! No one is selling! They'll never come back if no one sells." And I replied, "Not true." I mean, I wasn't sure whether or not people were selling—and I heard that some visitors did really well, one well-known rug-merchant-type raking in the high hundred-teen thousands—but I was fairly sure that a clutch of snooty foreign art world poobahs were sniffing about in their black outfits and cowboy boots, testing the tropical island breezes with wetted fingers to see if things were blowing their way. And, as the pictures on down the page testify, indeed they seemed to be.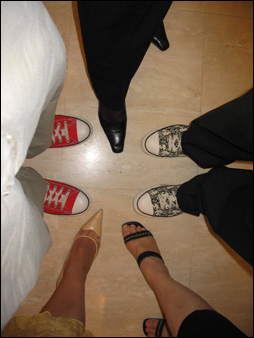 No boots, perhaps, but plentiful black.
I have one last snarky thing to add, and I'll say no more for now. But I can't resist. I noticed that someone's stock actually fell in the course of a couple of days of the most rank, obnoxious, pufferous bum-bussing I have ever beheld in a local newspaper. And I am speaking of the canary wipe that professes to be the largest and most influential news source on la isla. No names please, but you all know who I mean.
In any event, one day in the several-week course of this avalanche of bald twaddle that lead up to the fair, I noticed an article about a well-known couple from Miami who have built an impressive collection of mostly contemporary art. They were coming to CIRCA 2006 to show and talk about some works from their collection, and the writer described them as "among the most influential and important art collectors in the world." Well blow me down, I thought. I lived for several years amongst these folks and looked forward to my visits to their vast warehouse on many occasions. One of my very fave contemporary art works, Damien Hirst's chilling cabinet of medical instruments, replete with skeleton, used to sit at the top of the stairs to their second floor, a nasty surprise for all ascending visitors.
But to say they are among the "most influential and important . . . in the world" struck me as somewhat odd. Is theirs a particularly encyclopedic collection? What about those stunning pre-Raphaelite holdings, say? Any good Motherwells or Agnes Martins in the lot? Oller? Campeche? Fernando de Szyszlo? Well, none to be had; at least none they've put on display. Is it even foremost among contemporary collections? As good as Howard Rachofsky's in Dallas or the neighboring Margulies collection? How would you judge such a thing? Isn't an art collection largely a mirror of personal taste, no matter the how vast the holdings or how elaborate the accoutrements? Surely each of the well-chosen ones has strengths and gaps.
No matter, though, because two days later the paper, in yet another honeyed feature about these collectors, lowered the volume to a less breathless, more reasonable level, describing the couple as "among the principal 200 art collectors in the world." But in the end there was still no escape, for they were now, in the words of a subhead, "the principal collectors of contemporary Latin American art." And the sidebars listed such outstanding Latin Americans in their collection as Andy Warhol, Chris Ofili, Takashi Murakami, Jeff Koons, and Charles Ray.
No knock on our friends in Miami, who deserve a toot of the horn every time you pass their warehouse. But as CIRCA 2006 turns to CIRCA 2007, the organizers should think about what notes they'll blow in the future if they want to sound like they know how to play.
A little sidebar of our own to that valiant crew, Elvis, Roberto, Celina, and company: pay todos los payasos y acróbatas in your circo if you expect them to put their bulbous intellectual noses on display year after year. As for this clown, only the first one's free.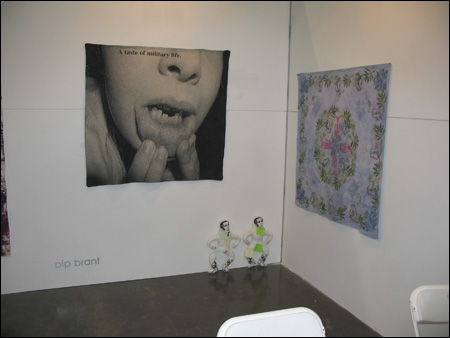 Pip Brandt at Edge Zones. From left: "A Taste of Military Life" (2006, black & white jacquard-woven cotton tapestry, 49" x 45"), "Bush 'W'ou Dou Parlor" (2004, cotton, holofil, & ink silk-screen, each doll 24", 2 of 50), and "Vaginal Rejuvination " (2004, dyes, found cloth, embroidery, silk-screen, 48" x 48").
Our ears are burning—or is it our eyeballs are itching?—because somewhere someone is looking at this page and saying, "Where is the art, for effing sake?" Like other cutting-edge art magazines, we believe that celebrity-gazing—or glomming on to what passes for celebrity in these faraway, woozy parts—is our most important product. But we would be complete clods if we didn't mention that there was a considerable amount of very cool art at CIRCA 2006. This was, perhaps, the fair's best quality.
Below is a random selection of things we saw and took special note of. It is sometimes hard to tell which work is whose, what the devil it's made of, and so forth, but in coming days we'll attempt to fill in the gaps.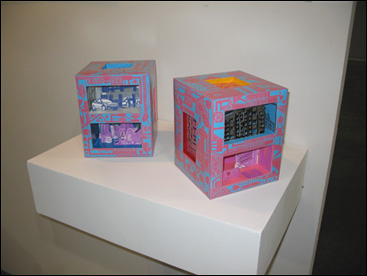 Left: Raquel Quijano's "Metrópoli" (2006, grabado en cintra, impreso en papel, 7" x 8"). On the right, getting down and getting funky with their Powerbooks, el grupo "Pardo," Omar Obdulio Peña Forty, left, and Jason Mena, who, along with Raquel, run the San Juan art vortex, =DESTO.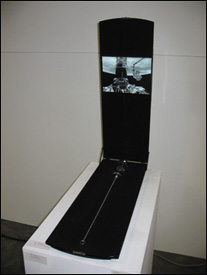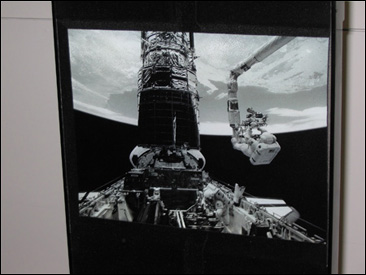 The mysterious "Spaceship," by the equally murky M.K. Kaehne. Installation shot, left, and detail. This was one of several individual artist's projects, like Rafael Vargas Suárez' drawings below, curated by Paco Barragán for a section of the fair titled, "Estado(s) de ansiedad."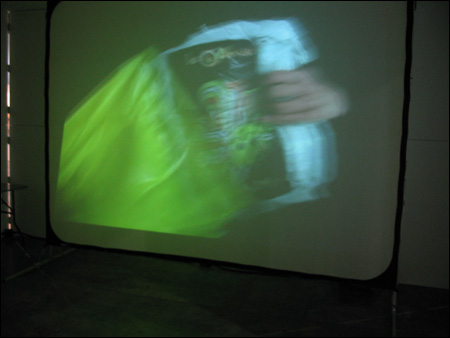 An exciting moment from the video, "Gama," by Donna Conlon. A thin, though well-constructed joke about the void at the heart of commerce, I would say, and just right for CIRCA 2006.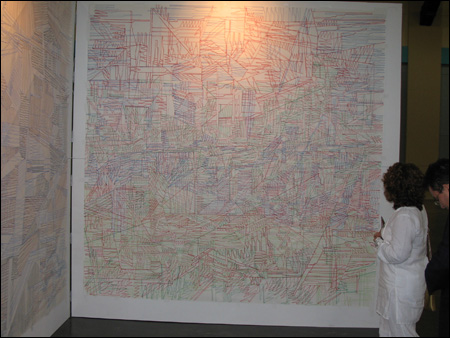 Another, slightly better view of Rafael Vargas Suárez' "American Virus 06.1" (2006, oil enamel on folded paper, 9' x 9'), also part of Barragán's "Estado(s) de ansiedad."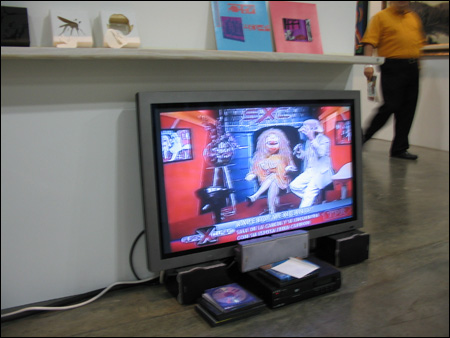 Apparently there are times when it pays to own a television. This new video by Quintín Rivera-Toro, "Soft Porn" (2006), features a talk show "personality" known to all the world but me. To my untrained eyes she is a Miss Piggy look-alike, and Quintín, for his own obscure purposes, captures her as she's about to interview rapero-bad-actor, El Mexicano.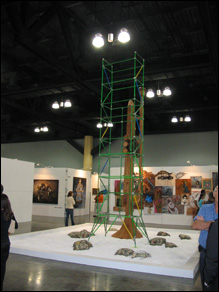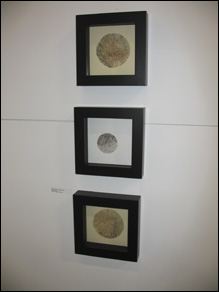 Left: Charles Juhasz-Alvarado's installation on its feet: "Salpicada de Amapolas" (2005, an installation of numerous parts with an overall floor area of approximately 10' by 12' and a height of about 20'). Right: "Esfera" 1, 2, & 3 by Omar Obdulio Peña Forty (2006, each one human hair on paper, each 10.5" x 10.5").
---