MUNDO ROTUNDO

THE KEY TO THE HIGHWAY:

Episode1, part 1, a brief, riled-up soliloquy about life in Puerto Rico.

Episode 1, part 2, a close-up look at one of the island's most personable coffee roasting operations, Café Mayor, plus Rotund's first roundup of art shows.

Episode 2, part 1, in which we review Pedro Vélez's "Godfuck," study an art sale posing as an exhibition, and get a haircut.

Episode 2, part 2: the haircut continues, there's a regrettable moment with fruit, and we drop by the fresh San Juan art-o-rama =DESTO for a talk with the founders.

Episode 3, part 1 covers, if not the waterfront, at least that occasional Nuyorican-Borinquen artfest "The (S) Files" at Museo de Arte de Puerto Rico, and visits scenic Caguas to marvel at another new kid on the block, ÁREA.

Episode 3, part 2 takes a wild ride on the Tren Urbano.

Episode 4, part 1 gets the unexpected: some mail. In part 2, we hit the road for points south, with stops at the Frade Museum, El Cuñao, King's Cream, and Museo de la Historia de Ponce.

Episode 5, part 1 weighs Puerto Rico's travails against Miami's prosperity and scratches its head. Why does Fred Snitzer say the things he says?

Episode 5, part 2: more art shows and the artists who make them, including the evergreen Antonio Martorell and a stealthy group called El Polverío.

Episode 6, part 1 and part 2 offer blow-by-blow coverage of Puerto Rico's first-ever art fair, CIRCA 2006, and the whole world asks, "What's it all about, Rotund?"

Episode 7 takes the slow train to Hato Rey and Galerías Prindari, where it meets the friendly natives.

Episode 8 knocks on the door of the Berezdivin collection, hoping to get in, and then muses disapprovingly about el Museo de Arte de Puerto Rico.

Episode 9, part 1 wallows in the paradoxes of summer in Puerto Rico, including a curious exhibition at la Escuela de Artes Plásticas, while part 2 looks at the work of painter-writer Javier Martínez.

Episode 10: the excellent exhibition space tagRom has a birthday and the laggardly Rotund crew tries to catch up on San Juan art doings, while Tiny Type travels southward to watch Rafael Trelles do his thing at el Museo de Arte de Ponce.

Episode 11: "Two Cards from the Bottom of the Deck?" This could only mean Pedro Vélez.

Episode 12 invites all and sundry to get down with La Muestra Nacional de Arte. Plus, =Desto hits its stride and doesn't look back.

Episode 13: is La Muestra Nacional the only thing on the Rotund mind? What about sex? Rapacious legislators? What happened to lechón, pasteles, and Heineken tall boys?

Episode 14 brings us yet more Muestra, but also, what? Yes, Pedro Vélez, now in his new role as Rotund art dick. Plus, new shows at San Juan's La Liga de Arte and Crema Gallery.

Episode 15 proves that the island is cooking: The International Book Fair, experimental prints at =Desto, Milton Rosa-Ortiz at Museo de Arte de Puerto Rico. The Basquiat drawing show is not terrible, but what is a private collection doing at MAPR?

Episode 16: the government is pilloried, artists are praised, food is mentioned, jokes are cracked that no one gets.

Episode 17 visits Art Basels past. This may strike some readers as cheap and retrograde, but we think the vintage years never get old. Besides, we also look at a Julie Kahn trading-card project, and what could be groovier than that?

Episode 18 looks like a preview, reads like a preview, and even smells a bit like a preview. But is it really a preview?

Episode 19: Barcelona. Need we say more?

Episode 20 visits the Corozal redoubt of Titi Noris, then gets down and gets funky with Julio Micheli.

Episode 21 tramps through the dirty snow of New York City and sees a bunch of fur coats posing as art.

Episode 22: the good, the bad, and the dubious underbelly of the Puerto Rican art world: shows and those who write about them.

Episode 23 takes a break from the box step and does the boogaloo instead: some advice about going public.

Episode 24 is an extensive chat about a wide-ranging show, The DAMS 2. Who exactly are Dildo and Culo?

Episode 25 marks the beginning of the end. At least the end of the long wait for CIRCA 2007.

Episode 26: enough CIRCA to please the gluttonous and outrage the discreet.

Episode 27 provides one last thrill from the Puerto Rican scene before our Ecuadorian sojourn: we visit =Desto's rad Publica.

Episode 28: Hello, Cuenca. Almost more news from one small Latin American country's premiere art event than a reader wants to know. Still, we bet the artists involved will like seeing their names in print.

Episode 29 is as nutty as a fruitcake. Don't miss the Coke cans, created by real, or once-real, graffiti artists.

Episode 30 brings us back to the island, but not without a detour to the Cuenca Biennial's dark past.

Episode 31: Can you believe the nerve of some people? The Rotund crew talks about art critics sin fin, which means, of course, a lot of self references.

Episode 32: We call out the forces of evil, who no longer bother to answer. Someone will be sorry one day.

Episode 33 visits La Perla and then takes off its hat to the organizers of the now-annual neighborhood art and music fest, La Perla Habla.

Episode 34 returns, if not from the dead, then from what seems like a long sleep. Reviews of Espacio 1414's latest doings, the good works at =Desto, and thoughts on the new boys in town, Galería Candela.

Episode 35: Why do we persist in making rude fun of the island's leading newspaper? And is it possible that the San Juan art scene deserves so many column inches of Rotund blather?

Episode 36 travels all the way to Miami to bring you news of the greater world, needing an extra page to do the job right.

Episode 37: Ada Bobonis gets the Rotund treatment for her installation at MAPR, and others on the San Juan scene—Martorell, Maldonado, Ayala, and the BlackBoxArt crew—also feel the fire.

Not to be missed, of course: Booty Bundt, the cake that says it all, and BUY THIS NOW! an exclusive offer to be a part of this toney enterprize.



THE
OUTSIDE
WORLD

Follow the links to the Miami and Puerto Rican art worlds, and to perspectives bigger than both.

MIAMI
The Next Few Hours
Critical Miami
Miami Art Central
Locust Projects
Centro Cultural Español
Edge Zones
Brook Dorsch Gallery
Kevin Bruk Gallery
Bernice Steinbaum Gallery
Fredric Snitzer Gallery
Ambrosino Gallery
Leonard Tachmes Gallery
Diaspora Vibe Gallery
Subtropics
Miami Art Exchange
Worm-Hole Laboratory
The Moore Space

PUERTO RICO
Museo de la Historia de Ponce
Museo Pío López Martínez
(The Frade Museum)
Museo de Arte de Ponce
Museo de Arte de Puerto Rico
Museo de Arte Contemporaneo
Museo de la UPR
Museo de las Américas
Los Balcones de San Juan
La Casa del Arte
Galería 356
Galería Comercial
Galería Candela
Programa de Artes Plástics del ICP
CIRCA Puerto Rico
AUTOGIRO
Conboca
¿Dónde Veo Arte?
El Status
MSA-Xperimental Art
orificio
Repuesto
Trance Líquido
M de Mater O'Neill Audio Archive

THE WORLD
Art Nexus Magazine
artnet.com
Tom Moody's Weblog
BookDaddy
Edward Winkleman's Blog
Artkrush

Rotund World covers Miami, la Isla, and the world.

The magazine is designed and written by Joel Weinstein. We're serious in a satirical way, so take it with a grain of salt. You can now subscribe to our RSS feed.





Photos, unless otherwise credited, are by none other than J Weinstein.

Contact us at this address or this one. Note that rotund@coqui.net is defunct, R.I.P.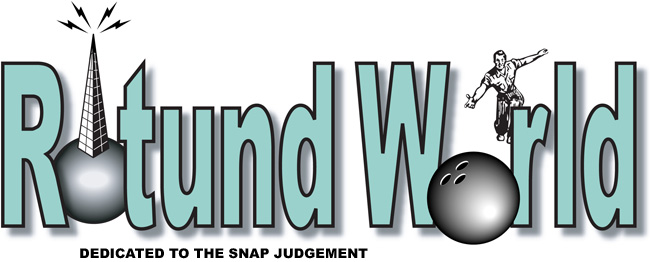 Will Wonders Never Cease?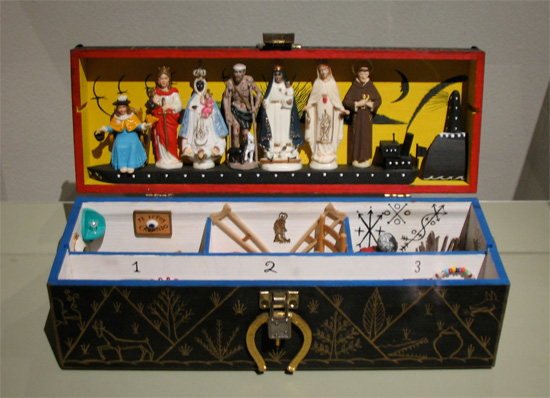 In the little more than two years we've been in Puerto Rico, el Museo de Arte Contemporáneo has always seemed the barefoot jibaro among island art museums, more of a dutiful caretaker of the few works it's cadged from local artists than a venerated picture palace, like el Museo de Arte de Ponce, or the bringer of someone's family jewels, as el Museo de Arte de Puerto Rico often is.
But it happens that some of the most memorable exhibitions we've seen during our brief sojourn we've enjoyed in MAC's homey, always cool salas de exhibición. We came upon great work by Rigoberto Quintana there, an installation of school desks with the artist's masterful chaos inscribed on them like so much student bad behavior. Jeannette Betancourt showed over two dozen of her leather and steel contraption-reliquaries in a remarkable exhibition titled Sentidos alternos in 2005, and it was at MAC that we first beheld Carmelo Fontanés's conceptual sideshows-in-a box, featuring sculpted No. 2 pencils and veritable snowdrifts of graphite. The prolific ceramics sculptor Toni Hambleton had a retrospective of large and small works at MAC, generously curated by Museo de Arte de Ponce director Agustín Arteaga, and last year's Lexus competition winners—Héctor Madera González, Quintín Rivera Toro, and Carlos Ruíz Valarino—provided a varied and largely satisfying display of what's buzzing around the noggins of modern-day Puerto Rican youth.
Since the arrival of Brenda Torres Figueroa as the museum's curator, even exhibitions drawn from the modest permanent collection have been sleek and smart, and have given the museum's holdings an unaccustomed polish. Torres Figueroa is definitely dressing the place up.
El Museo de Arte Contemporáneo has never looked as dressy as it does right now, at least not to us, with a couple of very good exhibitions organized by the curator and another Lexus winners show that, at least in part, does not embarrass the institution. Restos, which conceives of art making as imaginative archeology, is a two-part exhibition, one section derived from the museum's permanent collection and the other drawn largely from a local private collection and focusing on contemporary Cuban artists. Its title is, not surprisingly, Desembarco. (The above image is from that show, José Bedia's Para un cubanito viajero from 1997, made of acrylic, found objects, and wood, and measuring 14.5" x 6.75" x 9". We'll get to the show, and Bedia in particular, a few paragraphs down the page.)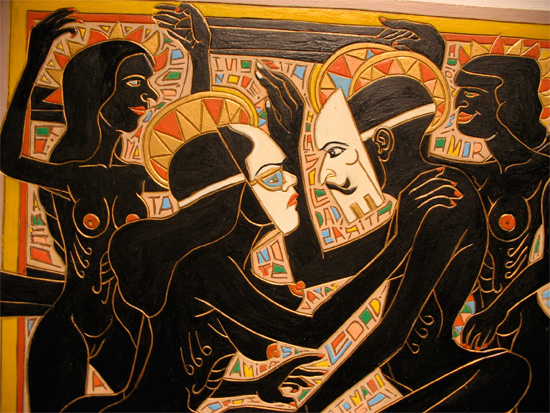 Whatever you think of the museum's permanent collection, Torres Figueroa has given it a distinctive shape on this occasion, and, as usual, some of the unintended consequences are as intriguing as the somewhat academic purposes she had in mind. First of all, there are certain artists we think we'll never tire of. We're happy to see José Rosa—our fave printmaker who's no longer making prints—anywhere, whether it's in a vast horse-themed conglomeration or La Muestra Nacional. (Above, a detail from Rosa's Homenaje a Don José Luis González, a pictograph from 1996 measuring 33.25" x 29".) Rosa's contribution to the exhibition is unusually sumptuous in a material way, featuring characters of a satiny black complexion cavorting—it's Rosa, what else?—in a kind of disco-era Christo-Egyptian-themed masque. Perhaps if you know Don Luis you understand the deeper secrets of this apparently ritualistic imbroglio, but there is no mistaking its sensual, startlingly erotic vigor and the supple beauties of its surfaces.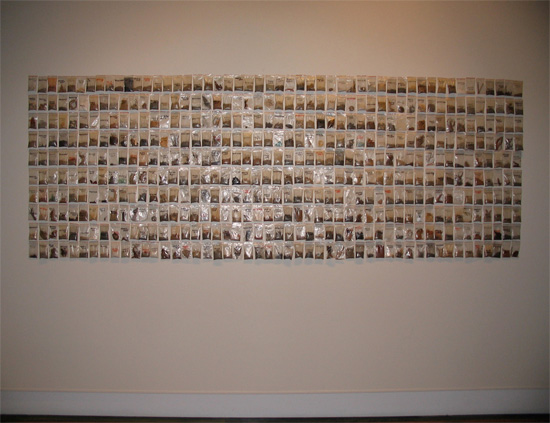 Any chance to visit the grid-like puzzle pieces of Nayda Collazo-Llorens is likewise a pleasure, and her work in Restos, Evidencia, is a doozy; a quadrangular hanging of five hundred little ziplock packets, each with detritus gathered from Puerto Rican beaches: broken glass, pebbles, what we can only assume is seaweed. As usual, the work evinces a conceptual dimension which is interesting enough, but it begins to dazzle only with close inspection and the cumulative effect of the artist's obsessive categorization.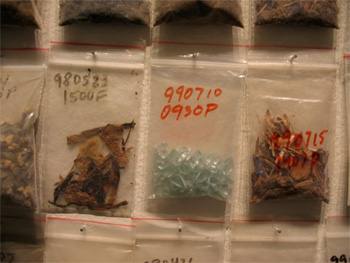 But what a conservation nightmare. As you can see, the markings on some of the packets —could that be Magic Marker?—are suffering the depredations of time and storage. The work was made in 1999 and consists of plastic, a CD—which presumably holds the minutae Collazo-Llorens recorded—and "gathered material."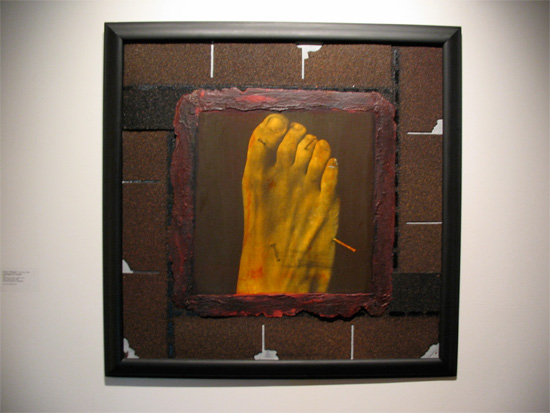 When you know an artist in a certain way—and we've only been following Collazo-Llorens's work for the past couple of years—it's likewise revealing to view something from the more distant past. Much of MAC's collection, as seen in this exhibition, seems to have been acquired just before and after the turn of the century—the most recent turn, that is—and looking back even five to ten years gives us a new perspective on what we thought we knew.
This brings us to an issue which Restos seems to have largely skirted. Perhaps it's too obvious. Speaking of creative archeology, artists necessarily mine their own trajectories as well as their times and places, and we often ask ourselves if art making isn't largely formal groping about, one damn thing leading to another. (A corollary being, of course, that art- critical head-scratching is pretty much beside the point, a pet theory of ours but one we'll spare our readers for now.) What about our pal Victor Vázquez? Vázquez's mixed media El bodegón de Yemayá (above: wood, pitch, aluminum, and photography, 48" x 48", 1994) works over themes of suffering and mortification we've become accustomed to seeing in the artist's overall project, but we were struck by something else in the context of Restos. It is a solidly built thing, and its structure mellows its discomfiting rawness—a little anyway —and makes it look downright painterly, almost like a traditional museum artifact. Maybe you have to squint to see it. In any event, what was Victor thinking? Spiritual travail, or getting the thing to look just so, a shade or two different from the last one? An arcane, even picayune line of inquiry, perhaps, but one that seems logical for an exhibition like Restos.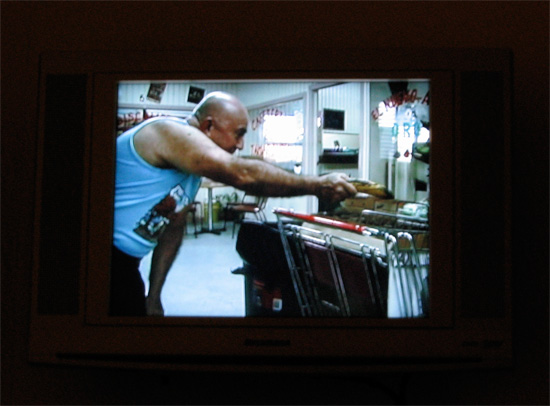 Let's see, we were speaking of unintended consequences, and artists we always love to see. Then there are the ones we've either heard of or haven't, but whom we should have known very well by now. We've caught glimpses of videos by Beatriz Santiago Muñoz, but her Archivo, from 2001, (above) is a highly opportune, omnibus encounter with her video- making approach. She employs ordinary people in, while not exactly extraordinary situations—in one brief rural semi-idyll, we watch and wait with a group of would-be passengers as they complain about a long-overdue train—mostly antic inventions which any unself-conscious Puerto Rican would be happy to indulge in: reenactments of the shooting of the legendary outlaw Toño Bicicleta by a grocer wielding a banana and fun-loving little boys on bikes, or willing amateur thespians who chalk lines on a sidewalk and pretend to be aerialist Karl Wallenda falling to his death in 1978 while trying to navigate a high wire between two hotels in Condado. Hilarious. Real, slightly notorious Puerto Rican history given the populist treatment it deserves.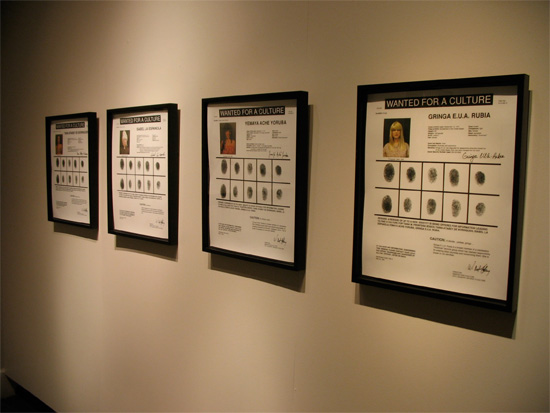 Speaking of populism and those who aspire to it, Tania N. Frontera—quite possibly not her real name—presents in Restos a series of wanted posters seeking various "cultural outlaws," such as the preposterously starchy Isabel la Espanola. In each of five prints we see the artist in various thin disguises, employing a kind of cheap-seats version of the identity politics that Adal Maldonado likes to baroquely flog.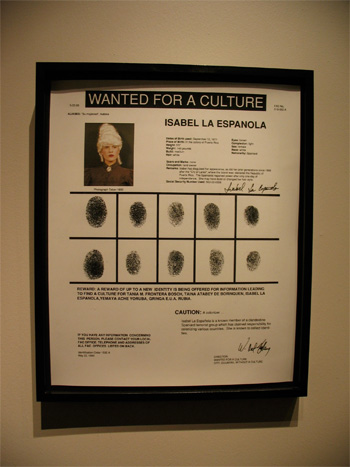 But Frontera reaches for a cheesiness that Maldonado wouldn't dare, and so the posters never get puffed up with their own importance which, when you have to swallow a whole lot of it at once, can make the hectoring tone not so tasty after awhile. Above, one of the 21.8" x 18" digital prints on cardboard, from the 1994 work titled Wanted for a Culture.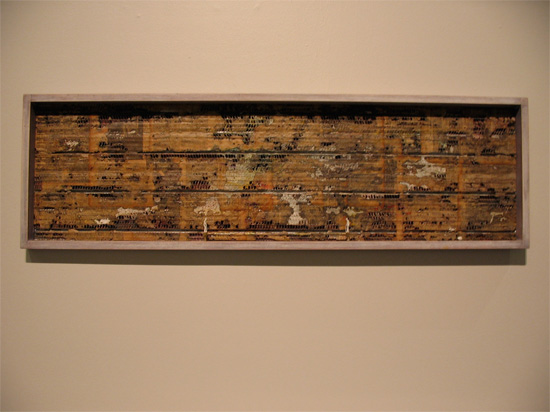 But for uncomplicated handsomeness, we found Jaime Romero's El pergamino de los insolentes (above: wood, plastic, metal, 15" x 49.6" x 1.5", 2000) just about unbeatable, a seeming wall of waxy parchment that time has scumbled and broken through, revealing the murky, hive-like subsurface behind the façade of things. In spite of the work's mundane ingredients, its invented ravages almost reek of musk and honey. Two tiny figures with canes face each other across the unbridgeable distance of a metal rod, in the shadow of what must seem to them an immensity of history and circumstance, though to us it's just a small box on a wall. If this is not about insolentes suffering for their hubris, we certainly wish it was.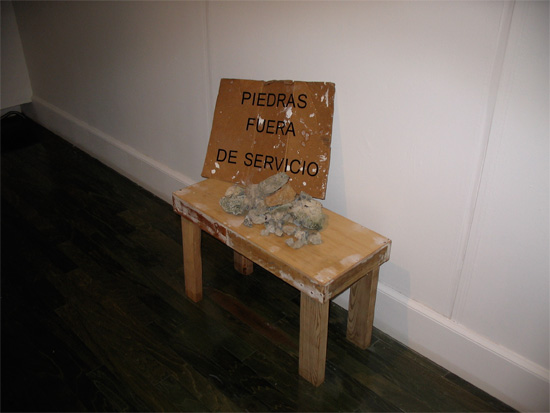 Speaking of hubris, we're wondering what, exactly, the problem with the Lexus awards is. One year a pretty good crop, the next year barely a squeak of proficiency. Like many people—take the estimable Pedro Vélez in artnet, please—we're rooting for Karlo Ibarra. There is one cornball joke (above) in his installation Each City Can Be Another, and a clutch of good little paintings. At least Ibarra makes an argument and holds it up to various lights. There are the sports shoes high on the wall, as if dangling from utility lines as they do every city in the world. Ibarra shows us jars of filth, sort of like Collazo-Llorens does with her beach matter, although unlike Collazo-Llorens and her mania for orderliness, you can almost smell the stink of this unseemly collection.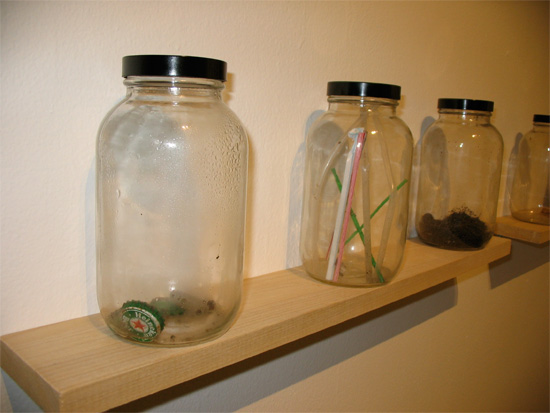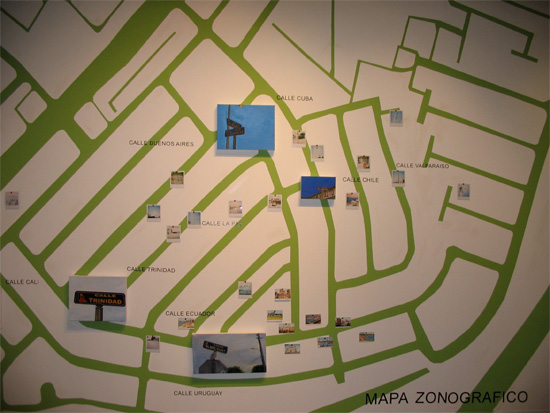 A wall painted with a boilerplate grid of streets, called Mapa Zonográfico (above), is perhaps the centerpiece of the installation, featuring anonymous snapshots of not much, diminutive picture cards of obscure tourist landmarks, and small paintings showing street signs with place names against hazy late-day skies. We bet that Ibarra is talking about our thoroughly globalized world, one place being as good, or as bad, as another, but his argument is not the baleful cliché we've gotten our bellies full of lately.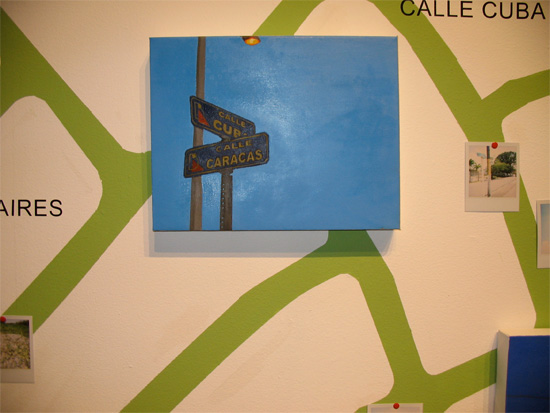 Ibarra asserts himself as an artist; he personalizes even as the thing he assays is all formula and fake regionalizing; he paints by hand, as landscape painters did and do, the intersection of Cuba Street with Caracas Street, indicating by other means that this place is probably far from either Venezuela or La Habana, or it's in one place or the other but it hardly matters anymore. That he's telling us this with patience and good humor indicates it isn't getting him down, yet, and that's a message fortunately out of step with the prevailing sourpuss mode.
Each City Can Be Another is a nice blend of restrained aesthetic and nuanced tone, and Ibarra seems to possess enough flinty will—or perhaps he's just an easy-going guy with solid, developing talent—to get our admiring attention.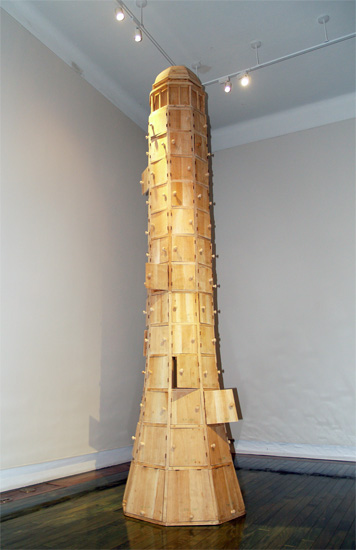 What we admire most at MAC at the moment, however, y por mucho, as they say, is that second part of Restos, Desembarco, an entire sala of contemporary Cuban artists, mostly from the fabled wild-child generation that dragged Cuba onto the world stage during the turbulent 1980s and 90s. There is work by José Bedia, Juan Francisco Elso, Ana Mendieta, Armando Mariño, Los Carpinteros, Kcho, and a video by Tania Bruguera by way of which you quickly understand why Bruguera has such a fearsome reputation. This selection of works is a different animal: imposingly restless yet stately, daring in its heyday and still possessed of considerable strength. Bedia's box (at the top of the page) is a jewel, and hews to the principles of living nobly in a society of scarcity. Kcho's spacious, iconic solo comprendo lo que pienso (first image below: installation of wooden chairs and drawings in charcoal, sanguine, and white chalk, dimensions variable, 1999) gets ample space in MAC's high-ceilinged room, and it is one of the best single works in the two sections of Restos to comprehend Torres Figueroa's notion of artist as archeologist-seer. The following image shows Elso's Caballo contra colibri, a mixed media installation measuring 121" x 115", from 1988. The tower at the beginning of this section is 150.230cm3 de obscuridad by Los Carpinteros, a group comprised of Marco A. Castillo Valdés and Dagoberto Rodríguez Sánchez, plus, at the time the work was created, Alexandre Jesús Arrechea. It's made of wood and measures 147" x 38" x 38".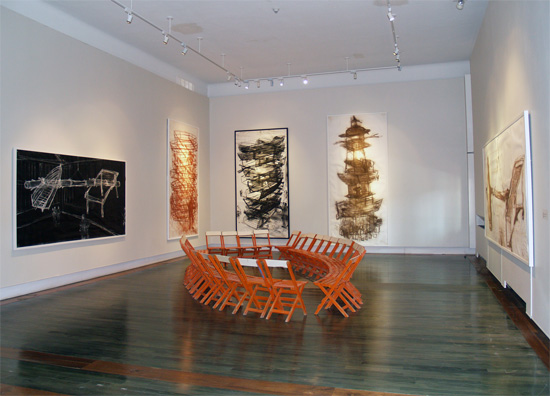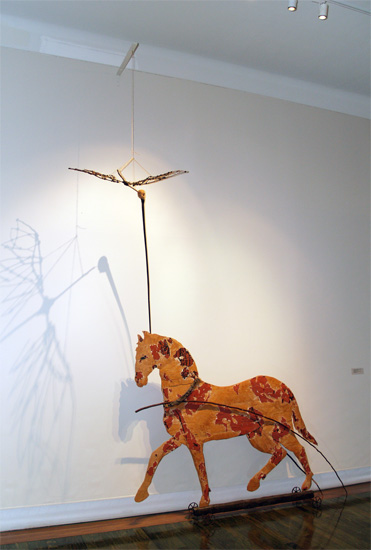 In the video documentation of her performances, Bruguera gets earthy, perhaps more literally than you might wish. Her art involves a lot of fluids, mud, and slaughtered goats, and in one piece she walks the streets as a spiky prehistoric beast-golem, looking for the people who've broken promises. We wouldn't want to get in her path.
Museo de Arte Contemporáneo is located at the corner of Avenida Ponce de Leon and H.R. Todd in Santurce. Call 787-977-4030 for directions. The museum is open Tuesday to Saturday, 10 a.m. to 4 p.m. and Sunday from noon to four. Admission is free. The web site has about as much skinny as you need. By the way, the last three photographs on this page come to you courtesy of MAC, taken by Vladimir Ceballos and Sergio Hernández.
There's Much, Much More
Just hop on over to the following page, where we mention the unmentionable, and not just once. Simply click on the magic blue word below . . .
. . . right here.
---