MUNDO ROTUNDO

GETTING AROUND THE WAY FOLKS USED TO, BY MOVING THEIR LIPS AS THEY READ:

Episode1, part 1, a brief, riled-up soliloquy about life in Puerto Rico.

Episode 1, part 2, a close-up look at one of the island's most personable coffee roasting operations, Café Mayor, plus Rotund's first roundup of art shows.

Episode 2, part 1, in which we review Pedro Vélez's "Godfuck," study an art sale posing as an exhibition, and get a haircut.

Episode 2, part 2: the haircut continues, there's a regrettable moment with fruit, and we drop by the fresh San Juan art-o-rama =DESTO for a talk with the founders.

Episode 3, part 1 covers, if not the waterfront, at least that occasional Nuyorican-Borinquen artfest "The (S) Files" at Museo de Arte de Puerto Rico, and visits scenic Caguas to marvel at another new kid on the block, ÁREA.

Episode 3, part 2 takes a wild ride on the Tren Urbano.

Episode 4, part 1 gets the unexpected: some mail. In part 2, we hit the road for points south, with stops at the Frade Museum, El Cuñao, King's Cream, and Museo de la Historia de Ponce.

Episode 5, part 1 weighs Puerto Rico's travails against Miami's prosperity and scratches its head. Why does Fred Snitzer say the things he says?

Episode 5, part 2: more art shows and the artists who make them, including the evergreen Antonio Martorell and a stealthy group called El Polverío.

Episode 6, part 1 and part 2 offer blow-by-blow coverage of Puerto Rico's first-ever art fair, CIRCA 2006, and the whole world asks, "What's it all about, Rotund?"

Episode 7 takes the slow train to Hato Rey and Galerías Prindari, where it meets the friendly natives.

Episode 8 knocks on the door of the Berezdivin collection, hoping to get in, and then muses disapprovingly about el Museo de Arte de Puerto Rico.

Episode 9, part 1 wallows in the paradoxes of summer in Puerto Rico, including a curious exhibition at la Escuela de Artes Plásticas, while part 2 looks at the work of painter-writer Javier Martínez.

Episode 10: the excellent exhibition space tagRom has a birthday and the laggardly Rotund crew tries to catch up on San Juan art doings, while Tiny Type travels southward to watch Rafael Trelles do his thing at el Museo de Arte de Ponce.

Episode 11: "Two Cards from the Bottom of the Deck?" This could only mean Pedro Vélez.

Not to be missed, of course: Booty Bundt, the cake that says it all, and BUY THIS NOW! an exclusive offer to be a part of this toney enterprize.



THE
OUTSIDE
WORLD

The following links suggest possibilities for the future of art in Puerto Rico and the conversations that might ensue. Here you will find, in no particular order, cyber- connections to the Miami art world, a rather haphazard look at the island scene, and some art magazines with international scope.

The Next Few Hours
Critical Miami
Miami Art Central
Locust Projects
Centro Cultural Español
Edge Zones
Brook Dorsch Gallery
Kevin Bruk Gallery
Bernice Steinbaum Gallery
Fredric Snitzer Gallery
Ambrosino Gallery
Leonard Tachmes Gallery
Subtropics
Miami Art Exchange
Worm-Hole Laboratory
Museo de la Historia de Ponce
Museo Pío López Martínez
(The Frade Museum)
Museo de Arte de Ponce
Museo de Arte de Puerto Rico
Museo de Arte Contemporaneo
Museo de la UPR
Los Balcones de San Juan
La Casa del Arte
Programa de Artes Plástics del ICP
CIRCA Puerto Rico
AUTOGIRO
Art Nexus Magazine
artnet.com
Tom Moody's Weblog



Rotund World covers Miami, la Isla, and the world.

The magazine is designed and written by Joel Weinstein, in collaboration with unnamed others. The commentary, inspired by real events, is of a satirical nature and is not to be believed.

Photos, unless otherwise credited, are by none other than J Weinstein.

Contact Rotund World at this address.





¡Mues-tra! ¡Mues-tra! ¡Mues-tra!
There is nothing quite like La Muestra Nacional de Arte in the annals of Puerto Rican art. It is, supposedly, an occasional survey of what is happening in the island art world—right now!—but has gained a reputation in the several decades of its sputtering existence for being a show without a clue: ill-formed, overstuffed, stodgy, politically susceptible, a mess. It is Puerto Rico's own Whitney Biennial.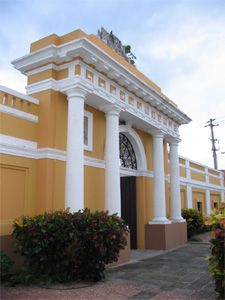 Never mind that the exhibition is one of the rare instances in which the government makes itself useful, putting its bureaucratic heft in the service of the island's artists—La Muestra Nacional is organized by the Instituto de Cultura Puertorriqueña—the show is sneered at in some quarters for being a hidebound repository of "official" art. And it goes without saying that many folks don't appreciate not being chosen, even though the whole process is as atavistic as the anointment of Mexican presidential candidates, in which the favored one among the beseeching multitudes ritually gets el dedo from the reigning Bozó.
La Muestra Nacional is a genuine poser, all mysterious procedures, ramshackle quarters, and hopping mad refusés, and you have to wonder why it bothers to bestir itself every two or three years. At Rotund World,
we're much too scrupulous to venture an opinion—one of our number served in the exhibition's high command, or running-dog clique if you prefer—but we strongly suggest that you head on over to the opening and take a look for yourself. We admit that, like any group project with the thinnest of pretexts, the show is a hopeless melange. Certain passages will leave visitors reeling with their unlikeliness. But there is a generous helping of the vanguard-like youth movement that so has the island abuzz, and outstanding work by a remarkable number of the usual suspects. One day a glossy catalogue with a rather exhaustive, but fun, essay will appear. La Puntilla and La Ballajá, the venerable sites of the show, are drafty colonial era throwbacks, it's true, but each has charms among its obvious flaws, as the Wonderlandish doorways and colonnaded passageways amply attest.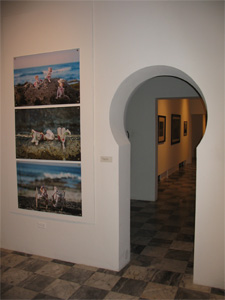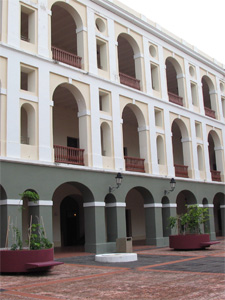 La Muestra Nacional 2005-2006 opens Friday, October 13, at 6:30 p.m. at both sites in Viejo San Juan. The artmob will be there in force, hopefully with its sense of proportion intact, and the very groovy Proyecto Pardo will supply some art-loving beats. Questions? Call 787-721-1839 with gentle inquiries of the Intituto's frazzled, hard-working crew.
Amazing Space
As we're grabbing our hats and heading out the door—off to Donato for some opening night duds—we'll leave you with a hurried though enthusiastic report about the recently-opened show at =Desto, "8-Track Audio Project," curated by one of the space's three co-founders, Omar Obdulio Peña Forty.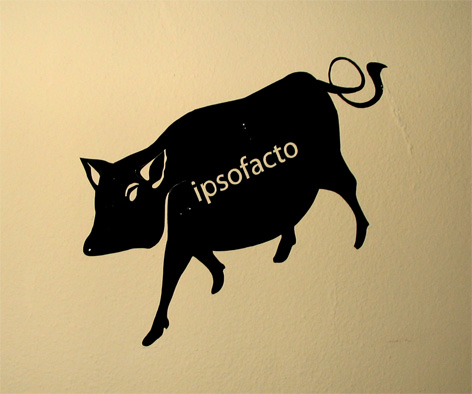 =Desto has always been a bit of a paradox bouncing from crag to outcropping in the deeply fissured Rotund brainpan. We love it just for being there, a brash, defiant answer to the insult of institutional neglect that rotundamente characterizes Puerto Rico's attitude toward its young artists and contemporary art in general. Yet until recently we weren't sure that the three artist-provocateur principals quite knew what to do with themselves; not as artists, to be sure, but as provocateurs. Too often they exhibited their own work or otherwise gave the space over to fun, but inevitably twee, projects.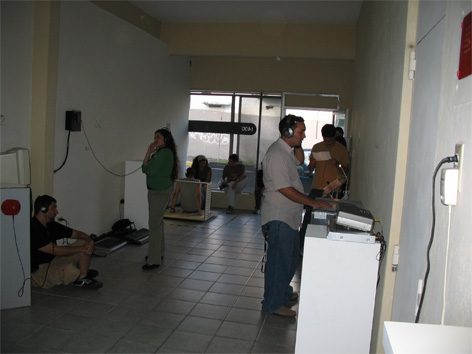 Beginning with last month's experimental photography exhibition, "f/4," smartly organized by Jason Mena, =Desto seems to be finding its voice, and with a vengeance. Peña Forty's new show, sound installations by eight artists and artist teams, would be rollicking headline news if it was an exhibition of visual art, just for what it reveals about an inventive, precocious artistic underground in our midst. Each installation consists of a listening station, original music, and a logo. The artist-musicians used, among many other things, actual instruments, digital manipulations, samples, original voice-overs, and found snippets from sources as varied as 45s, movie soundtracks, and poetry readings. You can hear at least one near nervous breakdown and several national crises in the space of a few minutes.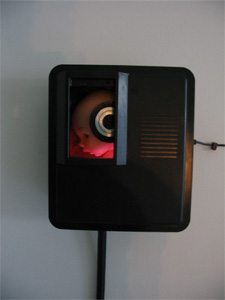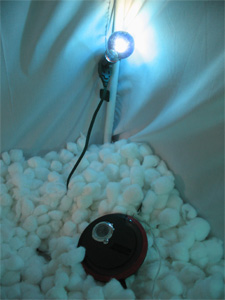 Peña Forty wanted the sound to be the point and all else to flow from that, so the listening stations and logos in some way reflect what comes through the headphones. The stations range from the elegantly techo circuit boxes of !Dio—a three person combo consisting of Rafael Díaz Rivera, Luis E Pérez, and Vincent Díaz Negrón—to the loosely womb-like cottonball and cloth-wall listening booth of Lalia, otherwise known as Rebecca Dávila. There is a plywood and exposed-screw platform for those for whom mere lyrics and notes never provide enough suffering, courtesy of Fosforote—Rafael Vargas—and a simple wall-mounted wooden box slathered with an expressionistic portrait by El audio, teacher-musician Victor Rodríguez Gotay. You have to visit the bathroom to experience the show's most baroque corner, an all-over installation of pills, scrawls, and dolls in strung-up metal boxes by Ricardo Benero, whose nom de musique is Shaved; Shaved Music, that is. Benero's operatic aspirations reveal themselves both in the manically detailed installation and the amazingly tight six-part excursion through depression and its relatively sunnier aftermath, an album titled "Amitriptyline's Lullabies."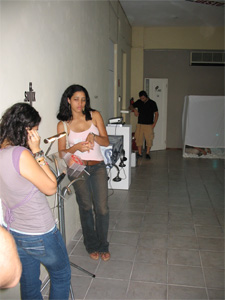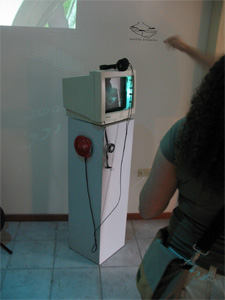 We spent a couple of hours at =Desto's opening and learned something of the complexities involved in appreciating an exhibition of this kind. Early on the gallery was largely silent if you weren't wearing headphones; yet the activity at each station was inwardly focused and intent. A few visitors passed through briefly, donning headphones long enough to say they'd been there, but a number of people stayed and stayed and sampled everything at length. In contrast, the evening was a noisy party with a lot of hippie-jam noodling on the provided instruments while in the street outside the band U-manos threatened to actually get down at some point, though it didn't happen while we were there.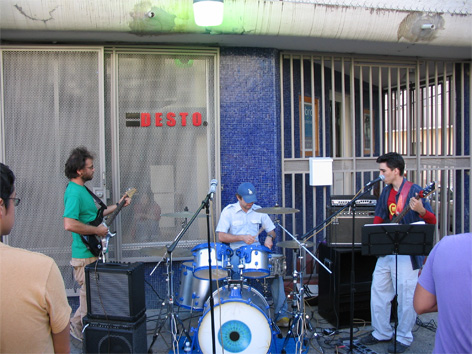 To our 1990s-rock-and-roll-tuned ears, the predominant sonic grooves in "8-Track Audio Project" are electronic and hip-hoppy, and they may not be to every head-banger's taste. Our favorites are two works that extensively sample soundtracks, Benero's harrowing, consummately poetic self-appraisal and the !Dio cut in which we thrilled all over again to the voice of Richard Nixon declaring, "I am not a crook!" The exhibition is well thought-out and nicely put-together, both in its parts and its overall execution, and one of the clearest indications yet that the fringes of the Puerto Rican art scene are going supersonic, and the culture better get its runways ready.
Call us easily impressed if you will, but better still you should call the gallery and arrange a visit while "8-Track Audio Project" is still blasting. Omar is your man and 787-633-3381 is the number. The gallery is located in Santurce, Américo Salas #1400, at the corner of Hippodromo, and you might luck out and find someone there if you're in the nabe.
Return to yesteryear for Two Cards here.
---