What We Really Think
As promised, here are a few of our fleeting impressions of that evanescent trance-state, CIRCA 2007; in no particular hierarchy of preference, chronology, or order in any sense of the word.
In the interest of timeliness—or the scoop mentality, which still reigns as contemporary reportage's first principle—the information that follows, especially in regard to the artworks we're showing you and the principals mentioned, is going to be woefully incomplete or just wrong. This being the digital age, we will update said omissions and errors as quickly as we can, so forgive us and check back from time to time.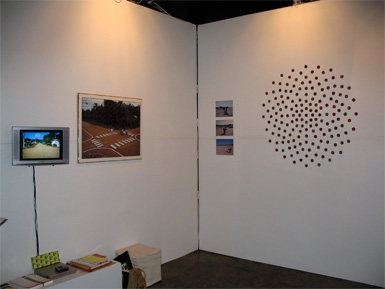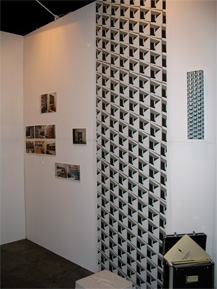 Our favorite spaces: There was a measure of wowsers at the fair—a man-sized heap of big-bang firecrackers posing as a golfer and a tree of functioning cash-register tape dispensers whose output resembled falling leaves, among other obvious attention getters— but Henrique Faría was one of the few commercial art dealers whose space was arranged by a four-star curator. That's our idea of a smooth move. Faría, based in New York and Caracas, specializes in Latin American contemporary art, and the artists whose work he sells include boricuas Jesús Bubu Negrón and Eric Schroeder Vivas. Julieta González, of Espacio 1414, set up his booth in the style of a knowing, no-words-wasted conversation, just the kind of talk we prefer. Above, from left to right: Negrón's video and photo installation, Cruce Frontera, Emilia Azcarate's Margarita, made of bottle caps, a photo installation by Luis Simón Molina Pantin depicting artists' black-clad archives at various galleries, and Vivas's digital prints, on both paper and canvas.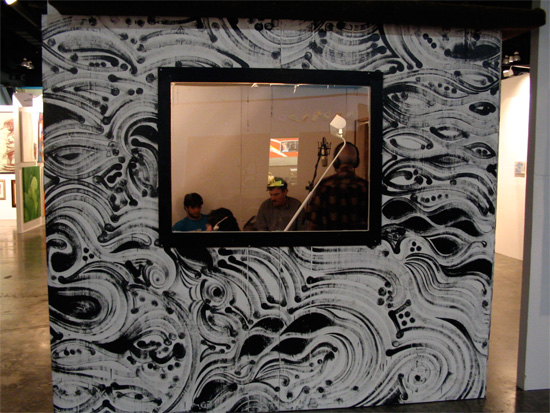 We have to count Pablo Rodríguez's Carlos-Irizarry-en-Candela space as among the most intrepid at the fair, though not necessarily for what he showed or how he did it. Rodríguez is not what you'd call a player in the commercial art world of Puerto Rico. True, he's been mounting periodic art shows for many years in Viejo San Juan, he has worked closely with plastic-tapestries-on-acid painter and muralist Dzine, and he not long ago helped bring fizzling-Brit Martin Creed to Puerto Rico. But Rodríguez does what he does because he wants to, and when, and he's best known for his dedication to the island music scene; with a nose for living legends and an itch for what's happening in the global far reaches. The Candela Art and Music Fest is Rodríguez's doing. He joined forces with Abdiel Segarra and Tony Cruz to mount the party-hardiest exhibition outside the fair in his space above Rumba, and the work he showed at CIRCA was solid, including the two paintings by Lee Quiñones we showed you (midway down) on the previous page. His space at the fair had an adjoining shack which served as a dj booth where music was recorded and produced, a first for any art fair we've been to. A stalwart presence that did as much good for the fair as the fair did for him.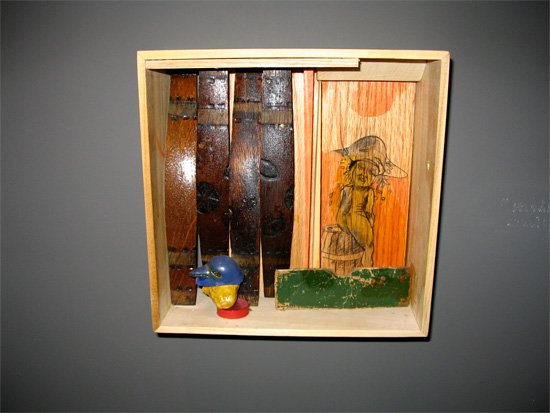 Galería 356 is going places, thanks to director Michele Fiedler, and her booth at CIRCA showed exactly why. The space had a frenetic boho party atmosphere any time you passed by, owing to the congenial presence of artists Fiedler is in the habit of showing: Rafi Trelles, Christopher Rivera, Carmelo Fontanés, Maritza Castillo Irizarry, Edgard Rodríguez Luiggi (one of whose boxes is pictured above), and others. They were all working hard, without a doubt, but it always felt like congenial palaver around the Weber. It's a neat trick without being one, the kind of genuineness that's going to put Puerto Rico on the artworld map, if it gets there at all. We especially liked seeing some new print-puppet boxes from Elsa Meléndez, the wallful of small paintings by Rivera—a guy we usually think of as a print- maker—and the cannily undressable figures from Zinthia Vázquez Viera. The wealth of new works made Fiedler's efforts look like a real exhibition opening in the midst CIRCA's commercial hugger-mugger.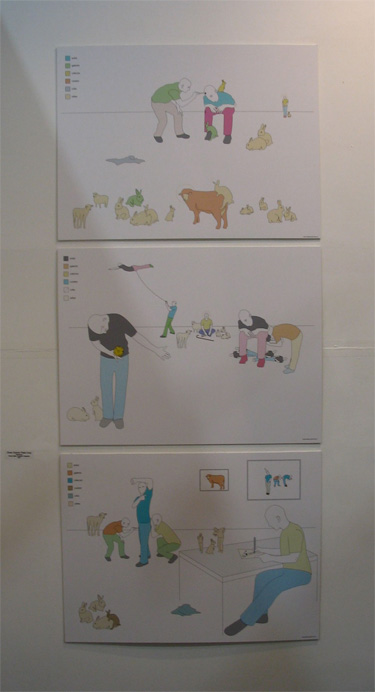 Who cannot be touched by the low-key beatitude and devotion to the collaborative spirit of the =Desto triad, Jason Mena, Omar Obdulio Peña Forty, and Raquel Quijano? You would have to be a dirtclod, or dead. You can tell if a boricua art moment has a soul by looking for the =Desto aura. We find ourselves blabbing with Quijano in our invented Spanish in all manner of situations, as if it was something deep that we both understood and savored, and we stopped to chat several times while running up and down the aisles like a feral creature. The =Desteños had a pleasingly minimalist arrangement of their own works on display, and we wish we'd gotten closer to Peña Forty's color-schemed diagram of the art world (above), which includes a scene of shit eating and a bunny-and-sheep orgy. We shudder to think which one the art critic is. Watch it, Peña Forty!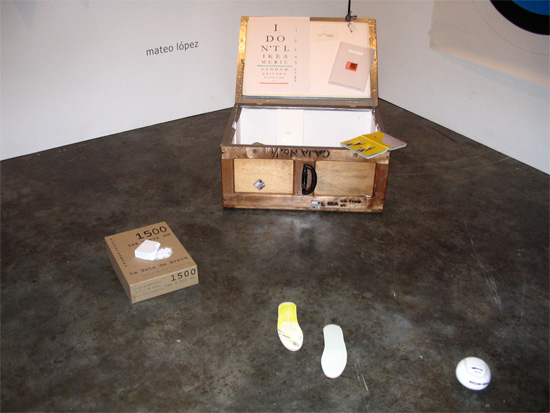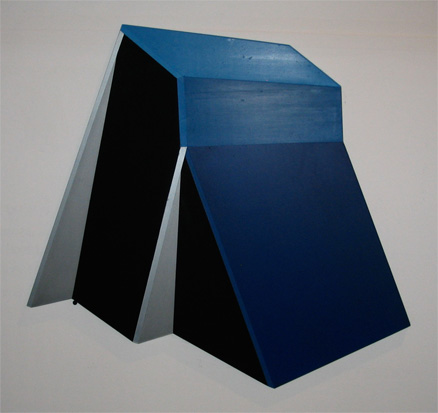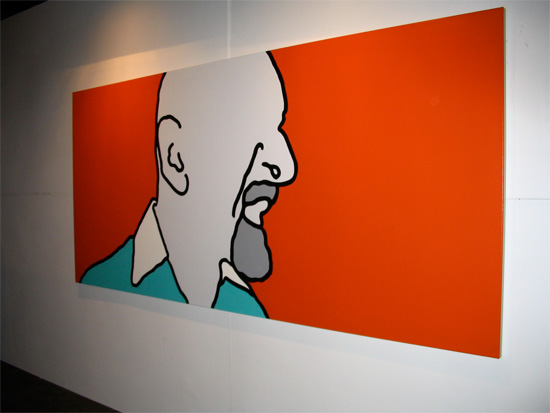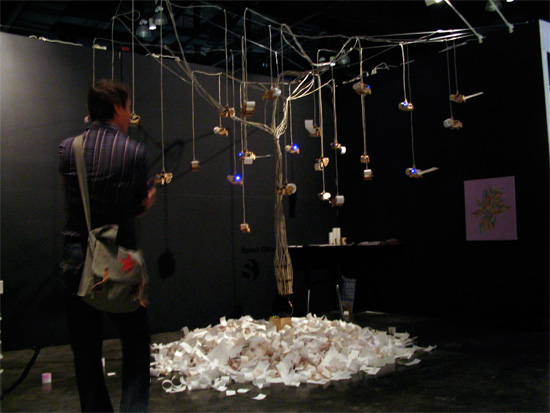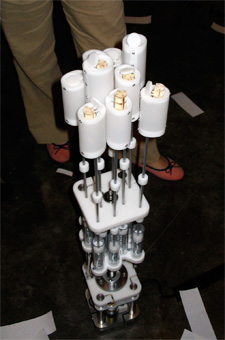 Several commercial spaces, in addition to Faría's, put on more than credible displays: the Mexico City gallery Arróniz Arte Contemporáneo showed art-by-a-thousand-little-cuts paper works by Daniel Alcalá based on street maps of el De Efe and Guadalajara and completely flat screenprints-on-plastic-and-wood by Omar Barquet, like Construcción en equilibrio (above, second down), that look convincingly dimensional no matter how close you get without touching. Catalina Casas returned to CIRCA from Bogotá with works by Casas Reigner artists, even after last year's experiencia muy mala, and she was glad she did. Her installation by Mateo López (above, top) was a looker and brought her considerably better luck this year. Walter Otero showed off paintings by Quintín Rivera Toro (third from the top) who has just joined the gallery, in addition to his bluer chip offerings, and Boston's Space Other stole the show if popular opinion counts for anything, with the above- mentioned electric tree—006#6 by Peter Schmitt (fourth down)—and its accompanying little cousin that mechanically flowers at irregular intervals (bottom). Creepy and quite swell at the same time.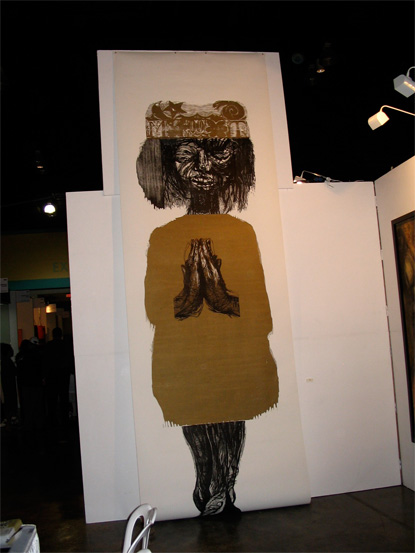 Like several old-line San Juan galleries, Galerías Prinardi has a secondary market component and a roster of active artists, the latter of which they showed at the fair. Ponceño Diógenes Ballester has refined his painting-drawing-and-installation project to a faretheewell over the years and had an impressively enormous work in the Prinardi booth, but the towering woodcut by Martín García Rivera, Animinchin (above), stopped us in our tracks. Michael Williams and Favián Vergara, co-owners of Viejo San Juan's Primer Piso Gallery, brought their contagious big-heartedness and some of Vergara's kitschy faux-cinema tableaux, and we were glad, as always, they came to the party.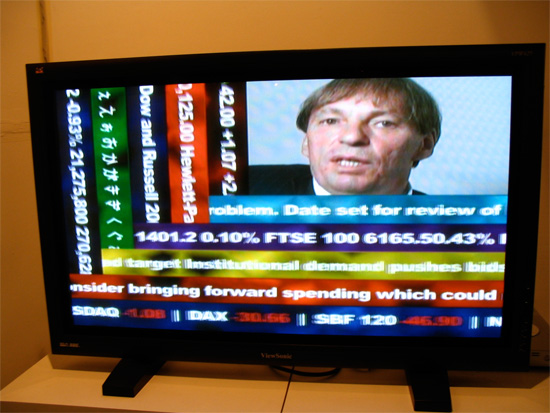 Unclassifiable, welcome weirdness: Lara Pan attended the fair from Paris with her hard-to-identify New Art Project—we heard it has to do with creating artworks for museums and collections, obviating the need for art dealers altogether, and why not?—and she presented a video that looked, well, we don't know how to put this; perhaps the best word is abnormal. Resurrection of Alchemists (above) portrays its creator, Braco Dimitrijevic, attempting an earnest, perhaps literary, recitation while an invasion of horizontal, and then vertical, economic news tickers overtake the screen, pushing him further and further into a corner. The artist's lumpy features, acrid gaze, and bad hair lend the distasteful scene a nice absurdity.
Around the fair: Pulpo was a monster, in spirit if not in fact. Elaine Delgado of the ICP sent us photos of the work in progress, and the participants' high-energy goodwill—an ingredient too frequently absent in island artworld doings—is evident. We have already written about The DAMS 2 at length, here, as well as Rigoberto Quintana's new installation, Sin Título, in the adjoining chamber of La Sala de las Artes at Universidad del Sagrado Corazon. We were graciously invited to a be on a panel to discuss issues surrounding Collateral Material—an exhibition of young Latin American artists at el Museo de Casablanca, organized by a San Juan entity called Latitude Modern and Contemporary Art (personified to us by Carlos Soutto) and curated by South Florida Cultural Center's Erika Pastoriza—and no one on the panel remembered to mention the show. Yikes. Sorry about that.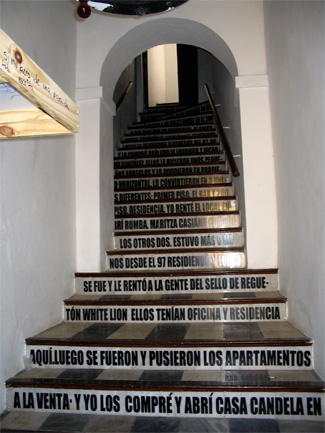 Things we missed and shouldn't have: The big, big exhibition and jangueo that took place on Saturday night upstairs from Rumba in Viejo San Juan—"A thousand people came," Rumba owner Pablo Rodríguez claims—was much talked about, praised and hooted at in equal measures, but it sounded like a fine way to end the night. Or start it, if you're party-animal inclined. A room with one of Chemi Rosado's half-pipes? We should have gone for that alone. We stopped in to Rumba the following day and did catch sight of Exor's fine stairway chronicle (above) and Karlo Ibarra's pillow and suitcase sculpture (see the previous page), but it's not the same when you miss the party. We went to Caguas on Sunday night and managed to hit the opening of "Dominican Video Image and Photography" at the Museo de Arte de Caguas, but we never made it to Área to see the photographs of Vanesa Hernández Gracia or to the much-ballyhooed Angora show. Maybe next year. Among the CIRCA attractions we overlooked: several of our deepest-throated informants told us how much they liked the BlackBoxArt booth and the video-performance installation by Braulio Espinosa Castillo.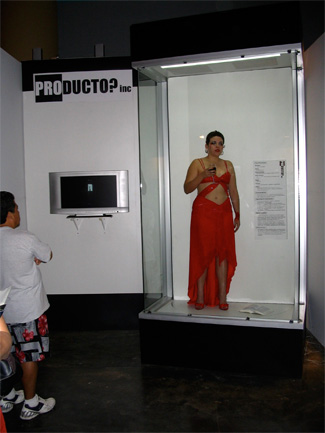 We caught sight of Espinosa Castillo's silky, martini-bearing mime-in-a-vitrine and oo-la-la, but we wish we'd hung around for the real action.
Panel discussions that got our attention: Zzzzzzzzzzz. Zzzzz. Zzzzzzzzzzzz. The panels were pleasant but low-key to snoozeration. We didn't attend all of them, and we basically believe that they're puffery to dress the ugly commercial intentions of any fair in comely little mini-skirts of intellectualism. Our experience at the panel on curators at art fairs—hmmm, seemed like a contradiction to us, too—only confirmed our dark suspicions. At our own discussion, Luis Gutierrez was speaking expansively and well about local collecting, then all at once some sparks began to fly when panelist Charles Jushasz accused us of writing "cynical" things. Ha ha ha ha ha ha ha! Alas, the good Pedro Vélez quickly intervened and things reverted to a comradely equanimity. We thought that in general the panels were well-moderated, for which Haydée Venegas gets special mention for her work with the mercurial folks on the curating panel, and Ralph Vázquez for getting his panelists to make a wildly abstract topic—"How to manage dynamic and responsible cultural institutions"—seem, at least at moments, down to earth.
Performances we'll remember: What can we say? Roberto Nieves's speech castigating Tourism in front of the governor took the cake and takes our prize. What were they thinking?
Most frequently heard complaints: It's the booths, estupidos. Unthinkably, the most blatant sore from last year's fair erupted again: booths with seams and visible hinges. It may seem small of us to mention it in light of the heroic energies of the organizers, their abundant goodwill and unflappability, and the attention they paid to rectifying last year's discombobulations. But there you are, and not really from us but from the fair's most important constituency. Speaking of that, though we saw only one or two glum faces among the art dealers—and only one vowed never to show itself in San Juan again, in contrast to the many dissatisfied customers from 2006—several dealers mentioned that the fair is going to have to interest collectors from off the island if it hopes to grow and prosper. This even in light of the fact that many dealers, especially from European galleries, seem to genuinely like and respect the cadre of Puerto Rican collectors. We heard from artists and other bohemian types how much they missed the groove factor of the large-scale artist's projects that gave last year's fair its edge, if not a sufficiently business-like atmosphere. One or two sound-savvy types did not appreciate the way the music unfolded this year, although, to tell the truth, we were too busy schmoozing to notice. And people from all walks of life were scratching their heads about the presence of Miami's Cernuda Arte and Carmen Corea's . . . De Museo Galería de Arte in a contemporary art fair. Corea has a different, very good program devoted to emerging artists, which makes perfect sense for CIRCA. But the question is a good one.
Is there an echo in here? Stay tuned for more, because we finally made it to Rumba to see what all the fuss was about. Some of it was, indeed, fuss-worthy. By the bye, speaking of disgruntlement, where were Galería Comercial and Sylvia Villafañe, two polar but vital interests in the San Juan art cosmology? And what has become of Carlos Reyes, tagRom's erstwhile commander-in-chief. We spotted the worse-for-wear tagRom taxi-cab plying the streets of Ponce, surely not a good sign.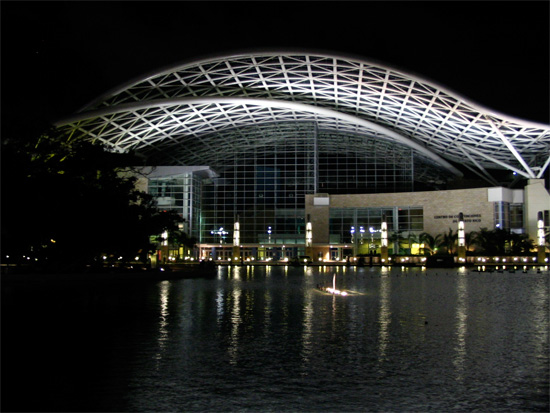 It's time to say goodbye to the Centro de Convenciones for another year, and to the monster art-critic-eating coquí that plies the reflection pool out front, Nesicita (black dot, lower right above). Ah, but before you go, there are a couple of other important details to attend to; shows which, while on the periphery, were central to the fun.
Candela and La Casa del Arte, next page.