So Where's the Art?
Why are we dwelling on the sweet and salty stuff and scrimping on the main action? Well, for one thing the Miami art landscape has been completely remade since we left a year-and-a-half ago, and there is much that is new and a lot that is considerably ramped up. For another, you shouldn't be venturing anywhere near the city in December if you haven't had an Art Basel plan of attack for at least six months. In other words, if you don't know by now, we can't tell you.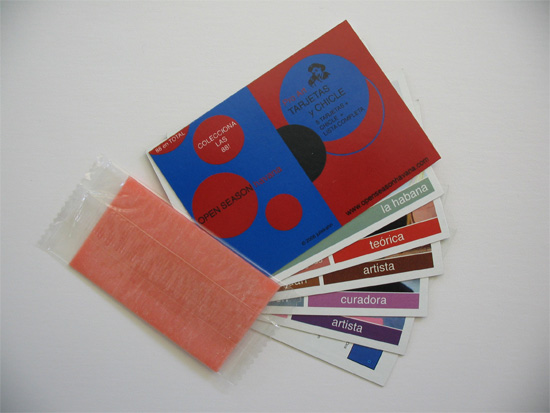 We never tire of boosting the work of artist Julie Kahn, however, since the entire Rotund clan and some of its camp followers were portrayed in Kahn's prankish deck of art world trading cards, Open Season miami, a few years ago. Kahn set off a small trading frenzy when she unveiled her project by means of barely-clad cigarette girls and boys, and she's back at it this year with Open Season havana, cards featuring Cuban artists and art world swells. Trades only, please. No money changes hands.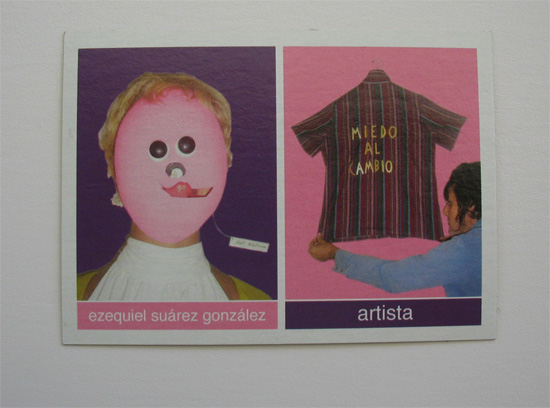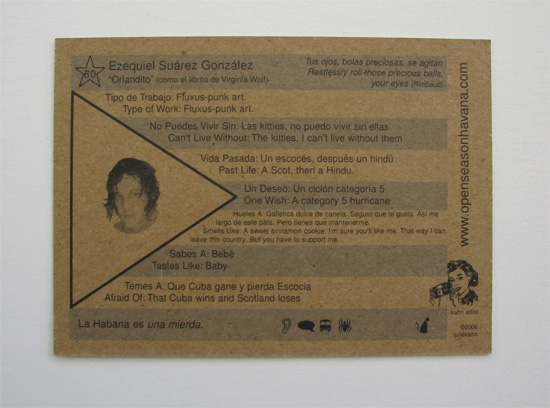 Packs of cards—with bubble gum!—will be available at various locations around the fair from Tuesday, December 5 (Faktura Gallery at 7128 NW 2nd Court, from 8:30 p.m. to 11:30 p.m.) to Saturday, December 9 (several times that day, including a stint at Art Positions—otherwise known as the Containers—on the beach at 23rd Street from 2 p.m. to 5:30 p.m. and at Ingalls and Associates Gallery at 125 NW 23rd Street in Wynwood from 7:30 p.m. to 10:30). For the latest Open Season news, visit the web site.
Above: the card, front and back, of artist Ezequiel Suárez González, designed by Kahn with images and words from the artist. You may remember Open Season miami, and some of the thoroughly inimitable characters on the scene.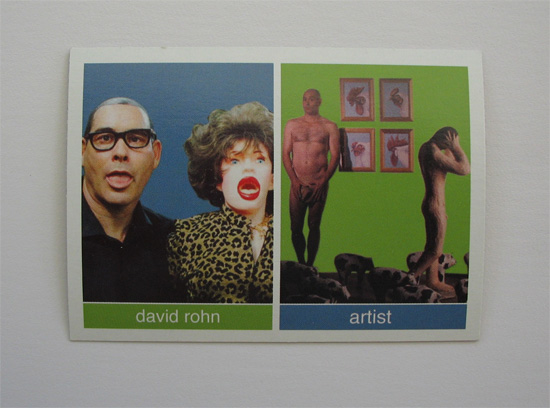 This is a very long-winded way to tell you that Rotund World is officially on extended holiday. You'll certainly not be bored in our absence, especially if you take in the latest exhibition—Globalización: Indicaciones, Efectos Secondarios, Advertencias—organized by Julieta González at Espacio 1414. You can contact Julieta to make an appointment to visit the warehouse, located at Fernando Juncos #1414. Phone 787-725-3899 or email julieta@espacio1414.com. Julieta was kind enough to show us around while she was putting the show together, and it's a sharp take on a well-worn theme.
You can also click on over to some pretty decent local arts coverage on the internet. We've complained often and loudly about the island's lack of critical arts writing or public commentary of any kind. Now that Rewind Rewind curator and CIRCA co-organizer Elvis Fuentes has left Puerto Rico to become a curator at New York City's El Museo del Barrio, this deficiency is all the more acute and lamentable. Fuentes wrote briefly for the execrable El Nuevo Día and was a frequent contributor to the magazine Art Nexus. Things are looking up on both the news and editorial sides thanks to Javier Martínez's nifty blog AUTOGIRO. Martínez, himself a painter and a highly capable word smith, stays on top of openings, art world happenings, competitions, and so forth, and he is not afraid to venture an opinion.
He wrote two installments of critical commentary on La Muestra Nacional, which you can find here, going first to his October 28th post and then to November 7th. Some kind of reaction to an exhibition the scale of La Muestra would be expected in any other place—a tempest, a communal snit, a shitstorm, think of the national nose-holding occasioned by the Whitney Biennial—but Martínez's measured few paragraphs echo like a major outcry in the empty critical landscape of Puerto Rico. Martínez doesn't hesitate to call the show "conservative," and he bemoans the quality of much of the work. His general remarks strike us as academic though well-put, but when he gets down to specifics he begins to sound like a critic with something useful to say. Alas, he quickly suffers an attack of writerly coitus interruptus, lapsing into rhetorical-question mode just as things are getting good. "Should jurors act as curators?" begins a list of questions which we're fairly certain Martínez has his own ideas about.
It is also worth noting that neither Martínez nor the one writer who bothered to respond to his posts, artist Abdiel Segarra, mention that they are both participants in La Muestra Nacional. It's a fairly blatant conflict of interest to write about an exhibition in which one's own work is on view, although, as we have said to excuse our own such activities, if we don't do it, no one will. Still, out of consideration to our readers, we always acknowledge our bad behavior.
Before we say adieu for now, one final note, concerning a recent art world tragedy whose details you can also find at AUTOGIRO, and, if you happen to be rummaging around the bottom of the bird cage, the November 28th editions of El Nuevo Día and El Vocero. For those who have not heard the news, our friend Antonio Martorell lost a significant part of his artistic holdings and his excellent collection of folk art, wonderfully weird found and handmade furniture, and other masters' works to an arson fire at his home-studio on the University of Puerto Rico campus in Cayey. We have come to know Martorell as a tireless, stately promoter of Puerto Rican culture, and his personal loss is an enormous heartbreak for anyone who cares about the island. It is a testament to the artist's mettle and generous spirit that his public expressions in the fire's aftermath have been, as always, elegant and elegiac.
Going, Going . . .
We'll see you when we see you.
Visit our previous fulmination here.