La Muestra en La Ballajá
Before we leave La Puntilla, we must show you the following.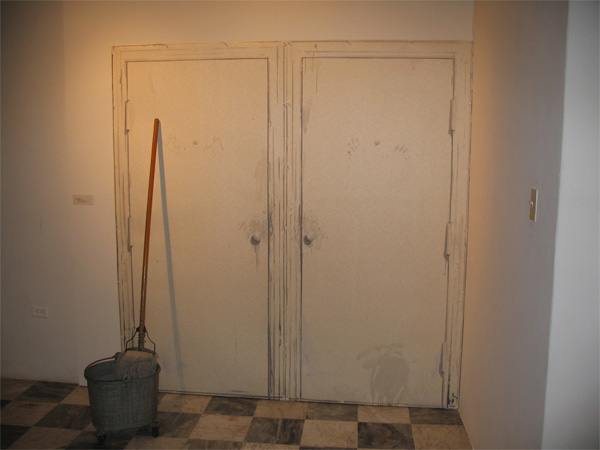 Who can resist such a completely surprising painting from José Morales, once you notice it? It's called "Port-A-Puerta" from 2006, and it's made of latex on tyvek with a metal bucket, a mop, and water. Hoo!
Video and other so-called "alternative" media continue to be strong well into the twenty- first century—who knew?—and La Muestra Nacional is showing a substantial number of such works, including, in addition to Carlos Reyes's self-pounding ode to boricua violence, the installations below.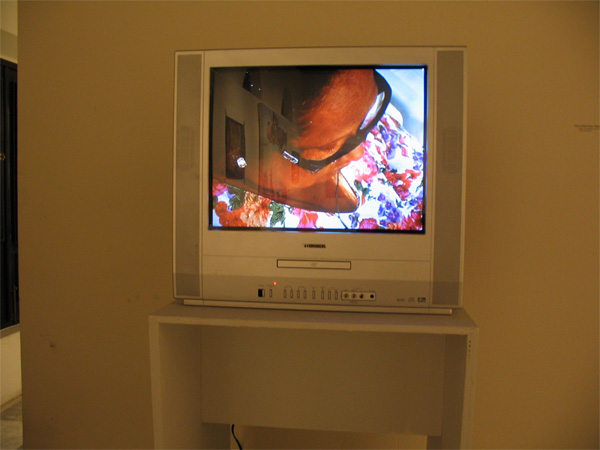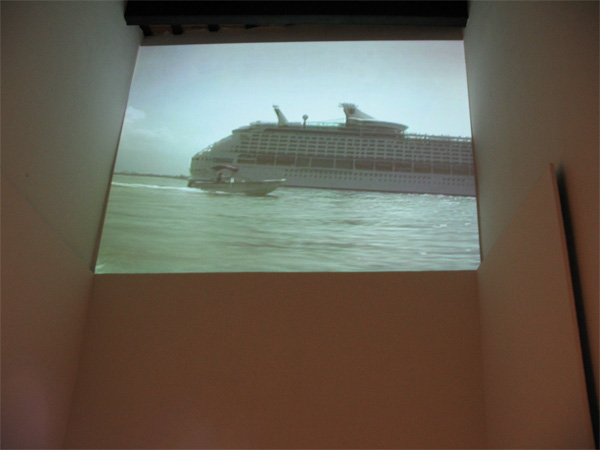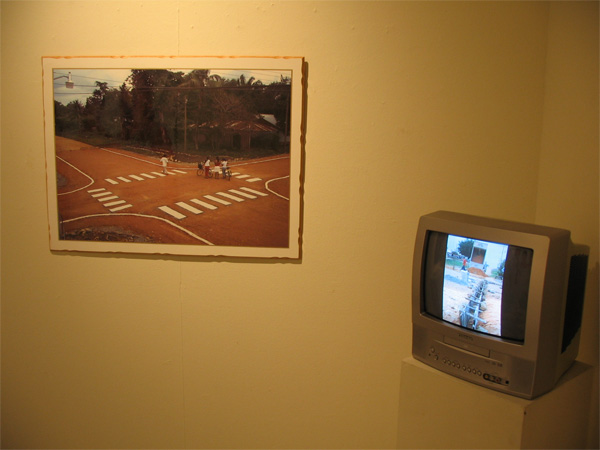 Works from the top down include Marta Mabel Pérez Maldonado's "Curso de ciudadanía americana, USA," 2006, a thirty-minute video. Next, Marx Rosado's mellifluously honking "Sinfonía de cruceros," 2006, a ten-minute work. And finally, Jesús Bubu Negrón's documentation of one of his community interventions, "Cruce Frontera," which includes a laminated photograph and a slideshow of his collaboration with La Comunidad Indios Cho-ol, building a crossroads in Chiapas, Mexico.
Let's say you haven't had enough of La Muestra Nacional de Arte. Well, come with us now to the exhibition's final venue, La Ballajá in Viejo San Juan. Here you'll find yourself in more spacious surroundings, where the percussive rhythms of giant beetles fill the air. Giant beetles you say?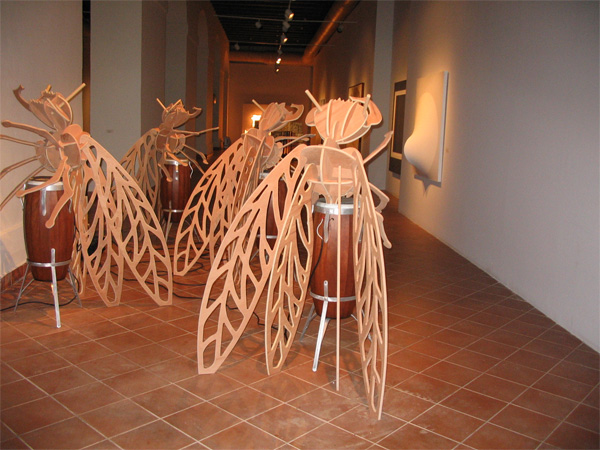 What next, you might well ask? Above, Charles Juhazs-Alvarado's 2005 performance- installation "SS (Prague)," dimensions variable. "SS (Prague)" includes a groovy soundtrack, and our Rotund tour pauses to boogaloo before proceeding to the works below.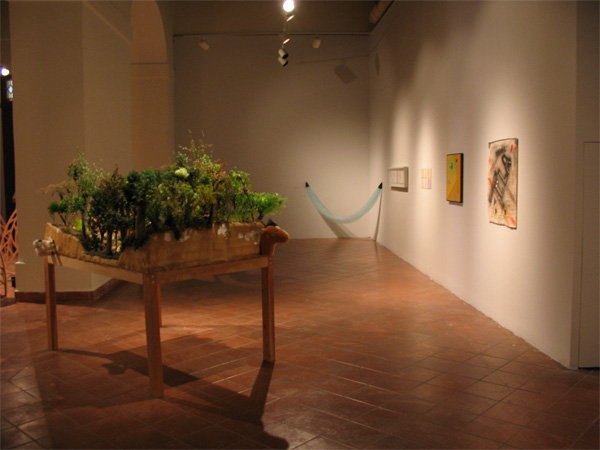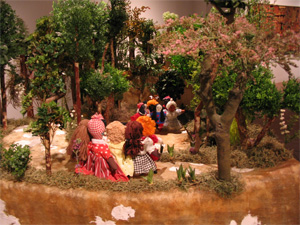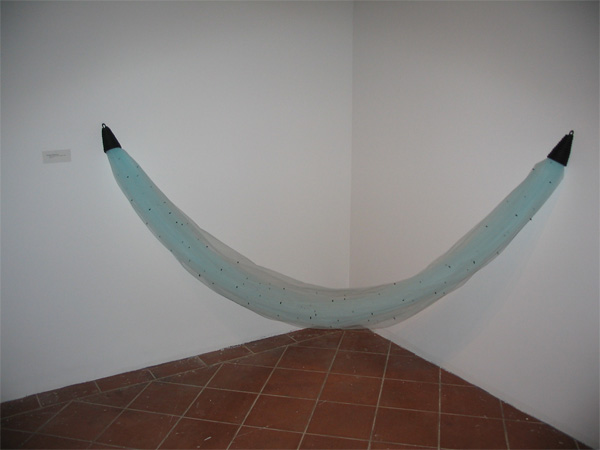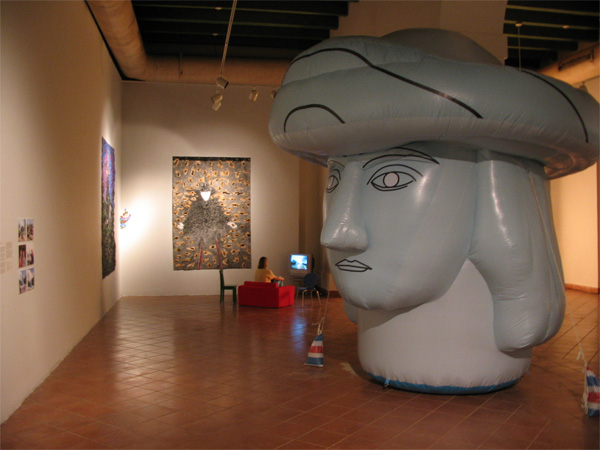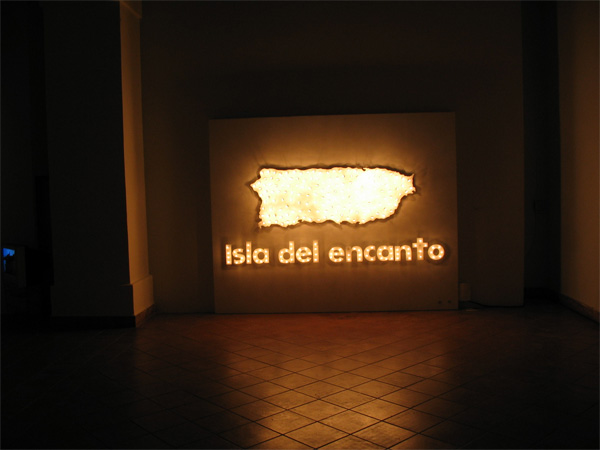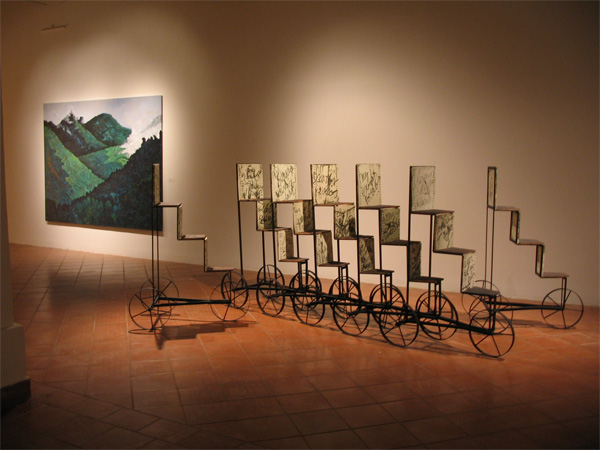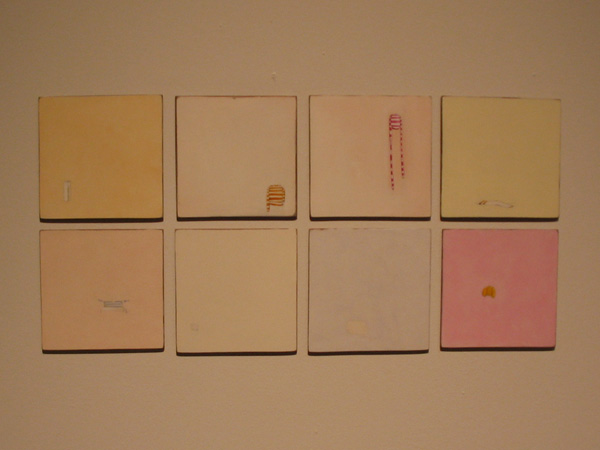 Following Juhazs-Alvarado's work, in descending order: an installion view with Rabindranat Díaz Cardona's "Camino de las flores: socias gestoras en el desarrollo cabal de un discurso tergivesado" in the foreground, with detail (2003-2006, wood, plastic fiber, ornamental objects, 60" x 108" x 48"). Next, Jeannette Betancourt, "Eternal Return I: The Non-place," 2006, oilcloth and tulle, 35" x 88" x 20". Below, an installation shot with Miguel Luciano's "Inflatable Head of Columbus" in the foreground, 2006, inflatable vinyl with photographs, 11' x 11'. In the background, Papo Colo's performance-installation "There is no place like home," 2006, video, objects, and furniture, dimensions variable. Next down, "Isla del encanto" by Rogelio Báez Vega, 2006, wood panel, lightbulbs, porcelain rowels, sign, 96" x 120". Next, an installation view with Jorge Zeno's painting "The Last Mountain" on the left (2005, oil on canvas, 84" x 111") and Luis Ivorra's "Éxodo" on the right (2006, ceramic, stainless steel, iron, 61" x 24" x 44"). Finally, a series of paintings by Abdiel Segarra, "Colección de objetos disfuncionales," 2006, oil and graffiti on masonite, 13" x 27" each.
We cannot stress enough how random our selection of works was for this Rotund tour, as if we were the Three Blind Mice feeling our way through La Muestra Nacional with our whiskers. The idea is to give our readers a taste, a whiff, a morsel; a tiny idea of a big moment in the island art world. (For a discussion of the truly troubling hazards of undertaking this tour—self-promotion, conflict of interest, that sort of thing—see this issue's Tiny Type.) Nothing captures the texture and spirit of an art exhibition like an actual visit, of course, and we encourage you to do so. La Muestra Nacional de Arte remains on view until February 4, 2007, in both the Old Arsenal of the Spanish Navy at La Puntilla and the Old Military Barracks at La Ballajá, both in Viejo San Juan. For help in finding these venerable sites, you can ask around Viejo San Juan and anyone will tell you where they are, or, leaving less to chance, you can call the Visual Arts Program of the Instituto de Cultura Puertorriqueña at 787-724-1877 and ask for directions and hours.