A Few Last Words
Consuelo Gotay and poet Lourdes Vázquez collaborated in the publication of a suite of prints and broadsides entitled "Libro de Joel: Salmos del cuerpo ardiente," which they're exhibiting at Uri Art Gallery in Puerto Nuevo. The work constitutes an elegy for Gotay's nephew, a young man who was killed by gunfire in the course of trying to rob a gas station, apparently to feed a drug habit. It is hard to remain indifferent to anyone's personal tragedy, especially when a violent, manifestly needless death is visited on family, and most especially when the victim is young. Yet reading Vázquez's poems, with their incantatory sweep, their invocation of the torments of war and repression—one verse refers to "the mothers in the plazas [who] clamor for their dead"—it was at first difficult for us to resolve the intimacy of Gotay's loss with the poetry's grand themes.
But of course poets—and painters and printmakers as well—deal in metaphors, and it is not much of a reach—no further than each day's newspaper—to see that we live in what is, or what approaches being, a narco-state, and every single pointless death is part of a process which is, indeed, war-like, repression-like, in its human toll and its cost to the nation.
To arrive at this understanding, it helps to read Edgardo Rodríguez Juliá's essay in the exhibition catalogue, in which Juliá makes the complicated weave of the hipster literature of Nelson Algren, Puerto Rico's conflicted past and present, the particulars of Gotay's work and the story it tells, Hurricane Katrina, and the loss of innocence and other existential dilemmas into a compelling, if not exactly clear, drama. It is not clear because, as the writer says, one can talk about addiction and its price only in a fragmentary way. "In 'Psalms of the Burning Body,'" Juliá writes, "Consuelo and Lourdes venture through the region of the unspeakable."
But nothing can explain the redemptive power of talking about tragedy like hearing the words; or, in this case, seeing them and the images which Gotay created in their wake.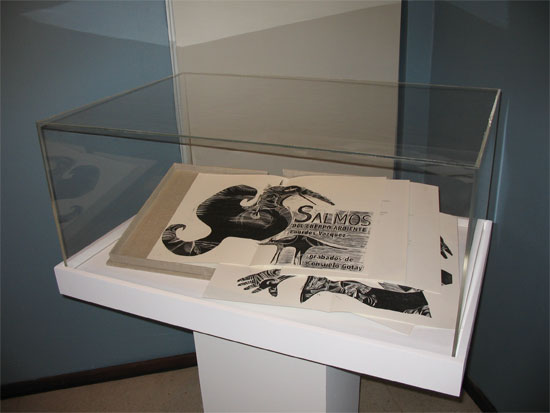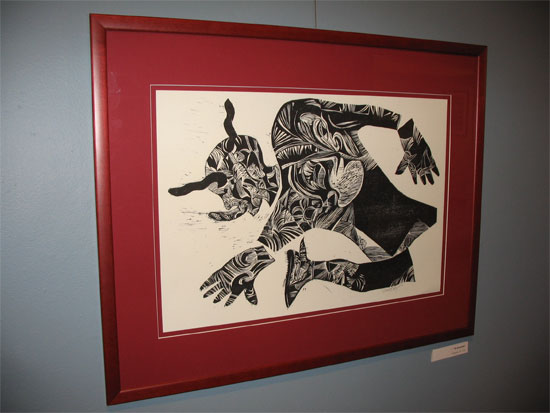 The woodcut above, "El torturado," is one of fifteen from the portfolio, which was produced in 2006. The print measures 15" x 22". Uri Art Gallery is located at Avenida Andalucía #500. You can call 787-749-8146 to find out the gallery's hours and the closing date of the exhibition. Also on view, paintings, drawings, prints, and sculptures by Victor Rodríguez Gotay, Consuelo's son.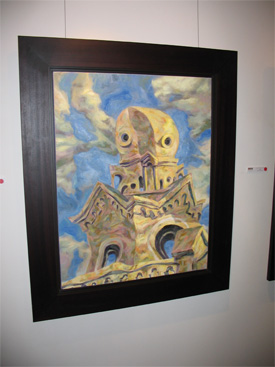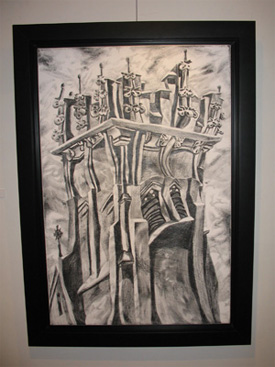 Above left: "Ente," oil on canvas, 28" x 36", 2006, and right, "Fortaleza," charcoal on canvas, 24" x 36", 2006.
And now for the countdown: 3-5-6. No, no, no, that's the name of a gallery in Hato Rey which presently has a show of invited—and largely quite young—artists it's calling "Heavy Traffic." Why, we cannot figure, although this is by no means a complaint. Our faves in the show: a video by Myritza Castillo and Daniel Silvo called "Ulisess" from 2005, which, as you might gather from the title, is an odyssey of sorts, although a particularly contemporary one involving a shopping cart. The shopping cart is another well-worn trope for artists; or it was back in the 1980s and 90s. But it has largely disappeared from view, so "Ulisess," with its cargo of autumn leaves, its comings and goings—sometimes via public transportation—and its combustive finale, maintains a lyrical, and finally elegaic, tone.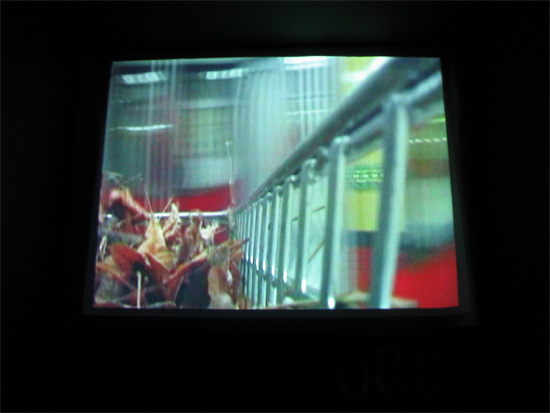 It was nice to see some drawings by Christopher Rivera, who we know mainly as a printmaker. Below on the left, "El éxtasis creativo de la palabra," collage, pencil, acrylic, and china ink on paper, measurements n.a., 2006. On the right, Miguel A Torres's construction, "Intersección," mixed media, 46" x 46" x 4", 2006.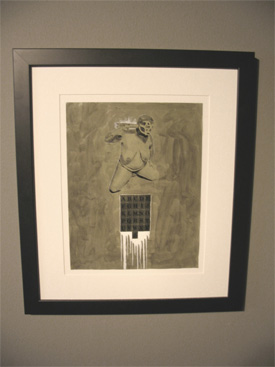 Galería 356 is located at César González 356 in Hato Rey. Call 787-282-7820 for directions and further information about the exhibition, or you can use email like a modern person, at galeria356@yahoo.com.
Go if You Must . . .
. . . to Galería Comercial's vast, still sparkly new digs at Avenida Fernández Juncos #1600 and catch new works by three hotties. Well, perhaps Julio Suárez would not characterize himself as a hottie, but his paintings are bright bright bright and rigorously geometric, a long way from the muzzy slather of yore. In addition, a wordy video by Adriana Lara, and equally wordy paintings by Fernando Pintado. We're not crazy about talkiness with our moving images—almost anything Wallace Shawn has written to the contrary—but we have a yen for scribbly paintings. Below, in descending order, a scene from Lara's 2006 video, "Art Film I: Ever-present yet ignored." Next, a few of Suárez's many new paintings. Next, a painting that's fun to read, "JEM Blues #4 (Up from the ashes)," mixed media on canvas, 70.5" x 61", 2006, by Fernando Pintado. And finally, from the left, a few of our friends: Millie Pietri, Angel "Chuco" Quintero, Mima Benitez, César Reyes, Haydeé Venegas, Fernando Pintado, and Chilo Andreu.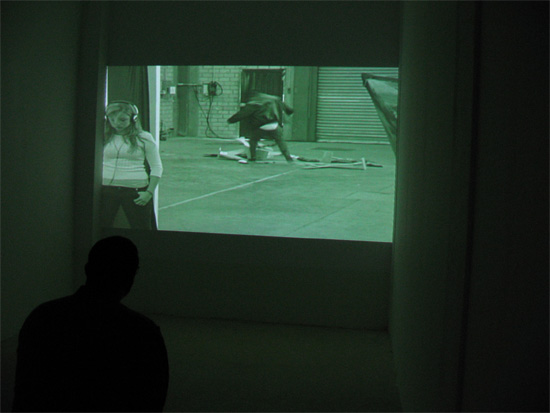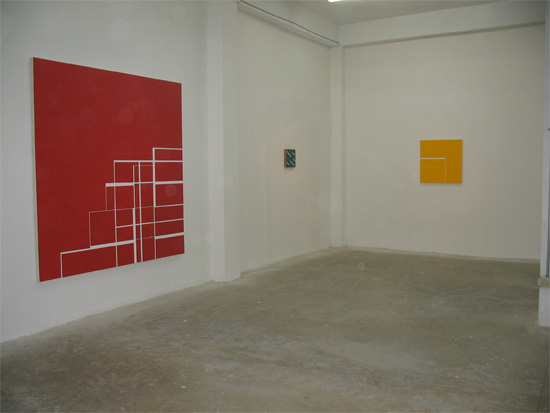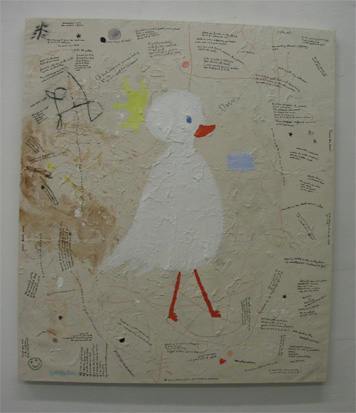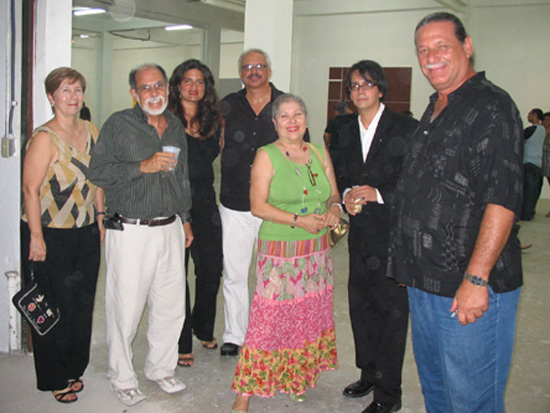 Tito Rovira Rullán, Comercial's maximum leader, seems to have a ton of friends himself judging by the adoring multitudes that turned out for the first opening in his new space. Why not drop by and wish him well? The newer, shinier Galería Comercial is not far from the old, bedraggled one. There is an email address or two with which to contact the gallery and its many minions: tito@galeriacomercialpr.com and luis@galeriacomercialpr.com are but two. There is also a web site—www.galeriacomercialpr.com—and as a last resort you can try the phone. Ha ha ha ha ha. 787-726-1065.
To revisit our previous palaver—why not?—see this page.